NEW YORK, NY - On Sunday, December 9th, distinguished guests from New York City's arts and entertainment, financial and political sectors attended the Metro-Manhattan (NY) Chapter of The Links, Incorporated's ninth biennial gala,
Realizing the Dream: Celebrating Excellence in Education and Leadership
at Cipriani 42nd Street. The biennial gala honored JP Morgan Chase with the 2012 Corporate Award for its commitment to making a positive difference in the communities where it operates. In the photo, Kim Jasmin accepts an award on behalf of JP Morgan Chase from LaShann Dearcy Hall (right), Gala Dinner Chair.
The gala supported the chapter's hands-on programs and initiatives to prepare students for college-readiness, reduce health disparities, advance arts education and build leadership in the Greater Harlem community.
"The Metro-Manhattan (NY) Chapter of The Links, Incorporated Chapter is pleased to honor JP Morgan Chase with the 2012 Corporate Award for their philanthropic efforts," said Inez N. Richardson, president of the chapter. "The firm's philanthropic investments are directed toward three centers of excellence: community development, education and arts and culture. These investments are closely aligned with the mission of our parent organization The Links, Incorporated and our chapter's programs in serving the Harlem community. We salute JP Morgan Chase for their efforts to make a lasting impact in underserved communities in the U.S. and around the world."
Inez N. Richardson served as the Gala Honorary Chair and LeShann DeArcy Hall served as Gala Dinner Chair. The Honorary Committee included Monica Azare Davenport, Kimberly Davis, Hazel N. Dukes, Caroline Taylor Ellerson, Toni Fay, Carla Harris, Brenda Neal, Chrystie B. Price and Danyale Price. Guests bid on silent auction items ranging from Broadway tickets, museum memberships to in-home gourmet catering.
Gala attendees included Rep. Charles Rangel; Rev. Al Sharpton, activist and MSNBC contributor; Darryl C. Towns, CEO, NYS Homes and Community Renewal; Rosalyn Brock, NAACP Chairman of the Board; Earl Graves, Sr., publisher of Black Enterprise magazine; George Faison, Tony Award winning choreographer and former Alvin Ailey dancer; Kathleen Battle, world-renown opera singer; Brenda Blackmon, anchor of WWOR-TV; B. Smith, restaurateur and lifestyle expert; b Michael, fashion designer; and Rev. Franklyn Richardson, Sr. Pastor, Grace Baptist Church, among other guests.
ABOUT THE LINKS, INCORPORATED
: The Links, Incorporated is an international, not-for-profit corporation, established in 1946. The membership consists of 12,000 professional women of color in 276 chapters located in 42 states, the District of Columbia and the Commonwealth of the Bahamas. Working closely with partners, sponsors and supporters, The Links, Incorporated is focused on creating transformational programming and impacting lives in communities of color. It is actively engaged throughout the country, providing both guidance and hands-on service to critically deserving individuals.
ABOUT THE METRO-MANHATTAN (NY) CHAPTER OF THE LINKS, INCORPORATED
: The Metro-Manhattan (NY) Chapter of The Links, Incorporated continues the great mission of its parent organization through a variety of unique initiatives, programs and grants that focus on five areas: Services to Youth, The Arts, National Trends and Services, International Trends and Services and Health and Human Services.
Hazel Dukes and Inez Richardson; Candice Cook, Len Burnett, Cheryl Joyner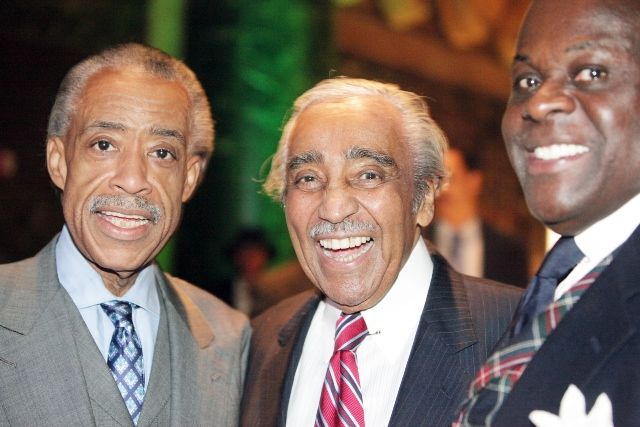 Rev. Al Sharpton, Rep. Charles Rangel, and Rev. Franklyn Richardson
For more information, please visit
http://www.metromanhattanlinksinc.org
.