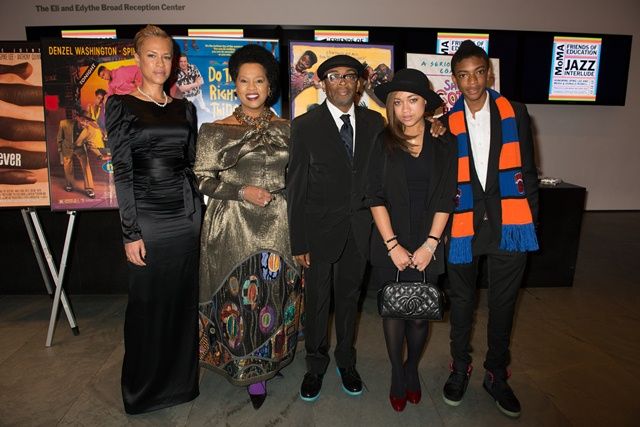 Tonya Lewis Lee, Honorary Co-Chair; Sherry Bronfman, Event Chair; Honoree Spike Lee and his children, Satchel and Jackson Lee
Biennial Benefit Event Presented by MoMA's Friends of Education
New York, NY — The Museum of Modern Art's (MoMA) 2012 Jazz Interlude, a benefit gala dinner and live music performance, honored artist and filmmaker Spike Lee, and philanthropists Mera & Donald Rubell on December 12, 2012. The black-tie benefit included an elegant cocktail reception in the Museum, followed by a seated dinner and live performance by jazz musician Terence Blanchard, whose work has been featured in Spike Lee films such as 25th Hour (2002), When the Levees Broke: A Requiem in Four Acts (2006), and Miracle at St. Anna (2008). The event concluded with an after-party and performance by jazz artist Jason Moran and the Bandwagon featuring Tarus Mateen and Nasheet Waits, with special guest Ravi Coltrane. The evening's music was produced by George Wein and Jason Moran.
The 2012 Jazz Interlude event chair was
Sherry B. Bronfman
, who was joined by co-chairs
Eboni S. Gates
and
Noel Hankin
. Honorary co-chairs were
Agnes Gund
,
Tonya Lewis Lee
, and
David Rockefeller, Jr
. Among the guests were
Rosie Perez
,
Adrian Grenier
,
Roland & Lois Betts
,
Ben Bronfman
,
Hannah Bronfman
,
Thelma Golden
,
Kalup Linzy
,
Ariana Rockefeller
,
Mickalene Thomas
and
Michael D. Woodson
. Past honorees of the benefit have included Elizabeth Catlett, Roland and Lois Betts, Agnes Gund, David Rockefeller Jr., George Wein, Dorothy Cullman, and Camille Cosby.
Eboni S. Gates, Eric Barkley, The Friends of Education Co-Chair, Sherry Bronfman, Noel Hankin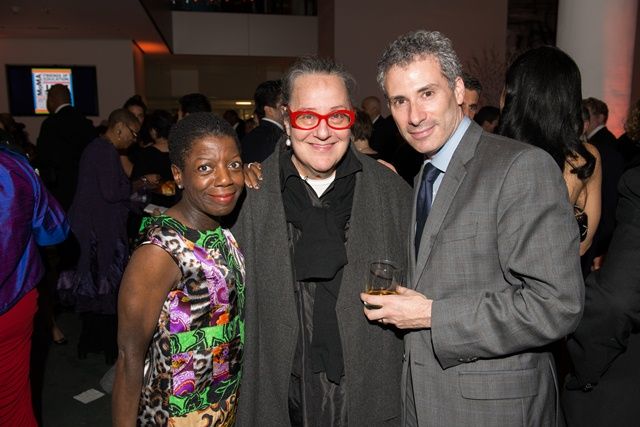 Thelma Golden, Kim Hastreiter, Joshua Siegel, Associate Curator, Department of Film, MoMA
The event was organized by The Friends of Education, a MoMA affiliate group dedicated to raising public awareness of African American artists, supporting the Museum's education initiatives, and encouraging the participation of African Americans at MoMA. All proceeds from Jazz Interlude benefited The Friends of Education Fund, which enables the Museum to acquire important works by African American artists, to increase its outreach to the African American community, and to support the Museum's extensive educational programming.
Spike Lee is among the best known and most honored African American feature and documentary filmmakers of the past 30 years. Lee's work covers a broad range, from the socially relevant to biographical and from comedy to crime-drama. Lee's most recent documentary Bad 25 celebrates the success of Michael Jackson's "Bad" album, and he is currently in production on a remake of the popular Korean film Oldboy. A number of his films are included within MoMA's vast film collection: School Daze (1988), Do the Right Thing (1989), and Get on the Bus (1996). Lee's student film, Joe's Bed-Stuy Barbershop: We Cut Heads, was also included in New Directors/News Films in 1982, the annual film festival co-organized by MoMA and the Film Society of Lincoln Center.
Mera and Don Rubell are well-known as longstanding champions of young artists. The Rubell Family Collection, which first opened to the public in 1993, contains over 6,000 works of art by prominent contemporary artists including, Robert Colescott, Damien Hirst, Paul McCarthy, Jeff Koons, Sherrie Levine, Glenn Ligon, Takashi Murakami, Cindy Sherman, and Kara Walker. The artwork is displayed in thematic exhibitions that often travel to museums worldwide. Most notably, the Rubells demonstrated their commitment to African American artists through
30 Americans
(2008–13), a traveling exhibition that highlights their collection of 30 significant African American artists who have been working over the last three decades.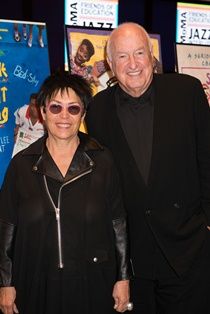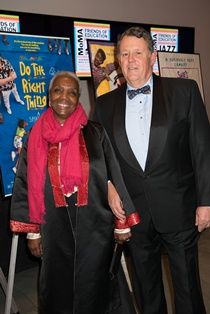 Honorees Mera & Donald Rubell; Lois & Roland Betts
Michael D. Woodson, Spike Lee and Guest
Adrian Grenier, Rosie Perez, Spencer Means
Sherry Bronfman, Spike Lee and Eric Barkley
For more information on MoMA and The Friends of Education, visit
www.moma.org
Source: Press release/Photos: MoMA