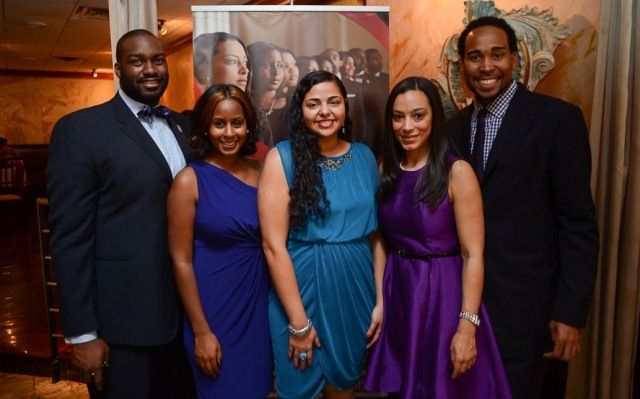 IMPACT Co-Founder and Director Joe Briggs, IMPACT Communications Director Sarah Misailidis, IMPACT Community Champion of Change Honoree and 2011 Nation's Best Advocate of the Year Andrea H. Evans, IMPACT Co-founder and Director Angela Rye, and IMPACT Director David Johns.
WASHINGTON, D.C.
- From Friday, January 18, 2013 through Sunday, January 20, 2013, IMPACT, a nonprofit network of young professionals of color, hosted several events during the 57th Presidential Inauguration.
The Inauguration of President Barack Obama was an opportunity for the nation to not only celebrate four years of progress, but also look forward to the President's second term. For young professionals, the second term of President Obama offers another opportunity to further invest in programs and strategies designed to improve the lives of individuals and communities that have been historically neglected.
With that in mind, IMPACT hosted a suite of events to ensure that young professionals stay politically involved, engaged, and economically empowered.
IMPACT's 2013 Inauguration events included
:
A community service event on Saturday, January 19th honoring the legacy of Dr. Martin Luther King, Jr. on the National Mall. Department of the Interior Secretary Ken Salazar joined IMPACT in greeting more than one hundred volunteers at the MLK Memorial who gathered to beautify the area surrounding the memorial.
Hosting the 2013 Politicos & Influencers: An IMPACT Jazz Brunch on Sunday, January 20th that honored "Champions of Change," individuals who give their time and talent to improve their communities. Distinguished guests included Congressman Andre Carson (IL), Civil Rights activist and labor leader Dolores Huerta, Louisiana State Representative Ted James, and Florida State Representative Alan Williams.
Later that evening from 9 pm - 2 am, IMPACT co-hosted the Hip Hop Ball II, along with Russell Simmons's Hip-Hop Summit Action Network at the the Harman Center. Celebrity guests included Angela Simmons, Lala, 2 Chainz, Tyson Beckford, Terrence J, Swizz Beats, John Legend, and Kevin Liles among others.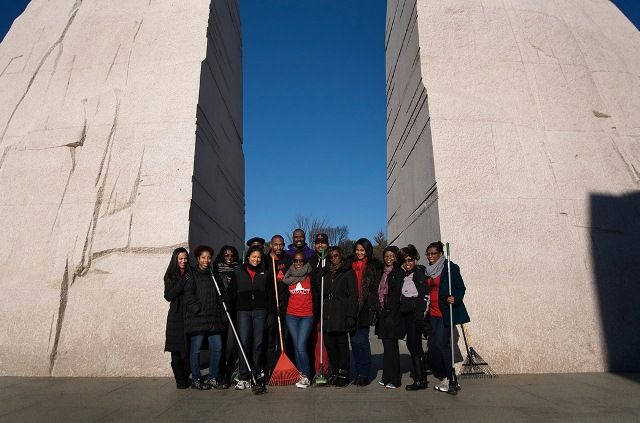 IMPACT volunteers on the national mall for a day of service.
Champions of Change honorees at the IMPACT Jazz Brunch
Events allowed for friends and supporters of IMPACT to network and celebrate with other young professionals as well as elected officials, community leaders, and entrepreneurs. For highlights, check out the #IMPACTInauguration hashtag on Twitter.
IMPACT (@teamIMPACT) is a nonprofit organization whose mission is to engage and build a network of young professionals of color to foster civic engagement, increase knowledge of the political and legislative processes, and enhance economic empowerment opportunities. For additional information about IMPACT, visit
www.IMPACT-dc.com
.
Source: Press release/Photos: IMPACT