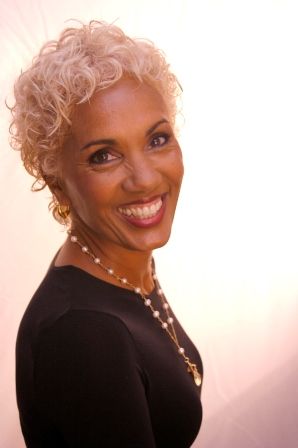 SAN FRANCISCO, CA – The Board of Directors of the Museum of the African Diaspora (MoAD) has recently named Deborah Santana, current board member and longtime museum supporter as MoAD's Vice Chair.
Santana is an author, peace activist and philanthropist. She is founder of Do A Little, a non-profit that serves women and girls in the areas of health, education and happiness. Her memoir,
Space Between the Stars: My Journey to an Open Heart
, was published in 2005.
Santana notes, "MoAD is an important cultural and educational destination in Northern California. The rich exhibits and extensive educational programs add a global diversity to the Bay Area arts community."
Santana, a mentor of girls and young women, also serves as a board member for ANSA (Artists for a New South Africa), and is a supporter of Marian Wright Edelman's Freedom Schools in New Orleans. She has produced two documentary films with Emmy-award winning director Barbara Rick: Road to Ingwavuma, and Girls of Daraja, each film depicting the collaborative work of non-profit partners in South Africa and Kenya.
Santana has received numerous awards, including the Women of Distinction Award Founder Region Soroptimist International of the Americas, the Martin Luther King, Jr. Humanitarian Award in Marin County, and Bay Area Blacks in Philanthropy Catalyst Award. She was named to Marin County Women's Hall of Fame in 2007 and this year was named as one of Women's eNews 21 Leaders for the 21st Century.
MoAD also elected L. Wade Rose, Vice President of External and Government Relations for Dignity Health, as its next Board Chair. Rose joined the museum board in 2008. He brings a wealth of experience, having been director in a number of non-profit organizations, and is currently Chair of the San Francisco Chamber of Commerce and sits on the Boards of SPUR and the San Francisco State University Foundation.
"I'm delighted to have the opportunity to work with Wade in partnership with Deborah because of their deep commitment to MoAD and to realizing our shared goals and vision for the future," said Grace C. Stanislaus, MoAD's Executive Director. "Their leadership of our dynamic Board of Directors is coming just at the right time as MoAD is poised at its seventh anniversary to launch into an ambitious and exciting new phase of its development."
Related post
:
Bay Area Young Professionals Host Holiday Party to Support MoAD
(December 2010)
About the Museum of the African Diaspora
The Museum of the African Diaspora (MoAD) showcases the history, art and the cultural richness that resulted from the dispersal of Africans throughout the world with innovative and engaging exhibitions, education and public programs. Incorporated in 2002 as a 501(c) (3) nonprofit, MoAD opened its doors in 2005 in space contiguous with the St. Regis Hotel and Residences and in the historic Williams Building at 685 Mission Street at Third Street. MoAD was conceived as a cornerstone of the revitalization of downtown San Francisco, and has become an anchor with its neighbors San Francisco MoMA, Yerba Buena Center for the Arts, Children's Creativity Museum (formerly Zeum) and the Contemporary Jewish Museum, in making this dynamic cultural corridor a premier destination.
www.moadsf.org
Source and photo: MoAD