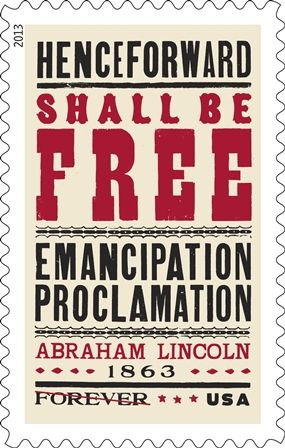 Civil Rights Stamp Series Commemorates Historic Acts of Freedom, Courage, Equality
WASHINGTON— With this 2013 stamp, the U.S. Postal Service commemorates the 150th anniversary of the Emancipation Proclamation, which President Abraham Lincoln signed on Jan. 1, 1863. To commemorate this milestone, the Postal Service introduced a limited-edition Forever Stamp on January 1st at The National Archives in Washington, D.C., which houses the historic document.
The Emancipation Proclamation Forever Stamp goes on sale January 2nd at Post Offices nationwide, and can be purchased online at
www.usps.com/stamps
or by phone at 800-Stamp24 (800-782-6724).
The Emancipation Proclamation Forever Stamp represents freedom and is the first in a series of three Civil Rights stamps to be released in 2013. The remaining stamps in the series, to be issued later this year, mark enduring moments of courage and equality in the civil rights movement by featuring Rosa Parks and the March on Washington.
"Stamps often tap into our culture and help us remember the events and people who have had an impact on American history," said Deputy Postmaster General Ronald A. Stroman. "The Emancipation Proclamation was a powerful symbol of President Lincoln's determination to end the war, to end slavery, and to reconstruct the economy of the country without slave labor."
The Emancipation Proclamation stamp is the latest stamp to be issued by the Postal Service in tribute to civil rights events or leaders. In 2009, the organization released stamps featuring 12 civil rights pioneers including Mary Church Terrell and Mary White Ovington, and every year it commemorates notable leaders and cultural milestones through other stamp collections such as the Black Heritage series and the American Treasures series.
On August 16, 1963, the Postal Service issued a stamp commemorating the 100th anniversary of the Emancipation Proclamation. The stamp was designed by George Olden, who was the first African American to design a U.S. postage stamp.
Following the stamp dedication by Stroman, Dr. Bernice Johnson Reagon, musician, song talker and scholar, performed a dramatic reading of the Emancipation Proclamation. The original document was on display at The National Archives for a limited viewing.
About the Emancipation Proclamation Stamp Design
Renowned graphic designer Gail Anderson partnered with art director Antonio Alcalá to design the stamp. It prominently features the phrase, "Henceforward Shall Be Free," which is taken from the historic document. It also notes Abraham Lincoln's name and the year the Emancipation Proclamation was signed.
Anderson, known for her term as senior art director at Rolling Stone magazine and design of Broadway play posters, revels in making typography from old forms. To evoke the look of posters from the Civil War era, she tapped Hatch Show Print of Nashville, TN, to produce the Emancipation Proclamation stamp. Established in 1879, Hatch is one of the oldest working letterpress print shops in America and employs the motto, "preservation through production."
Source: Press release