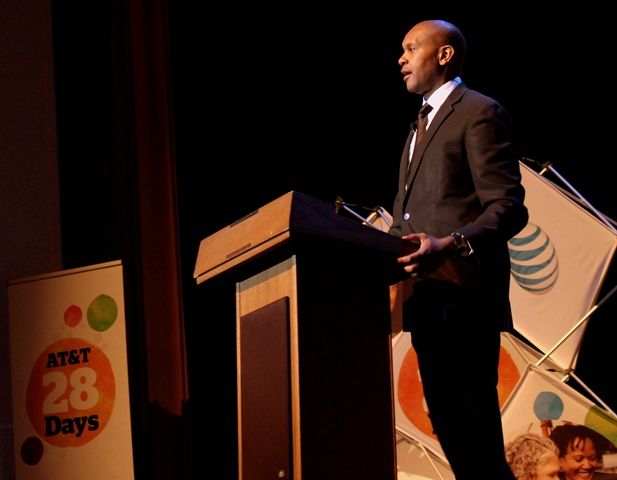 Author and activist Kevin Powell inspires the crowd as the featured speaker at AT&T's 28 Days Campaign at the Lincoln Theatre in Washington, DC
2013 campaign kicks off in Washington, D.C. with activist and author Kevin Powell and new host Rickey Smiley
WASHINGTON, DC – On Thursday, February 7th at the historic Lincoln Theatre, AT&T kicked off its 28 Days campaign that aims to motivate consumers to take a forward look at Black History Month as they create their own history. Celebrating its fifth anniversary, AT&T 28 Days features a multi-city speaker series and concert tour with comedian and radio personality, Rickey Smiley serving as host. The free speaker series and concert tour blends together a roster of performers, thought leaders and innovators that are taking a forward look at making history. Also new for 2013, the campaign will showcase musical performances from R&B sensation, Elle Varner.
"We believe it's what you do, with what we do, which is why 28 Days keeps coming back. AT&T 28 Days is five years strong because of the response and support we've received from our African American consumers," said Jennifer Jones, vice president of Diverse Markets, AT&T Mobility and Consumer Markets. "Each year, we look at new ways to move people to act on their dreams today. By adding new speakers and musical performances to 28 Days, we hope the campaign remains fun and relevant."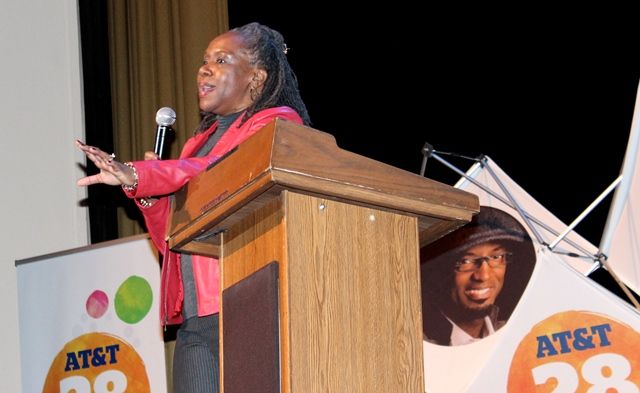 Jennifer Jones, vice president of Diverse Markets, AT&T Mobility and Consumer Markets addresses the crowd.
For the campaign's first stop in the nation's capital, the featured speaker was hip-hop commentator, activist and author
Kevin Powell
, who has dedicated his life to public service since the age of 18. BlackGivesBack caught up with Kevin while in DC to learn more about his community involvement and his organization,
BK Nation
.
It was Kevin's experience running for Congress in 2008 and 2010 that made him aware of the lack of resources available to community residents. It also reaffirmed his commitment to community service. He would often hear on the campaign trail, "what are you going to do for me?" In an effort to serve as a bridge to information, resources and services in communities nationwide, Kevin created BK Nation (BK stands for Building Knowledge), a national organization that will focus on major issues that arose during his campaign, such as education, health, art and culture, the environment and entrepreneurship among others. He hopes that this platform will serve as a major hub to inspire individuals stating, "All movements are local. You don't have to be FLOTUS, you can be a leader."
Upcoming stops on the AT&T 28 Days speaker series and concert tour includes:
MC Lyte, hip-hop icon and pioneer female lyricist; Tabernacle Theater; Thursday, Feb. 21 in Atlanta, Ga.
Jeff Johnson, social activist and political commentator; Millennium Centre; Wednesday, Feb. 27 in Detroit, Mich.
The speaker series events are free and open to the general public. Tickets are available at
att.com/28days
on a first come first serve basis.
And as part of this year's campaign, AT&T has added a 28 Days to Inspire photo sharing contest at
28daystoinspire.com
that allows consumers to submit and share photos of their inspirational moments for a chance to win a grand prize of $1,000 to purchase tickets to any Live Nation concert in the U.S. taking place in 2013, and $1,000 cash. On the website, consumers will be able to submit their photos through Facebook, Twitter and Instagram. The contest runs from January 21 and continues throughout the month of February. All submissions will be judged based on creativity, uniqueness and their relevance to Black History Month. Only one entry can be made per person. A complete list of contest rules can be found at
att.com/28days
.
Photo credit: Nicole N. Mosley