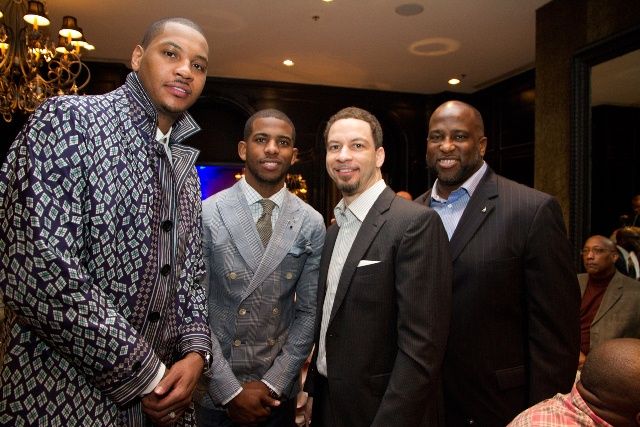 NBA All Stars Carmelo Anthony and Chris Paul with ESPN analyst Chris Broussard and Open Society
Foundations' Shawn Dove at the Catalyst Brunch held during the 2013 All Star Weekend in Houston, TX
HOUSTON, TX – NBA players, celebrities and their fans look forward to the excitement every year that is the NBA All Star Weekend, best known for its many events and festivities leading up to the All Star game. But two NBA All Stars hosted a different kind of event. Chris Paul and Carmelo Anthony joined forces along with the Admiral Center to host a discussion on strategies to improve life outcomes for black men and boys before they took to the basketball court later that day.
On Sunday, February 17th, nonprofit, philanthropy, corporate and community leaders gathered for the Catalyst Brunch, an invitation only breakfast at Hotel Zaza to discuss what is working in the field of black male achievement and how everyone can meaningfully engage in tangible strategies that work.
Among the guests were
Ben Hecht
, President of Living Cities;
Shawn Escoffery
, Surdna Foundation;
Susan Taylor Batten
, President of Association of Black Foundation Executives (ABFE);
Shawn Dove
, Campaign for Black Male Achievement, Open Society Foundations;
Ralph Smith
, Annie E. Casey Foundation;
James Anderson
, Linebacker for Carolina Panthers;
Chris Broussard
, ESPN Analyst;
Dr. Howard Stevenson
, University of Pennsylvania;
Leon Rose
, CAA Agent;
Diann Valentine
, wedding and event planner and husband
Damon Hayley
;
Dale Allen
, Brand Jordan;
Anthony Dicosmo
, Nickelodeon/MTV Networks;
Joe Jones
, Center for Urban Families;
Marcus Paul
&
Brennan Rabb
, The Sartorial Collective and
Lincoln Stephens
, Marcus Graham Project.
Pastor Michael McBride, Executive Director of Admiral Center Sherrie Deans and Chris Paul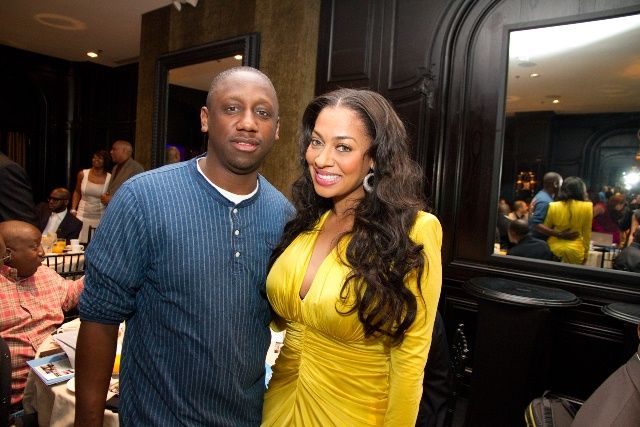 Chaka Zulu and Lala Anthony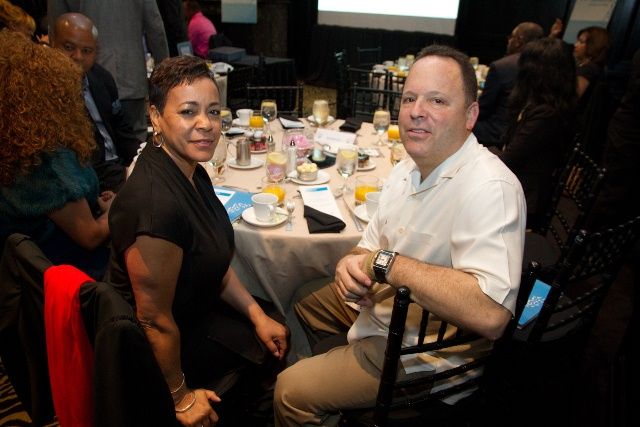 President/CEO of ABFE Susan Taylor Batten and CAA Sports Agent Leon Rose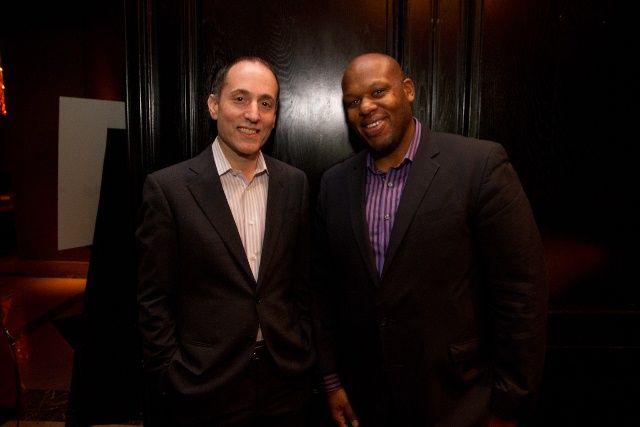 Ben Hecht, President of Living Cities and Shawn Escoffery, Surdna Foundation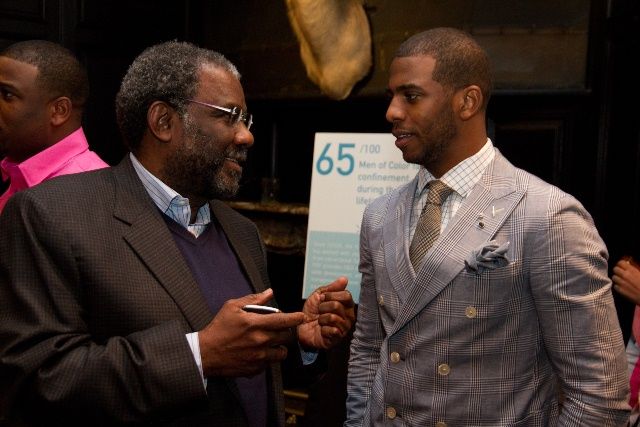 Ralph Smith, SVP, Annie E. Casey Foundation and Managing Director of the Campaign for Grade Level
Reading with Chris Paul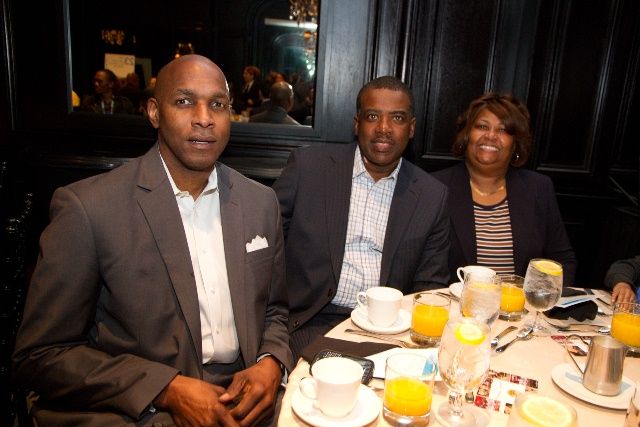 Dale Allen, Brand Jordan with Charles and Robin Paul (parents of Chris Paul)
Isha Price (left), Principal and Co-Founder, Wishbone Consulting Group and sister of Venus and
Serena Williams with guests
Latesha Williams and Tragil Wade (sister of NBA star Dwyane Wade)
Chris Paul, stylist Rachel Johnson and Victor Cruz, NY Giants
Evelyn Burnett and Sherrie Deans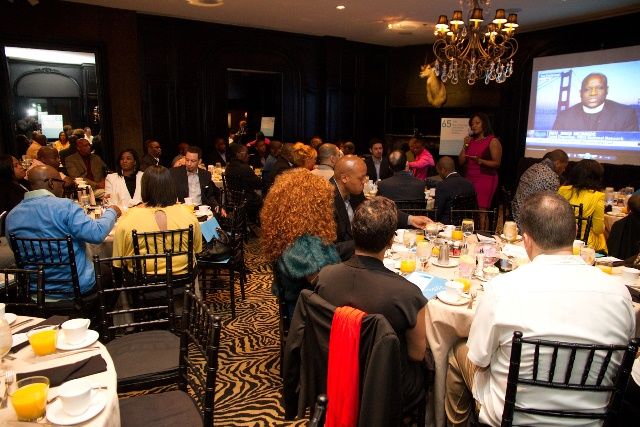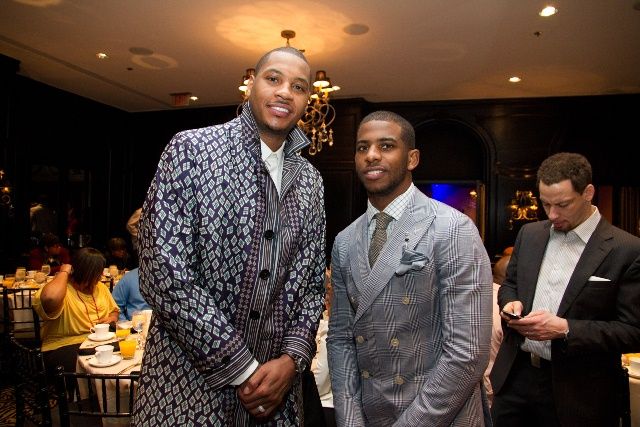 After presentations and discussion, guests were provided two opportunities for engagement to continue the work in the areas of gun violence and literacy, specifically third grade reading level achievement.
Carmelo Anthony
and
Chris Paul
are both members of the Admiral Center, and are heavily invested in this initiative. The Admiral Center, co-founded by former NBA star David "The Admiral" Robinson, helps celebrities use their resources and influence to develop sustainable and impactful solutions to improve the lives of low-income people in America. For more information, visit
admiralcenter.org
and see highlights from the inaugural Catalyst event
here
.
Photos courtesy of the Admiral Center