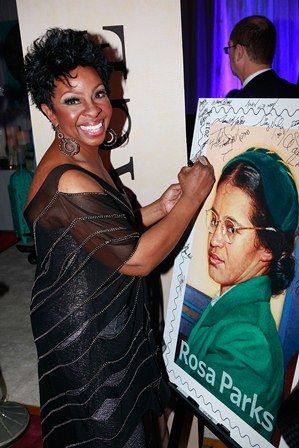 U.S. Postal Service Releases Second Stamp in Iconic Series
LOS ANGELES, CA - On Friday, February 1, celebrities and guests attending the 44th Annual NAACP Image Awards at the Shrine Auditorium previewed the new Rosa Parks Forever Stamp issued by the U.S. Postal Service. The stamp will officially be available for purchase on Monday, February 4th, which would have been her 100th birthday.
Guests at the awards ceremony viewed a taped message from Deputy Postmaster General Ronald Stroman, who highlighted the new set of civil rights stamps that includes the January 1 issue of the Emancipation Proclamation Forever Stamp.
In his message, Stroman expressed how the Civil War was "a struggle for unity" that became "a fight for freedom," as reflected with the passage of the Emancipation Proclamation. "Rosa Parks' act of courage changed American history," said Stroman. In referencing Dr. Martin Luther King Jr.'s "I Have a Dream" speech delivered during the March on Washington, Stroman reminded viewers that "the dream of equality galvanized a nation."
Celebrities at the 44th NAACP Awards such as Samuel L. Jackson, Keke Palmer, Steve Harvey, Gladys Knight (pictured) and Gloria Reuben signed the historic stamp.
Other kick off events scheduled in observance of the Rosa Parks Forever Stamp include a special ceremony at the Charles H. Wright Museum of African American History in Detroit and a first-day-of-issue ceremony during the National Day of Courage honoring Parks at the Henry Ford Museum in Dearborn, MI, where the Rosa Parks bus is on permanent display.
In August, the series will culminate with the dedication of a stamp recognizing the 50th anniversary of the historic March on Washington. To purchase stamps beginning February 4, visit online at usps.com/stamps or call by phone at 800-STAMP24 (800-782-6724).