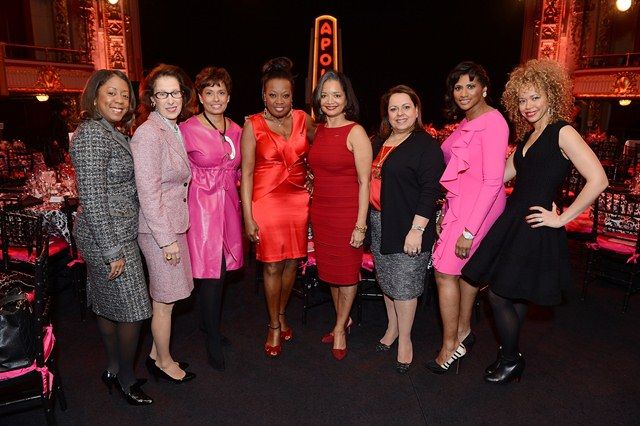 Diva Committee 2013: Michele Gadsden-Williams, Joannie Danielides, Yolanda Ferrell-Brown, Star Jones,
Jonelle Procope, Rita Jammet, Carolyn Minick-Mason and Jacqueline Nickelberry, Esq.
Fundraiser Celebrating the Achievements of Extraordinary Women in Media, Music, Fashion and Business Raises More Than $200,000 for Non-Profit Theater's Education Programs
Harlem, NY – On February 14, 2012, the world famous Apollo Theater held its third annual
Dining with the Divas
luncheon, a fundraiser celebrating the extraordinary accomplishments of women in the arts and in business. Hosted by Emmy Award-winning broadcast journalist
Star Jones
,
Dining with the Divas
benefits the Theater's education and community programs. Held on the Theater's iconic stage, where legendary Divas such as Ella Fitzgerald, Sarah Vaughan, Billie Holiday, Aretha Franklin and Gladys Knight have enchanted audiences, Divas offered participants an opportunity to connect with some of the country's most powerful, accomplished, and influential women. Attendees included:
Gayle King
,
Bari Seiden
,
Erica Reid
,
Connie Ann Phillips
,
Sheila Newman Johnson
,
Loida Nicholas Lewis
and
Thelma Golden
.
Dining with the Divas
raised over $200,000, which will support the non-profit theater's education and community programs, which include career day panels, in-school enrichment programs, a summer internship program, a Saturday workshop series, and the Apollo's Oral History program. Sponsors for Divas include Credit Suisse, Estee Lauder, Ferrell-Brown Design, Hearst Magazines, Lane Bryant and Viacom.
"
Dining with the Divas
is a moment for the Apollo to spotlight women impacting the world through their work, and to acknowledge their role as mentors for the next generation," said Apollo president and CEO, Jonelle Procope. "The Apollo is all about paying it forward, and our audience included some young women who have participated in our education programs. It is important that we let our young people to have access to inspirational women, and to stand on our shoulders as we have all stood on shoulders of others."
Apollo Theater president and CEO Jonelle Procope and Fairview Capital Partners managing partner and Apollo Theater board member JoAnn Price
During the event, Procope was surprised with a special presentation in honor of her 10th year as President & CEO of the Apollo. The presentation included a special video created by staff that highlighted all of her milestone Apollo moments, such as Bruce Springsteen's concert and the unveiling of their new Walk of Fame in 2010. It also included speeches by Apollo Board members Yolanda Ferrell-Brown and JoAnn Price, a letter of congratulations from Mayor Bloomberg, as well as lovely remarks from Jonelle's husband Fred Terrell and Ken Knuckes of the Upper Manhattan Empowerment Zone. She stated about the honor, "This means so much coming from my friends, my colleagues and the amazing Apollo staff. They say it takes a village to build something and indeed I am proud to be a part of such an amazing village. I am so excited about where this institution is and I'm very hopeful about the future. And I hope you continue to be a part of the Apollo family and come on this journey with us."
Author Crystal McCrary, Erica Reid and Alicia Bythewood
attend 2013 Dining with the Divas.
Ferrell-Brown Design president Yolanda Ferrell-Brown and Karen Phillips
A
pollo Theater Academy Students Shantel Destra (left) and Sonya Mattis (right)
with Dining with the Divas Host Star Jones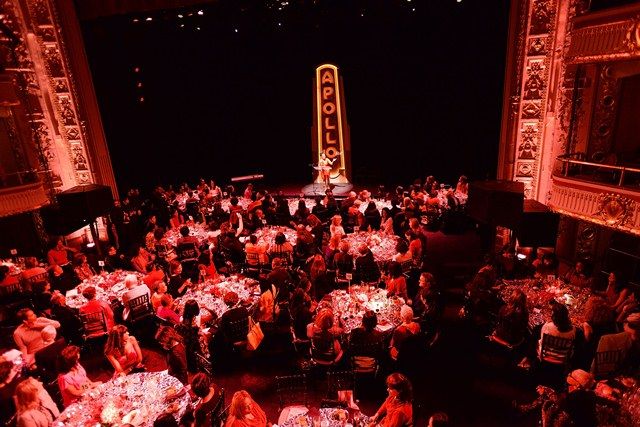 About the Apollo Theater
The Apollo is a national treasure that has had significant impact on the development of American culture and its popularity around the world. Since introducing the first Amateur Night contests in 1934, the Apollo Theater has played a major role in cultivating artists and in the emergence of innovative musical genres including jazz, swing, bebop, R&B, gospel, blues, soul, and hip-hop. Ella Fitzgerald, Sarah Vaughan, Billie Holiday, Sammy Davis, Jr., James Brown, Michael Jackson, Bill Cosby, Gladys Knight, Luther Vandross, D'Angelo, Lauryn Hill, and countless others began their road to stardom on the Apollo's stage.
The Apollo Theater's new artistic vision builds on its legacy. New Apollo programming has music as its core, driving large scale and more intimate music, dance and theater presentations. The Apollo will continue to present historically relevant presentations, as well as more forward-looking, contemporary work. Based on its cultural significance and architecture, the Apollo Theater received state and city landmark designation in 1983 and is listed on the National Register of Historic Places. For more information, visit
www.apollotheater.org
.
Related posts
:
Apollo Theater Announces New Board Members
and
Young Patrons of the Apollo Hosts Southern Soiree
Photos courtesy of the Apollo Theater