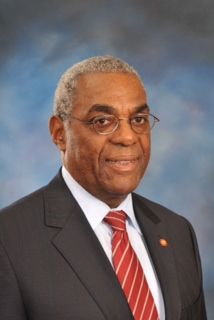 Washington, D.C. – The Thurgood Marshall College Fund (TMCF) is delighted to announce that John W. Garland, a distinguished scholar, veteran, academic leader and talented and enthusiastic educator will join the organization as its inaugural President-In-Residence. Coming off of a year-long celebration of its 25th Anniversary, TMCF's appointment of President Garland is just one example of the type of innovation TMCF wants to become known for in higher education.
"When deciding to recruit a President-In-Residence to the organization it was clear we needed to look no further than one of our own retired member-school presidents in order to find the talent we were seeking. John Garland has been known as one of the most effective public Historically Black College and University presidents," says Thurgood Marshall College Fund President & CEO Johnny C. Taylor, Jr.
Garland served as President of Central State University from September 1997 through September 2012. Under his leadership the University experienced significant advances in financial and administration areas. Mr. Garland graduated from Central State University in 1971, where he earned a Bachelors of Arts Degree in Political Science in three years. He graduated from the Ohio State University College of Law in 1974, and in that same year he was admitted to the Bar of the State of Ohio.
Garland has demonstrated significant and inspired academic leadership over the years. Among the many responsibilities of the President-In-Residence, Garland will work closely with the TMCF executive team and its Board of Directors on providing strategic leadership to the TMCF member-school campuses as well as advice and guidance on matters of academic policy. He will advise the President and CEO on items regarding higher education and represent the organization on boards and at events as an expert who can speak on areas centered around HBCUs, college administration and leadership, among other topics. His commitment to student success and experience as a former college administrator of nearly 25 years confirms his position as the quintessential candidate to help advance TMCF's mission.
"I am honored to be joining the organization as the President-In-Residence," said Garland. "I am anxious to get back in a higher education arena and look forward to collaborating with the TMCF staff on creating new opportunities for the public HBCUs."
Prior to moving into higher education, Garland had a varied and successful career as a civil rights and trial lawyer. He began his career in higher education in 1988 as General Counsel for the University of the District of Columbia. In 1991 he was named Associate General Counsel/Special Assistant Attorney General for the University of Virginia. In 1993 he was appointed to the position of Executive Assistant to the President of UVa and eventually became Associate Vice Provost for Intellectual Property. Garland is a veteran of the U.S. Marine Corps and was awarded the Purple Heart for wounds he received while serving as an infantry squad leader in Vietnam. He is a devoted husband, father and resides in the historic Le Droit Park district of Washington, D.C.
For more information about TMCF and its initiatives, visit:
www.ThurgoodMarshallCollegeFund.org
.
Source: Press release/Photo: TMCF