Organization Previews New "A Mind is a Terrible Thing to Waste"® PSA Campaign Featuring UNCF Chicago Scholarship Recipients
Chicago, Illinois – UNCF (United Negro College Fund), the nation's largest and most effective minority education organization, and 300 Chicago education, civic leaders and students gathered on Wednesday, February 13, 2013 at the Hyatt Regency to hear a panel of experts discuss the state of education in the city and the country. The event also previewed a new edition of the iconic "A mind is a terrible thing to waste"® public service announcement campaign featuring real students sharing their stories, including two from Chicago.
Among the guests were Dr. Michael Lomax, president and CEO, UNCF; Annette Gurley, Chicago Public Schools Chief of Teaching and Learning; Andrea Zopp, president, Chicago Urban League; Paul La Schiazza, president, AT&T Illinois; and Tim King, founder, Urban Prep Academies.
UNCF is working with leaders in Chicago and the country to ensure African American students receive the education the nation needs them to have. The latest version of the "A mind is a terrible thing to waste"® campaign echoes this message through the stories of real students designed to provide inspiration and role models for young people.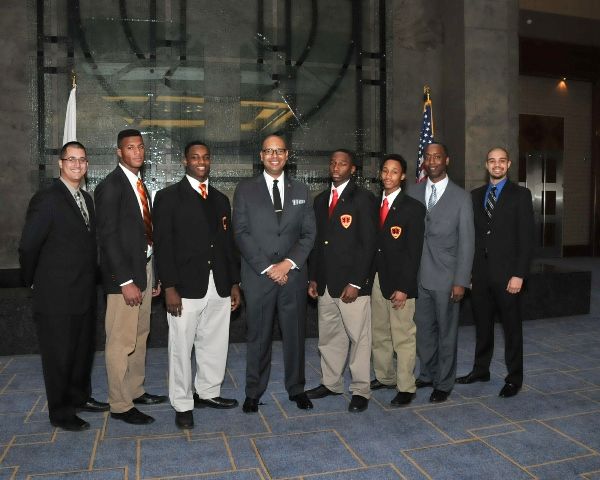 Urban Prep Students and Representatives with Tim King
Priscilla Stratten, Development Director, UNCF; Annette Gurley, Chief of Teaching and Learning, CPS; Jann Honore, Regional Development Director, UNCF
Annette Curley, Paul La Schiazza, Andrea Zopp, Dr. Michael L. Lomax, Tyronne Stoudemire, Principal & Senior Diversity Consultant, Mercer; Reverend Dr. Otis Moss, III, Trinity United Church of Christ
Sekou Biddle, Vice President of Advocacy, UNCF; Urban Prep Students; and Dr. Michael L. Lomax
In related news, UNCF's A Mind is Gala will be held on Thursday, March 7, 2013 in New York City. Ingrid Saunders Jones, Chair, The Coca-Cola Foundation; and Senior Vice President of Global Community Connections for The Coca-Cola Company, soon to be retiring, will be presented with the President's Award. The Rev. Dr. Calvin O. Butts, Pastor of the Abyssinian Baptist Church, President of the State University of New York College at Old Westbury, and Chairman and Founder of the Abyssinian Development Corporation, will be presented the Shirley Chisholm Award for Community Service. To purchase tables or tickets, call 212-820-0140. See highlights from the 2012 A Mind Is Gala
here
.
Photos courtesy of UNCF Chicago