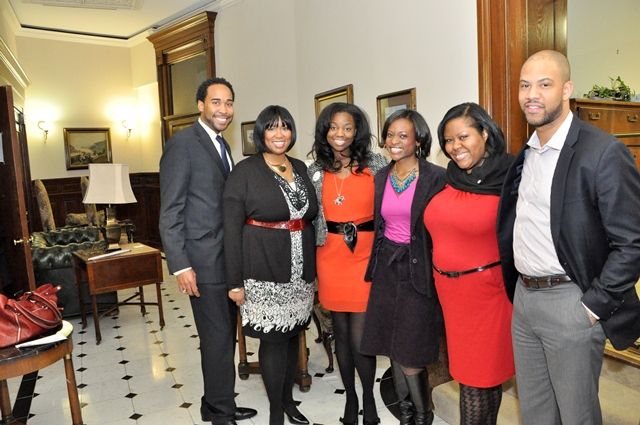 Defining Young Black Philanthropy moderator David Johns; Panelists: Stefanie Brown-James, Kezia Williams, Ebonie Johnson Cooper (event host), Rita Lassiter and Clarence Wardell III.
On February 21st, black millennial influencers gathered in Washington, DC to discuss their role in civic engagement and social responsibility
WASHINGTON, DC – African American philanthropic influencers made a statement in the Nation's Capital last Thursday night. As described by
The Washington Post
, Friends of Ebonie "is on a crusade to debunk stereotypes about philanthropy while also rallying the African American community to become better givers." Defining Young Black Philanthropy-DC, hosted by
Friends of Ebonie
, attracted more than one hundred black millennials to the National Headquarters of the National Council of Negro Women for an evening of networking, community engagement and energetic dialogue.
Now the second city for the trailblazing panel series, Washington, D.C. brought an energy even Friends of Ebonie founder, Ebonie Johnson Cooper wasn't expecting. "I am still in shock at the level of intensity from the night. The passion for giving my peers showed is evidence we're redefining philanthropy." The evening began with an opportunity for attendees to meet and greet six local non-profits looking to connect with new donors and volunteers. Featured program nonprofits included: D.R.E.A.M. Life Inc., A Legacy Left Behind, Dreams Work, The MusicianShip, Black Benefactors, and Michelle In Training.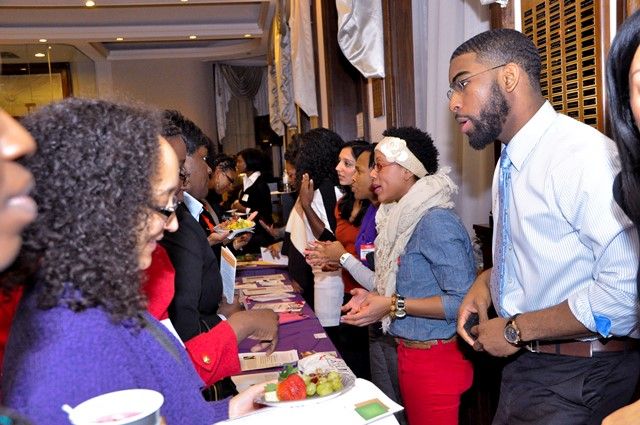 Attendees meet with the event's featured nonprofits.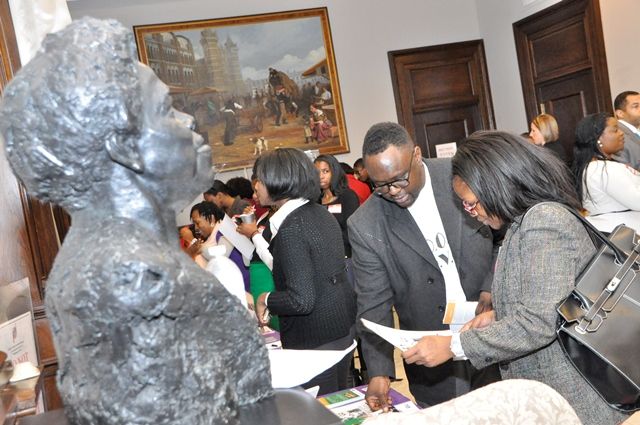 Following the mixer, an hour and a half long panel discussion started, led by enthusiastic moderator David Johns, Director of IMPACT. Johns kicked off the conversation with a simple yet thought provoking question to the panel, how do you define philanthropy? "I don't have a lot of money but I have time. And I think it's important that we give our time where we can," shared panelist Rita Lassiter, Secretary for National Urban League's Young Professionals. Panelist Kezia Williams, Chair of Capital Cause, went on to educate the room that African Americans give more than other racial groups; giving 25% of their discretionary income to cause work. Yet, it was panelist Clarence Wardell, III, Ph.D., co-Founder of Tweenate & Research Analyst for CNA, who got the conversation riled up with an anecdote about friendly banter he shared recently on Michael Jordan and his social accountability regarding Nike's Jordan branded shoes. The room erupted for twenty minutes around Jordan's civic accountability and how the black community should react. Stefanie Brown-James, panelist and former National African American Vote Director, Obama for America 2012, closed the conversation by charging attendees to "Get right. Get [your money] tight. Get going," with giving back. Joshua Lopez, former At-large City Council candidate also joined the panel.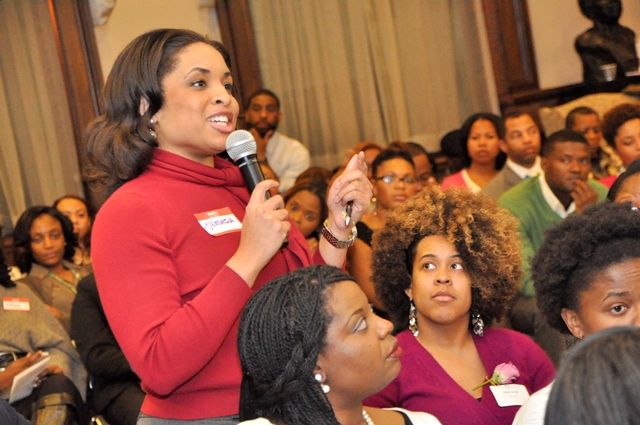 The event was also live tweeted using the Twitter hashtag #DefiningYBPDC. Johns and attendees engaged in lively conversation that carried over well into the next day. Tweeter, @DarlaBunting tweeted to Friends of Ebonie: You ignited something in all of us to do more last night!!
Additionally, the event featured a host committee of Washington's philanthropic leaders. In addition to the Washington Post, other media coverage included: AFRO American Newspaper, Black Gives Back, and Crème Magazine. In-kind support was provided by author Valaida Fullwood, local businesses Merlot's Masterpiece, Pretty Girl Cupcakery, and Sweets the Wright Way. Beverages were provided by Ciroc.
Source: Press release/Photo credit: JKDowd Media