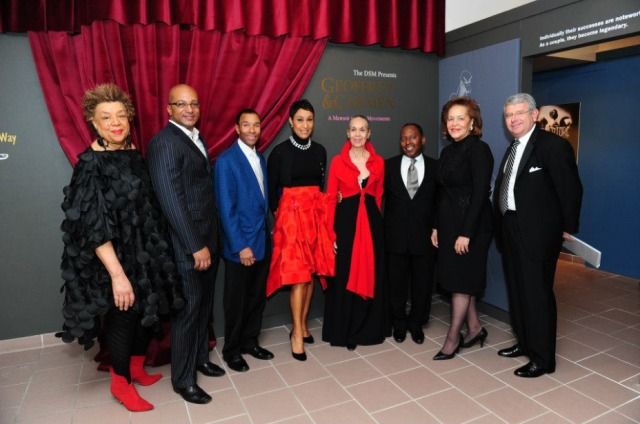 Dr. Carol Adams, President and CEO of DuSable Museum; Richard Gamble, Publisher and General Manager, Chicago Magazine; Tony Smith, PNC Bank; Desirée Rogers, Honorary Event Chair and CEO of Johnson Publishing Company; Carmen Delavallade; C larence Bourne, DuSable Museum Board Chairman; Marsha Jones, SVP PNC Bank and Joe Gregoire, PNC Bank, State Chairman for Illinois Banking at the opening exhibition gala for Geoffrey and Carmen: A Memoir in Four Movements "Theatre," "Art," "Dance" and "Design" on February 9, 2013 in Chicago.
By Sandra C. Davis, Chicago Contributor
CHICAGO, IL – The DuSable Museum of African American History in association with the California African American Museum (CAAM) celebrated the love, lives and legacies of award-winning artists Geoffrey Holder (dancer/director/choreographer/fashion designer/artist/actor/author) and Carmen DeLavallade (dancer/actress/choreographer/professor/sculptor) with their newest exhibit Geoffrey and Carmen: A Memoir in Four Movements "Theatre," "Art," "Dance" and "Design." The exhibit kicked-off with an exclusive exhibition extravaganza: "A Conversation With Geoffrey Holder and Carmen DeLavallade" moderated by Susan Taylor, Editor-in-Chief Emeritus of Essence magazine and founder of National CARES Mentoring, on Saturday, February 9, 2013.
Desirée Rogers, CEO of Johnson Publishing Company and honorary chairman of the opening night premiere, welcomed the audience with warm remarks and introduced Susan L. Taylor, who presented Carmen DeLavallade, Leo Holder, and Geoffrey Holder (via Skype) to the stage. "Carmen is not my wife. She is my goddess," said Holder. Incredibly, both Holder and DeLavallade's renowned careers combined has lasted over a century and traversed the worlds of art, dance, design and theatre. Radiantly, Carmen offered the audience her philosophy on remaining vivacious at 81 sharing, "Stay curious."
A tony jazz band provided the soundtrack to the exhibition gala featuring appetizers, salad, satay and dessert bars located across two floors with drinks provided by Moët & Chandon.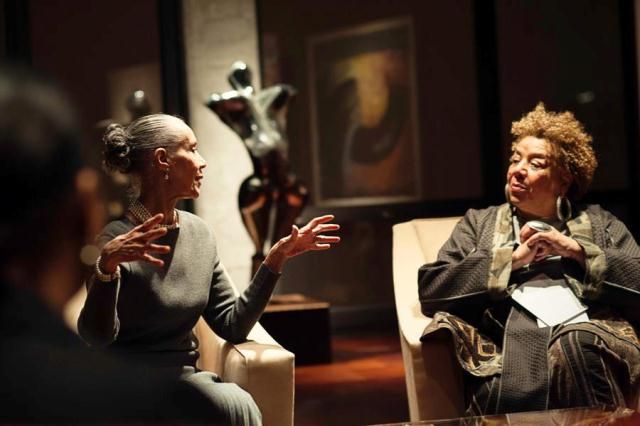 Carmen Delavallade and Dr. Carol Adams, DuSable Museum President and CEO
Other events held in conjunction with the exhibition opening included a welcome reception hosted by advertising innovator and philanthropist Tom Burrell and his wife, Madeleine, a noted marketing maven and philanthropist at their Afrocentric, art-filled home that introduced Ms. DeLavallade to Chicago's arts and philanthropic communities. "The Welcome Dinner By The Burrells" featured a conversation with Dr. Carol Adams, President and CEO of the DuSable Museum and exhibition muse Carmen DeLavallade.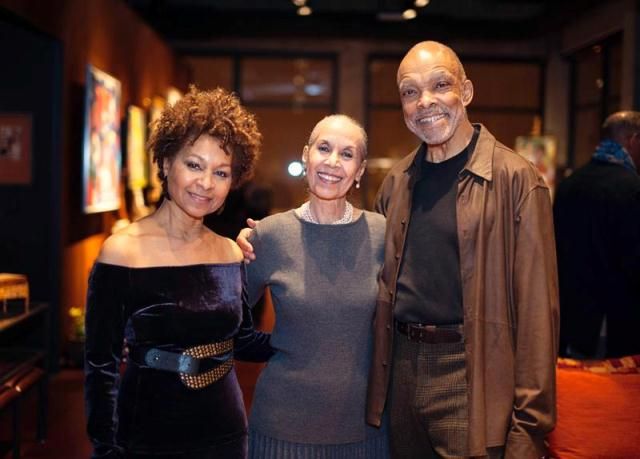 Madeleine Burrell, Carmen DeLavallade and Tom Burrell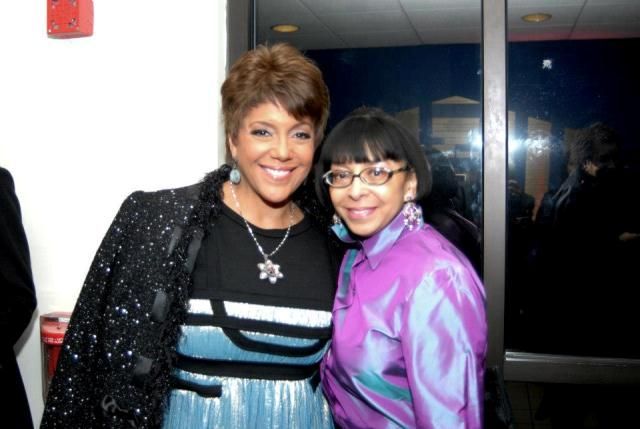 Linda Johnson Rice, president and CEO of Johnson Publishing Company and Sandra Rand of the Rand Family Foundation
Fostering Geoffrey and Carmen's love of dance, Carmen DeLavallade held a dance workshop in conjunction with the DuSable Museum at the Joffrey Academy of Dance, the official school of the Joffrey Ballet for students of color. Carmen bestowed the students with wisdom, techniques and antidotes equally.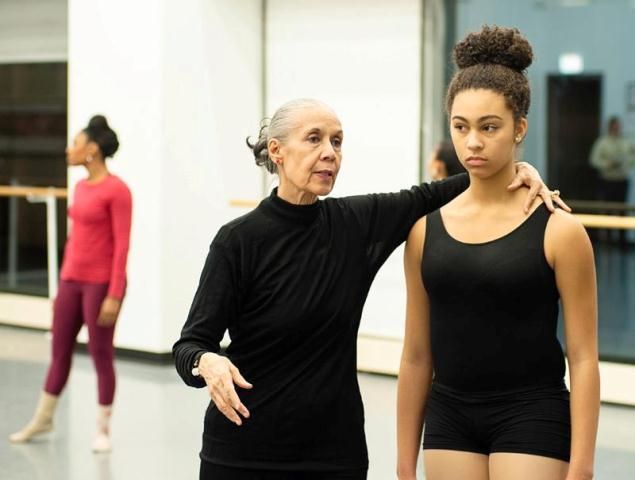 Carmen DeLavallade at Joffrey Academy of Dance with dance students.
Leo Holder, Geoffrey and Carmen's son who also serves as Exhibition Consultant, led students/artists and their parents in an art workshop. Leo later conducted a tour of the exhibit that bears his parents' names that showcases an extensive collection of their work including 90 paintings, sculptures, photographs, costumes, books and designs that span: "Theatre," "Art," "Dance" and "Design." Noted works include archival footage of ballets and dances created and choreographed for the Alvin Ailey American Dance Theatre, Dance Theatre of Harlem, The Metropolitan Opera, and American Ballet Theatre; and costumes and sketches of "The Wiz," "Timbuktu," "Dougla," "The Prodigal Prince" and "The Red Shoe." Charles Bethea curated the exhibit which runs through May 5, 2013.
The Opening Night Premiere Committee included honorary chairman Desirée Rogers, with honorary co-chairs Diane Dinkins Carr & Louis Carr, Janet Langhart Cohen & The Honorable William Cohen, Dr. Camille O. Cosby & Dr. William H. Cosby, Chaz Hammel-Smith Ebert & Roger Ebert and Carolyn Rush & Congressman Bobby L. Rush.
Exhibition sponsors are California African American Museum, Chicago Magazine, NBC 5 Chicago, The Chicago Community Trust, The Chicago Park District, The Joyce Foundation, PNC Bank, The Richard Driehaus Foundation, University Of Illinois At Chicago, Ariel Investments and United Airlines, the official airline of The Dusable Museum.
Visit the exhibition website at
geoffreyandcarmen.dusablemuseum.org
.
About the DuSable Museum of African American History
Founded in 1961 by teacher and art historian Dr. Margaret Burroughs and other leading Chicago citizens, the DuSable Museum is one of the few independent institutions of its kind in the United States. Developed to preserve and interpret the experiences and achievements of people of African descent, it is dedicated to the collection, documentation, preservation and study of the history and culture of Africans and African Americans. For more information, please visit
dusablemuseum.org
.