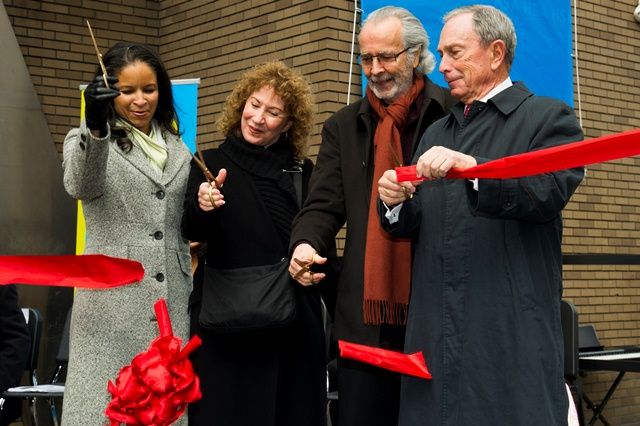 Yvette L. Campbell, Lani Hall Alpert, Herb Alpert, and Mayor Michael Bloomberg cut the ribbon to The Herb Alpert Center in Harlem, NY.
By Akira Barclay, NY Contributor
HARLEM, NY - On March 11, 2013, the home of the Harlem School of the Arts (HSA) was named The Herb Alpert Center honoring the gift of American music icons Herb and his wife Lani Hall Alpert. A renowned musician and co-founder of A&M Records, Herb Alpert has given Harlem School of the Arts $6 million in grants through The Herb Alpert Foundation.
The impact of the grants has been transformational, helping to rebuild and change the trajectory of the school after a temporary closure. "Harlem School of the Arts did close for a minute before my time and the fantastic thing is that this gift eliminated its inheritance debt," said Yvette L. Campbell the school's Executive Director. "But this gift not only has eliminated its debt but increased endowment for scholarships for students who want to study music, dance, theater and visual arts. Especially for those students who can't afford it, Mr. Alpert is making these dreams come true. We are really excited."
Mayor Michael R. Bloomberg and an array of theater and music celebrities were on hand as the new name was unveiled. Performances included HSA alumna N'Kenge, who stars in "Motown: The Musical," and current HSA students. Other special guests included HSA Board Chair
Charles Hamilton
and Vice Chair
Janice Savin Williams
, Actress Tamara Tunie and Charles Rangel.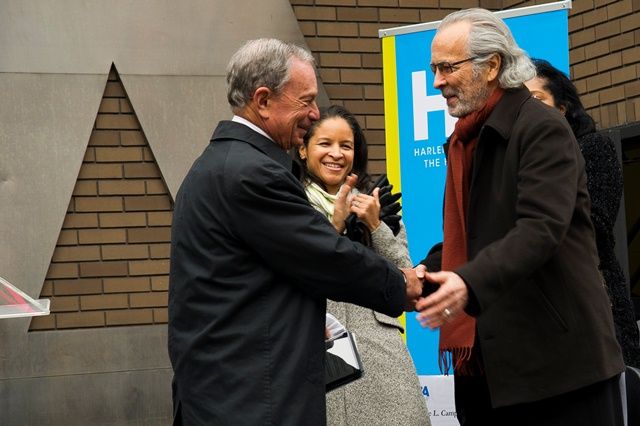 Mayor Michael Bloomberg, Yvette L. Campbell and Herb Alpert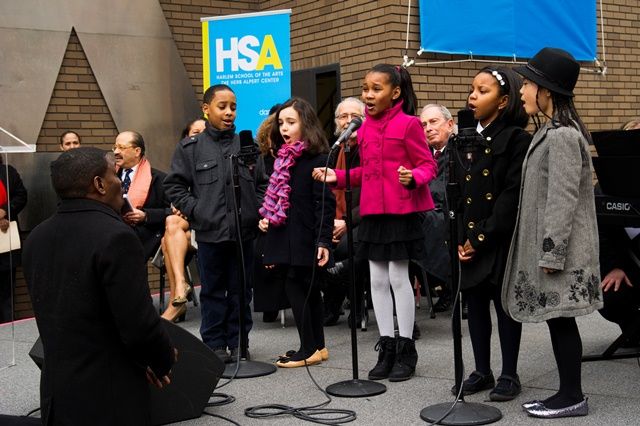 For nearly a half-century, HSA has transformed the lives of tens of thousands of young people. Located in Harlem's historic Hamilton Heights, this pioneering, world-class institution brings together music, dance, theatre, visual arts, and musical theatre instruction under one roof. Serving young people, ages 2 to 18, from the under-served communities of Harlem, across New York City, New Jersey and Westchester County, HSA leverages its reputation for excellence and roster of celebrated alumni to empower youths and constantly revitalize its surrounding community.
Bob Levinson, Yvette L. Campbell, Janice Savin Williams, Charles J. Hamilton, Rona Sebastian (President, Herb Alpert Foundation),
Lani Hall, Herb Albert,
Mayor Michael R. Bloomberg, N'Kenge, Charles B. Rangel, Busisiwe Zamisa and HSA students
For more information about Harlem School of the Arts, visit
www.hsanyc.org
.
About The Herb Alpert Foundation
The Herb Alpert Foundation, a non-profit, private foundation established in the early 1980's, makes significant annual contributions to a range of programs in the fields of Arts, Arts Education and Compassion and Well Being. Its funding is directed toward projects in which Herb and Lani Alpert and Foundation President Rona Sebastian play an active role. [The Foundation does not accept unsolicited proposals.]
www.herbalpertfoundation.org