Valaida Fullwood, author of "Giving Back" and Christina Lewis Halpern, author of "Lonely at the Top,"
were the featured speakers at BlackGivesBack's inaugural event presented by JPMorgan Chase
and its African American Employee Networking Group (BOLD) in New York City. Photo by Margot Jordan
Event featured Christina Lewis Halpern, daughter of Reginald F. Lewis, moderated by Valaida Fullwood, author of "Giving Back"
NEW YORK, NY - BlackGivesBack, in partnership with JP Morgan Chase and its' Black Organization for Leadership Development (BOLD) Business Group NY chapter,
held its first ever event
on Thursday, February 28 at the company's Madison Avenue location in observance of Black History Month.
Featuring Christina Lewis Halpern, journalist, philanthropist and author of "
Lonely At The Top
," the event was moderated by Valaida Fullwood, 2012 McAdam Book Award Winner and author of "
Giving Back
: A Tribute to Generations of African American Philanthropists."
After introductions by Ryan Seeram of JP Morgan Chase's BOLD Group and BlackGivesBack's founder Tracey Webb, Fullwood, known in the nonprofit sector as the "Idea Whisperer," shared her inspiration for her book and provided a historical overview of black giving. She then held a Q&A with Lewis Halpern, a former Wall Street Journal writer and daughter of the late business titan and philanthropist
Reginald F. Lewis
.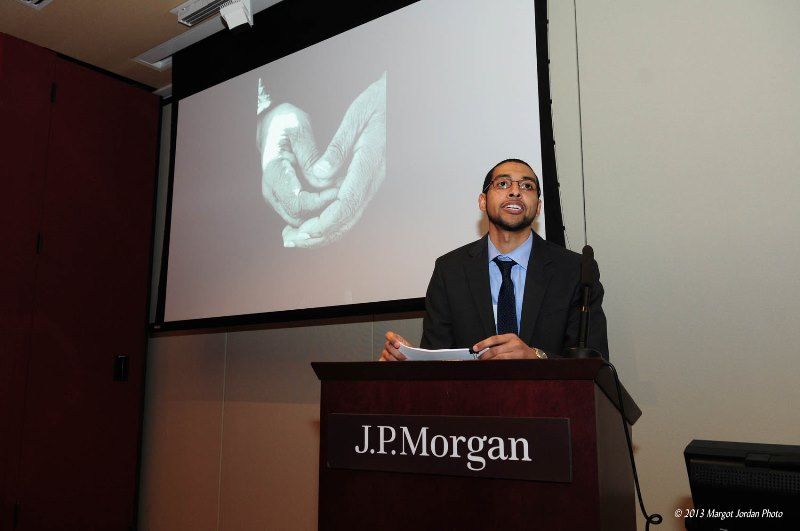 Ryan Seeram, Treasurer of JPMorgan's BOLD welcomes guests to the event.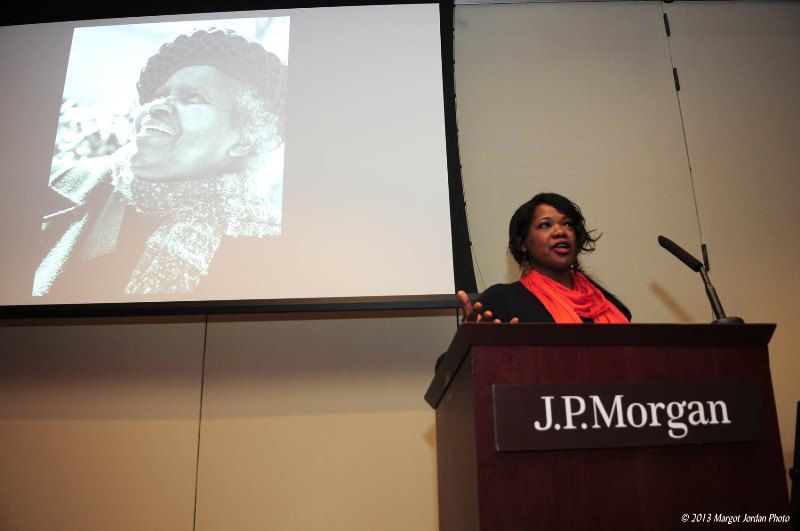 Valaida shares about her Aunt Dora (pictured in background), an inspiration for the book Giving Back
Lewis Halpern shared that when she set out to write her book, she sought out to answer the question, "what's the difference between what you've accomplished and what you've been given?" While the book touches on her relationship with her father, it also gives insight on how she has forged her own path separate from being the daughter of the highly successful African American entrepreneur. She also shared that philanthropy was instilled by her father at a very young age. While living in Paris as a child, she often visited the library there. Christina visited so much that her father made a donation, and gave her the check to present to the institution. Since the age of 12, she has been involved with her family's Reginald F. Lewis Foundation, and officially joined the board at the age of 18.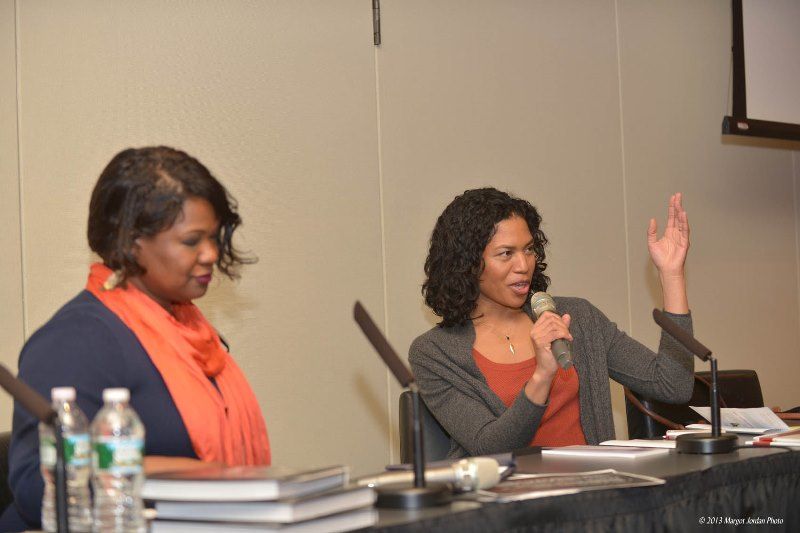 Lewis Halpern is also becoming a rising voice in the call for more diversity in Silicon Valley, and shared how she, along with others are working to increase the dearth of those underrepresented in the technology/start-up sectors, including African Americans and women. She shared resources and spoke about an upcoming invitation only event being held by
Platform.org
this July as just one avenue bringing light to the issue.
The dialogue and questions from the audience ranged from how smaller organizations can go for the "ask" to increase donations and volunteerism; to the lack of diversity and inclusion in the workplace; and how millennials can best make an impact in philanthropy. She also agreed and expanded on her father's famous slogan to "Keep going, no matter what," but not always in the same direction if a goal isn't working out - shift to a new direction and keep moving forward. Valaida closed out the program with a story from her book Giving Back, a poem titled, "Truth Be Told."
Jesse L. Jackson, Sr., an executive at JPMorgan Chase and senior sponsor for BOLD, poses a question to Christina.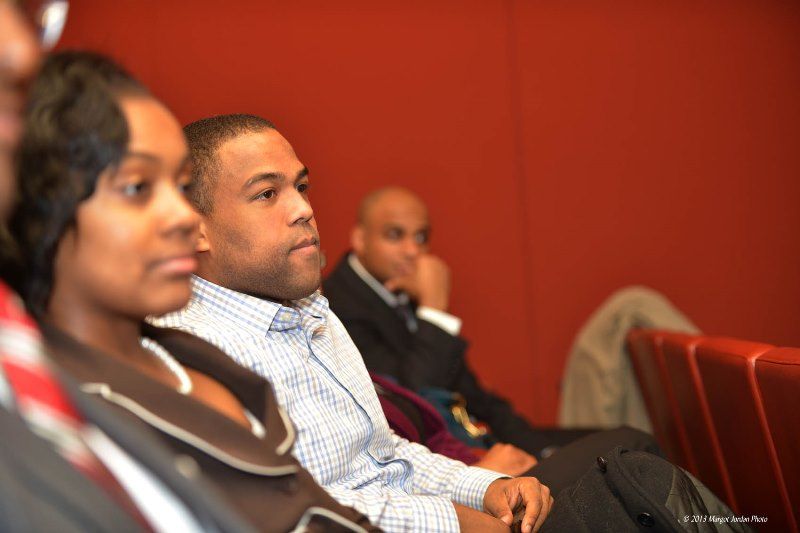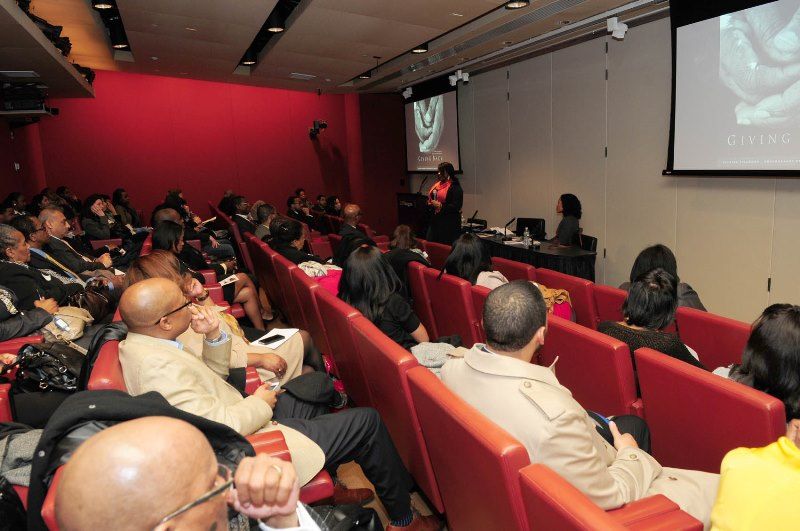 Chanel Bean, Co-Chair of JPMorgan's BOLD group closes out the program.
Following the interview, guests enjoyed a networking reception with an open bar and hors d'oeuvres. Among the guests were members of JPMorgan's BOLD group, staff from the Reginald F. Lewis Foundation, members of The Black Benefactors, Apollo Theater, Head and Heart Philanthropy, Diversity Affluence, Community Investment Network, Admiral Center, Friends of Ebonie, Sunny Day Marketing, It's Halftime and Wishbone Consulting Group. Christal Jackson, founder of Head and Heart Philanthropy shared, "Christina and Valaida remind of us the breadth and beauty of philanthropy from the African American perspective. Two women living out a legacy of giving impacting generations to come."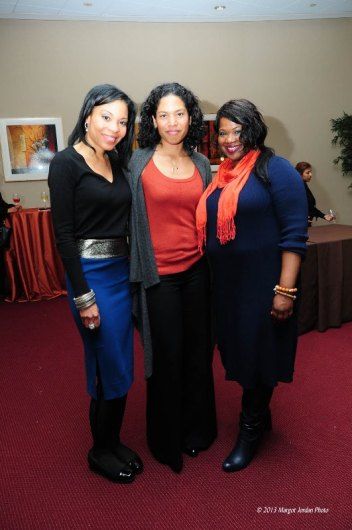 Tracey Webb, founder, BlackGivesBack with Christina Lewis Halpern and Valaida Fullwood
Valaida talks with Akira Barclay, NY contributor for BlackGivesBack
Valaida shared, "Bringing Black History Month to a close with a cross-generational gathering to honor the philanthropy of our ancestors, seasoned elders and next-gen philanthropists brought a joy I'm still savoring. While this was BlackGivesBack's inaugural event, I look forward to other, equally engaging events around the country."
Members of JPMorgan Chase BOLD group with Celeste Smith, Vice President, JPMorgan Private Bank and Andrea Hoffman of Diversity Affluence
JPMorgan Chase BOLD group members with event hosts
Kenny Ashe (pictured above, far right), a board member of Community Investment Network traveled from Philadelphia to attend the event. He shared, "This intimate gathering of young professionals and philanthropists was awe-inspiring, as we gleaned nuggets of wisdom from two dynamic authors, Christina Lewis Halpern and Valaida Fullwood. Subsequently, the root of philanthropy means 'love of mankind.' Christina's final remarks concluded with her quote, '"love well, because love is never wasted.'" Her comment reminded me that love should be the primary motivation for our individual and collective benevolence."
Tracey Webb, founder of BlackGivesBack shared, "This inaugural event was five years in the making, and it's fitting that it was held during Black History Month, as our featured guest is the daughter of a man who made black history and continues to inspire many in business and philanthropy." She continues, "I'm proud of Valaida's success with her book 'Giving Back,' and her efforts to reframe philanthropy in communities of color. Her participation was the icing on the cake. This event would not have been possible without the support of Celeste Smith, Vice President, Private Bank at JPMorgan and the generous support from JPMorgan Chase and its' BOLD group. I am forever thankful and I'm looking forward to a continued partnership."
Additional support was provided by the
Community Investment Network
and
Margot Jordan
, international photojournalist.
Photos courtesy of Margot Jordan, 646.226.6652