Event Honored Ingrid Saunders Jones and Rev. Dr. Calvin O. Butts
New York, NY – UNCF (United Negro College Fund), the nation's largest education organization and national advocate for education reform, was joined by over 1,000 educators, business and civic leaders, and supporters of education from across the country on March 7 at its annual UNCF "A Mind Is" Gala at the Hilton New York.
The event, hosted by WNBC/New York anchor David Ushery, raised funds to benefit more than 60,000 students who receive UNCF scholarships and attend UNCF's 38 member historically black colleges and universities and more than 900 colleges and universities across the country.
"We are deeply grateful to everyone whose support and participation has made this year's UNCF "A Mind Is" Gala such a success. That success is not just about one night, but about walking the walk and investing in a new kind of philanthropy; one that proves an investment in our young people today will pay dividends tomorrow, not just for them, but for all of us," said Michael L. Lomax, Ph.D., president and CEO, UNCF.
In addition to electrifying performances by Tony Award winner and longtime UNCF supporter Jennifer Holliday, presidents from UNCF's 38 member institutions were honored for their work and the partnership these institutions have with UNCF to ensure that HBCUs remain a cornerstone of UNCF's mission to increase the number of qualified African American college graduates who are ready to become tomorrow's leaders.
The UNCF "A Mind Is" Gala also continued its tradition of honoring noted civic, education, and business leaders for their game changing advocacy on behalf of education through partnerships with UNCF and their own work. This year, two longtime advocates on behalf of UNCF's mission to strengthen a college going culture received the organization's highest awards.
Ingrid Saunders Jones, vice president for Global Community Connections of the Coca-Cola Company and chair of the Coca-Cola Foundation, was honored with the UNCF President's Award for her work with and support of UNCF. Ms. Saunders Jones is a member of the Board of Trustees of UNCF member institution Clark Atlanta University and the national chair of the National Council of Negro Women.
Reverend Dr. Calvin O. Butts III, pastor of the historic Abyssinian Baptist Church, was honored with the UNCF Shirley Chisholm Community Service Award. Named for the former New York Congresswoman and the first major-party presidential candidate, the award was presented to Dr. Butts in honor of his longtime work addressing and solving educational challenges in Harlem and New York City. Russell Short, a student at a UNCF member HBCU and member of the Abyssinian Baptist Church, assisted in presenting Rev. Butts with his award. Past honorees have included Teach for America Corp members, Vernon E. Jordan, Young & Rubicam and the Ad Council. David Sable, global CEO, Young & Rubicam, and Peggy Conlon, president and CEO of the Ad Council were present at the event to discuss their longstanding partnership with UNCF.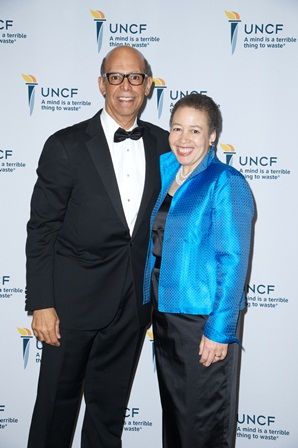 Dr. Calvin Butts accepts award from UNCF; Dr. Lomax and Dr. Beverly Daniel Tatum, President of Spelman College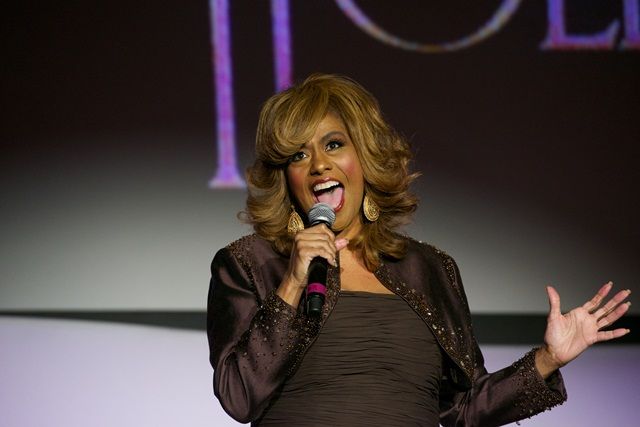 Jennifer Holliday performs for guests at Gala.
The gala gave supporters an opportunity to contribute to UNCF's Campaign for Emergency Student Aid (CESA.) Created in 2009, CESA provides scholarships that aid students facing financial shortfalls that threaten their ability to stay in college and graduate. To date, more than 6,000 donors have contributed more than $14 million to help more than 8,000 students stay in school. Javon Phillips, a UNCF member college graduate who received an inaugural CESA scholarship, is now the Basketball Operations Coordinator at Excel Sports Management in New York who represented the scholarship students.
The UNCF "A Mind Is" Gala was co-chaired by Ian M. Cook, chairman and CEO, Colgate-Palmolive Company, and David Sable, global chief executive officer, Young & Rubicam, and UNCF board member.
Since its founding in 1944, UNCF has raised more than $3.6 billion and helped more than 400,000 students secure college degrees. Each year, in addition to supporting its member institutions and their students, UNCF awards more than 13,000 scholarships and advocates for the right of low income and minority students to receive a good education from preschool through college graduation. Learn more at
UNCF.org
.
Top photo: Ingrid Saunders Jones and Dr. Lomax
Source: Press release/UNCF; Photo credit: Earl Gibson III