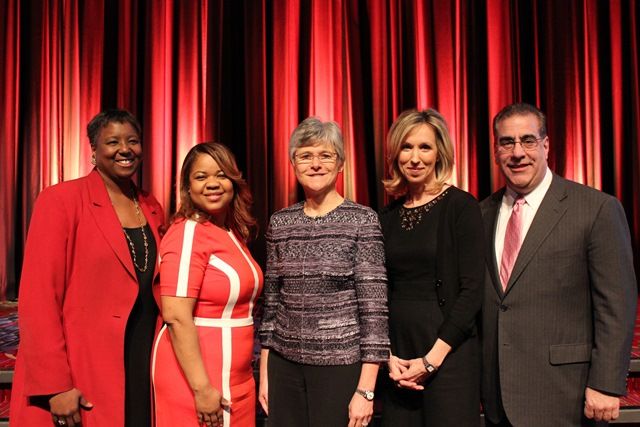 Marcia Sells, YWCA of the City of New York CEO Danielle Moss-Lee, Honoree Michele Burns, Carol Massar and Honoree Gerard LaRocca
New York, NY – On Friday, February 15, 2013, the YWCA of the City of New York hosted its 39th Annual Academy of Women Leaders Salute Luncheon at the Marriott Marquis Hotel, honoring M. Michele Burns, Executive Director and CEO of Marsh & McLennan Companies' Retirement Policy Center as the recipient of the 2012/13 Woman of Influence award, and Gerard S. LaRocca, Chief Administrative Officer, Americas, at Barclays Capital received the Man of the Year award. In addition, 38 prominent women executives from around the country will be inducted into the YWCA Academy of Women Leaders Class of 2013.
For nearly 40 years, the Salute Luncheon has been one of the nation's largest, most visible and important tributes to professional women leaders and the premier event for showcasing trailblazing women in business. It has also been a venue for celebrating a range of businesses that have made diversity a priority in their companies.
The YWCA of the City of New York's CEO,
Danielle Moss Lee
said, "I can't imagine more appropriate role models for the thousands of women, girls and boys that the YWCA serves every year and who work so hard to create opportunities for themselves and their families. Ms. Burns and Mr. LaRocca exemplify the values that we strive to impart at the YWCA: education, equality, leadership and empowerment."
The first groundbreaking YWCA-NYC Academy of Women Leaders Salute Luncheon took place in 1974 to honor pioneering women in business, many of whom were the first to break through corporate glass ceilings and become senior executives in their companies and industries. Salute honors the top women executives who have been recognized by their companies and colleagues for outstanding professional achievement, civic commitment, and leadership. The 2013 class will join a network of over 3,000 professionals and pioneers.
In related news, YWCA-NYC will host a Women's History Month Speaker Series showcasing women leaders of social change. The series kicked off on Tuesday, March 5th and will offer valuable insights, lessons learned and inspiration from women that are at the forefront of social change from several organizations. The series was designed to highlight the outstanding contributions of these women to the local and global landscape. For the speaker lineup and more information, visit
www.ywcanyc.org
. Reservations are required to attend the free panels and breakfast will be provided. Please RSVP at
www.ywcanyc.org/women-leaders-as-agents-of-social-change/
.