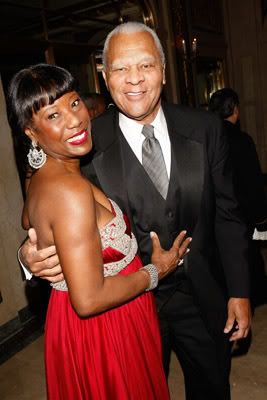 Founding Member of 100 Black Men Praised for His Commitment to Justice
A memorial for the late New York State Supreme Court Judge Bernard Hampton Jackson of Watermill, NY and New York City was held at the historic Abyssinian Baptist Church in Harlem on Friday, April 26th. It was an afternoon service filled with love and laughter befitting the successful son of Harlem who helped pave the way for many African Americans in law enforcement and jurisprudence. Judge Jackson passed away on January 17, 2013 at New York Presbyterian/ Weill Cornell Medical Center following a long illness. He was 86 years old.
The venerable church was filled with New York's power-players and friends of many decades, many who spoke emotionally and with great humor about "Bernie" who loved a good party and a good joke. Among the speakers were Basil Paterson, longtime political leader in New York and Harlem and father of the 55th Governor of New York, David Paterson; Congressman Charles Rangel; the Honorable David N. Dinkins; New York & Hamptons realtor Stephen Wald; family friend Keith Murray; fashion guru Audrey Smaltz; O. T. Wells; and Livingston Francis, Dean of The Reveille Club. His son Bernard H. Jackson III with sister Linda Jackson spoke movingly about their father. Fitfully for Judge Jackson, a big classical music fan, Metropolitan Opera star Eric Owens performed "Precious Lord, Take My Hand" and "This is Always."
Born October 26, 1926 and raised in Harlem, he began his career as a police officer rising quickly up the ranks while attending Brooklyn Law School at night with longtime friend David N. Dinkins, who would later go on to become Mayor of New York. Jackson rose to the rank of detective before becoming Assistant United States Attorney working with Robert F. Kennedy.
In 1968, he became one of only two black executives at the National Football League named as special counsel to Commissioner Pete Rozelle. Shifting back to public service, Jackson was named Regional Representative to the U.S. Secretary of Commerce under President Jimmy Carter.
In the 1980s, he was appointed to the Criminal Court in New York and was later elected Justice of the New York State Supreme Court. In 1990, he left the bench to become Of Counsel to the international law firm of White & Case and was later named Chairman of the New York City Civil Service Commission.
He was a Founding Member of 100 Black Men and participated in various civic and professional organizations including the Manhattan Chapter of the Guardsmen, Zeta Boule, The Reveille Club of New York and Kappa Alpha Phi Fraternity. Jackson along with his wife Joyce was an ardent supporter of numerous charitable organizations including Big Brothers Big Sisters of New York, Glimmerglass Opera Festival (of which his daughter Linda is Managing Director), the Parrish Art Museum and Evidence, A Dance Company for whom he and Joyce hosted several of their annual
'On Our Toes in the Hamptons' Galas
at their Watermill home.
Judge Jackson is survived by his wife Joyce Mullins Jackson, her son Brandon and grandchildren Jalen and Asha Mullins; daughter Linda, son Bernard III and daughter-in-law Kerri Jackson.
Photo: Honorable Judge Bernard Jackson and Joyce Mullins-Jackson attend the
'Grace in Winter'
gala for Evidence, A Dance Company in 2009.
Press release/Alchimia