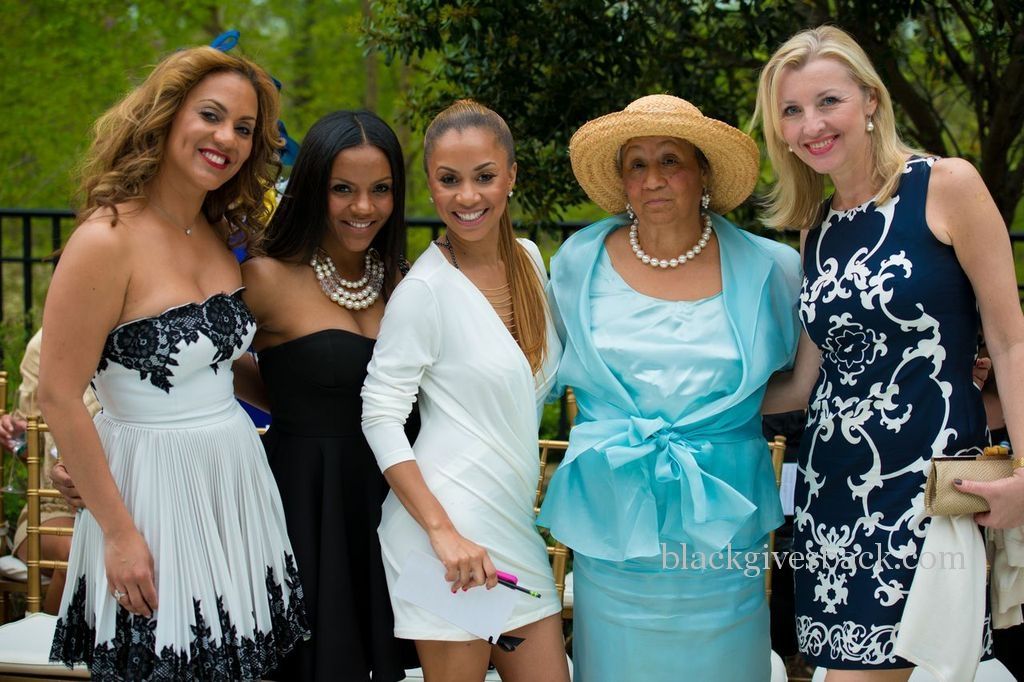 Ruby, Ellen, Ione, their mother Ruby Rucker, and Renata Coker, Director of Sales at SOCIETY Charlotte Magazine
By Valaida Fullwood, Contributor
Prominent Southern family hosts fashion show to benefit scholarship fund for namesake school
Charlotte, NC — Poolside on a Sunday afternoon in the sunny Carolinas was the setting of an inaugural fundraiser for the Rucker Education Scholarship Fund.
On April 14, sisters Ruby Rucker Cooper, Ellen Rucker Carter and Ione Rucker Jamison hosted Elegance for Education, a fashion show in conjunction with Coplon's Boutique, to raise
scholarship dollars
for college-bound alumni of A.R. Rucker Middle School.
Longview Country Club, at the home and garden of Jen Harding, was the site of the stylish event. Nearly 150 guests gathered to see beautiful clothing from the latest spring/summer collections and to help the Ruckers support education. Fifteen thousand dollars was raised through event ticket sales and following the event
Coplon's
is committing ten percent of store purchases by event attendees to the fund.
Models walk the runway wearing fashions from Coplon's Boutique
A.R. Rucker Middle School Principal Phillip Mickles stated, "Aaron Riley Rucker, the sisters' grandfather, was a community leader in Lancaster, South Carolina and he played a big role in the integration of schools. The scholarships are for our students in Lancaster who go on to graduate high school and become first-generation college students."
The Ruckers have distinguished roots in Lancaster. The sisters are among the eight children of Douglas Rucker, a well-known dentist, and his wife Ruby King Rucker. The community recognized their grandfather's decades-long work to improve the local education system by naming a school in his honor.
"Professor Rucker was my principal in high school and I've been a lifelong friend of the family. I'm excited about this event and about serving on the family's scholarship fund committee," said Walter Tillman, a resident of Lancaster.
Ruby, Ellen, Ione and their mother Ruby King Cooper peruse the fashions.
Champagne and appetizers refreshed guests before they took seats poolside. Flanked by her sisters, Ione welcomed guests, thanked event organizers and opened the show. Pulsating music began, and models in five-inch heels and chic clothing streamed out and strutted a runway that circled and crossed over the pool. Christine Benton, a lead organizer, was masterful in creating the illusion of an effortless event.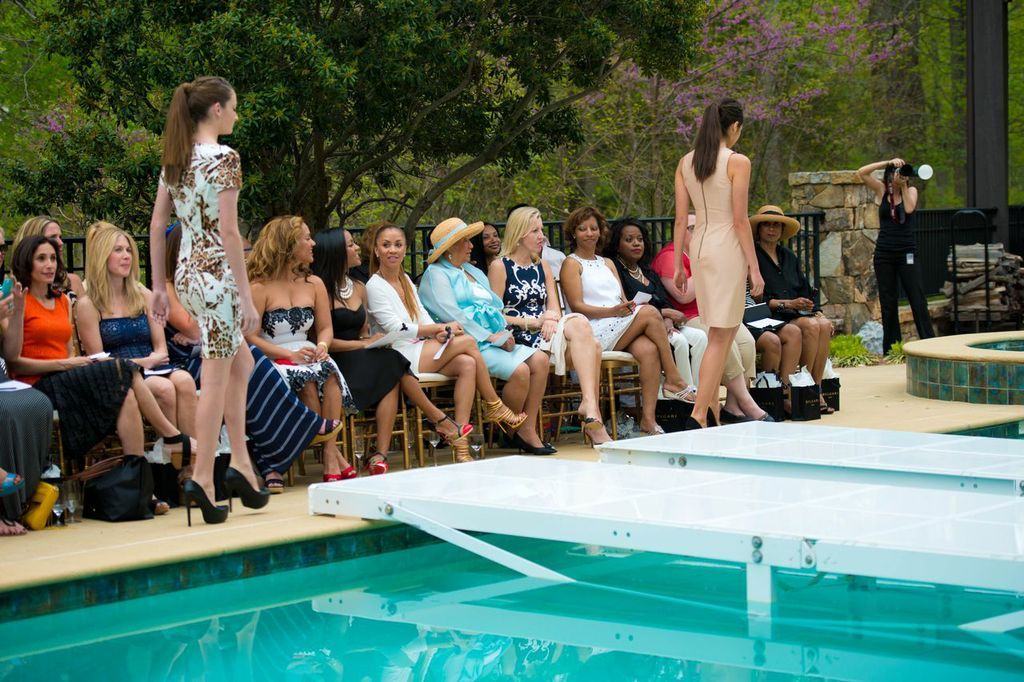 "We feel blessed to have our family and friends here. The models were flawless. The fashions were beautiful. We are honored to provide financial assistance to first-generation college students. Our grandparents, Aaron and Ruth Wright Rucker, would be pleased," stated Ione, after both Ruby and Ellen deferred to their baby sister for final remarks.
"This is what the girls do," said their mother Ruby. "They learned about giving back from our family."
Ruby, Ellen and Ione are part of a new television show,
The Ruckers: Southern Royals
, which will join the WE tv Thursday night schedule in the fall. The show follows the sisters as three modern African American women and as young heirs of a prominent, old family in the Carolinas.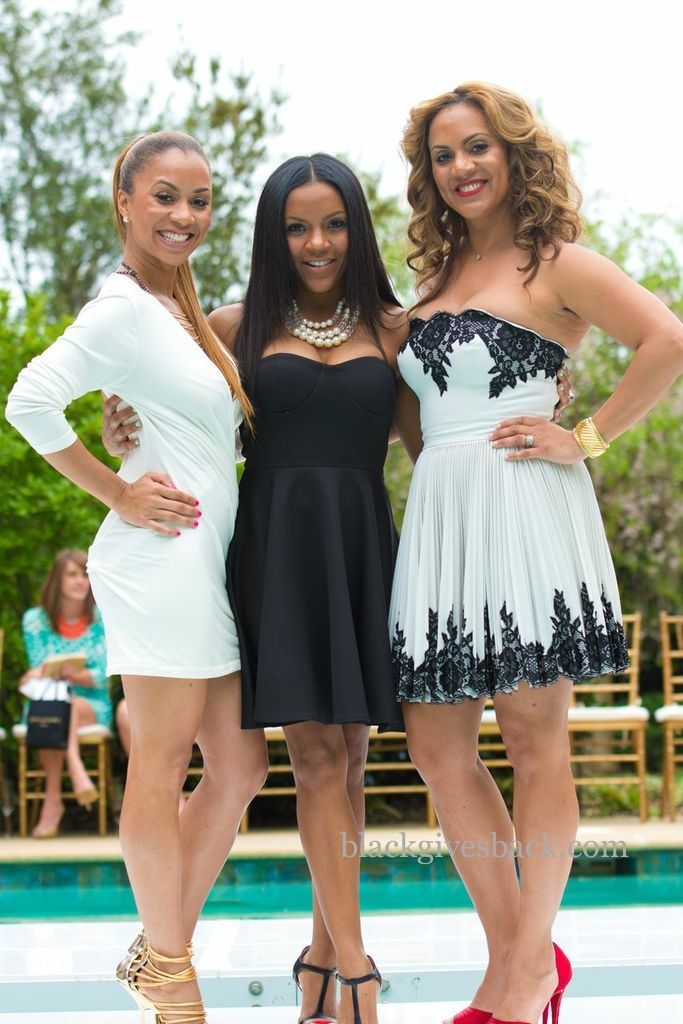 Rucker sisters, Ione, Ellen and Ruby
About Rucker Education Scholarship Fund
The Rucker Education Scholarship Fund promotes academic excellence, community empowerment and leadership development primarily through financially supporting the aspirations of deserving first generation college students. Contributions to the fund can be made
online
. Visit the website at
ruckereducationfund.com
.
About WE tv
WE tv
is the women's network that features original stories for and about modern women who are taking charge of their life, their family and their household. Hit shows like Braxton Family Values and Joan & Melissa: Joan Knows Best? showcase strong, bold characters that are as entertaining as they are relatable.
Story submitted by Valaida Fullwood
Described an "idea whisperer," Valaida brings unbridled imagination and a gift for harnessing wild ideas to her work as a writer and project strategist. She is a founding member of Charlotte's New Generation of African American Philanthropists and author of "Giving Back: A Tribute to Generations of African American Philanthropists." She also serves on the founding board of On Q Performing Arts. On Twitter, follow
@ValaidaF
and
@BlkGivesBackCLT
.
Photo credit: Santanna Hayes, Courtesy of WE tv