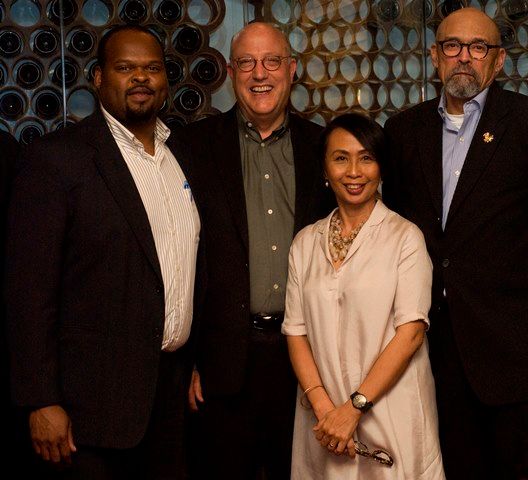 At the On Q benefit dinner (l-r): Quentin "Q" Talley, On Q; Tom Gabbard, Blumenthal Performing Arts Center; Emilya Cachapero, Theatre Communications Group; and Lou Bellamy, Penumbra Theatre Company
Charlotte, NC – On Tuesday, April 9, Charlotte's On Q Performing Arts, Inc. hosted Obie Award winning director Lou Bellamy, the acclaimed founder and artistic director of St. Paul's Penumbra Theatre Company. The
benefit event
was an intimate salon­‐style dinner with 30 guests at Emeril's Eatery, known simply as e2.
New and longtime supporters of On Q Performing Arts and its founder Quentin "Q" Talley attended the ticketed event. Dinner guests comprised of theater enthusiasts, renowned artists, leaders of the region's arts and cultural institutions and Johnson C. Smith University (JCSU) faculty and students.
"Lou is a terrific artist, and so generous to share his process and insights with Q and with those who attended," commented Anne Lambert, organizer of the fundraising event.
The Andrew W. Mellon Foundation and Theatre Communications Group are funders of a highly coveted 18­‐month fellowship
awarded to Talley
, which has paired him with Bellamy as a mentor.
"Q and I hit it off early on," recalled Bellamy. "Being a founder of a mid­‐sized arts organization, I understood immediately the challenges he was addressing. The fellowship is structured to allow Q to explore and participate in both the artistic and administrative aspects of running a (theatre) company."
Dinner guests (l-r): Adonovan Washington, JCSU student; Wanda Ebright, JCSU; Quentin "Q" Talley, On Q; Dr. Mack Staton, JCSU; Lou Bellamy, Penumbra; and Aaron Beitia, JCSU student
Reflecting on the evening, Lambert expressed excitement about upcoming projects for Talley and Bellamy. Spring 2014, Talley is slated to direct a Charlotte production of August Wilson's Two Trains Running and will assist Bellamy when he directs a nationally touring production of The Mountaintop, Katori Hall's play that imagines Martin Luther King Jr.'s last night before his assassination.
"We tell the human experience of black folk with authenticity, integrity and the utmost professionalism on stage," said Talley. "What On Q Performing Arts does as an ensemble of artists is not duplicated in any form or fashion in the Charlotte arts community."
Photo credit: Gena J. Photography
Source: Press release