"Celebrating Visionary Leaders & Landmarks," 12th Annual Awards Gala to be held April 18, 2013
Since the election of President Barack Obama, more Americans are showing an interest in learning about African American history by visiting national sites that reflect the many untold and under-told stories of black America. National historic landmarks such as the Martin Luther King, Jr. National Memorial in Washington, DC, the Selma to Montgomery National Historic Trail in Alabama and the George Washington Carver National Monument in Missouri welcome more than 2 million visitors annually.
Have you ever wondered how these and other African American historic landmarks are funded and supported? Our latest Insider,
Lydia Sermons
, is tasked with this important role as the executive director of the African American Experience Fund (AAEF) of the National Park Foundation, which raises private funds to support educational, volunteer and community engagement programs in National Parks and Historic Sites that celebrate and tell the story of African American history and culture.
AAEF was founded in 2001 under the leadership of Robert Stanton, during his service as the National Park Service director, the first and only African American to serve in this role, and retired founding Board of Trustee member Barry Lawson Williams, president of Williams Pacific Adventures. AAEF is an official fund of the Washington, D.C. based National Park Foundation (NPF), the congressionally chartered 501 (c)(3) non-profit partner of America's National Parks. NPF is the single largest non-federal source of support for the National Park System. Since its inception, AAEF has provided more than $1.3 million in grant support for projects and programs at 25 designated National Parks and Historic Sites.
As a former television news producer and public relations executive, Lydia uses her skills gleaned from a successful
20 year media career
to shine a spotlight on the National Park Service's African-American focused sites across the country. Through her work as executive director of AAEF, she aims to ensure that African American national historic sites benefit from the estimated $58 billion dollars that is spent annually on travel by African Americans. And, since less than 4% of all the national historic landmarks are designated for women, Latinos and African Americans, she is also helping to lead efforts to increase the number of historic sites that reflect our nation's multicultural history.
Read on to learn how Lydia is accomplishing the goals of AAEF, which national site has the most significance to her, and how you can get involved to support the nation's African American national historic landmarks.
BGB: You have an impressive career in media, communications and public relations. How have you used this expertise to benefit AAEF?
LS: As executive director, I wear a number of hats that include planning and marketing special events, managing programs, fundraising, senior executive management and leadership training, developing multi-media materials and presentations, coordinating with cultural heritage, history and Civil Rights groups and the National Park Service on major commemorations, such as the 50th Anniversary of the Civil Rights March on Washington. My collective experience, from radio & television production and public relations and marketing to Capitol Hill and the White House, along with several public relations firms and other non-profit organizations, has definitely played a role in my ability to make a smooth transition into nonprofit executive management. All of my skill-sets have been applied in this position! So, I am working at maximum capacity every day!
As less than 4% of all National Historic Landmarks are designated for women, Latinos and African Americans, you're helping to lead efforts to increase the number of historic sites that reflect our nation's multicultural history. How will you accomplish this and what have been your results to date?
On Monday, March 25, 2013, AAEF proudly joined President of the United States Barack Obama, Secretary of the Interior Ken Salazar and National Park Service Director Jonathan B. Jarvis, in establishing a new site for Harriet Tubman along the Maryland Eastern Shore and the Charles Young Buffalo Soldiers National Monument as a new unit of the National Park System.
The Charles Young Monument will preserve the home and post-Civil War military legacy of Col. Charles Young (1864–1922), a distinguished officer in the United States Army who was the third African American to graduate from West Point and the first to achieve the rank of colonel. He was also the first African American to serve as a superintendent of a national park, commanding his regiment, the 9th U.S. Cavalry, assigned to the Presidio in California.
The National Park Foundation provided the necessary financial support through its African American Experience Fund to purchase the historic property from the Omega Psi Phi Fraternity's Friendship Foundation. Col. Young was a member of Omega Psi Phi.
The preservation of our history through these sites is the key to ensuring that our history is around for future generations; history that is critical to the future leaders of our nation.
Cynne Simpson, Wendy Smith, B. Smith, Dr. Frank Smith, Jr., and Lydia Sermons at the Masquerade Ball in October 2011 at B. Smith's restaurant in Washington, DC to benefit the AAEF.
Last year, AAEF announced its first national spokesperson, restaurateur and lifestyle expert B. Smith. How did this partnership come about?
I had the occasion to meet B. Smith at a dedication ceremony for one of our new sites, the Martin Luther King, Jr. National Memorial, which led to conversations on her interest in supporting Black History and AAEF. We were very pleased to join forces with her during a Ball that she hosted at her DC restaurant in our honor and as honorary chair of our 2012 Gala to help increase visibility and support for our sites!
On April 18th, AAEF will host "Celebrating Visionary Leaders & Landmarks," your annual awards gala. Please share more about this event.
AAEF's
2013 Gala
, an evening of elegance and impact, will take place on Thursday, April 18th, 5:30 pm reception; 6: 45 pm Awards Dinner at the JW Marriott Hotel in Washington, DC. During the event, we will honor: Congressman James E. Clyburn (South Carolina) who authored legislation to preserve and protect the Gullah Geechee Cultural Heritage Corridor through our national parks; The HistoryMaker's founder Julieanna Richardson and Yosemite National Park interpretive ranger Shelton Johnson. The evening will be hosted by NBC White House correspondent Kristen Welker and will conclude with a live performance by jazz recording artist Gerald Veasley and Band.
The Gala is our signature event for raising funds to preserve and protect our nation's African American history and the historic sites across our national park system that reflect African American history.
The event is open to the public. To reserve tickets or a sponsorship, check out the Gala section on AAEF's website (
www.aaexperience.org
) or by contacting AAEF at 202-354-6474, or
KPalmer@nationalparks.org
.
Which national park or historic site has the most significance to you and why?
All of the sites represent major moments in time that changed the course of American history. So each and every site is significant. However, of the sites that I have visited, one site in particular that has touched the seat of my emotions is the Maggie Lena Walker National Historic Site in Richmond, VA. Through her personal and public tragedies and triumphs, following the destruction of slavery and the devastation of the Civil War, she helped to create one of the wealthiest and most independent African American communities in the nation in 1903, as the first African American woman to charter a bank in the United States! Given the state of our economy, there are lessons to be learned, today, from Ms. Walker.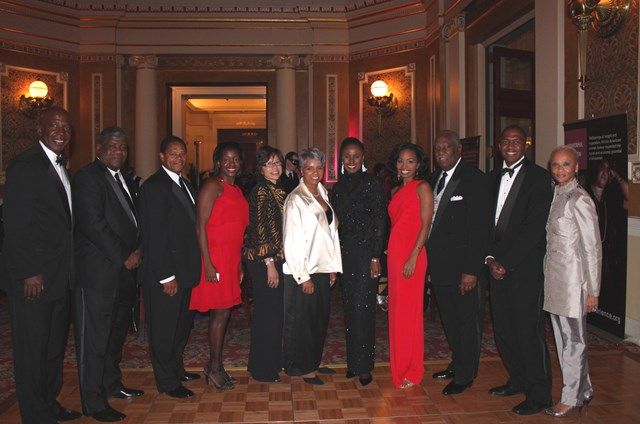 AAEF 2011 event at B. Smith's restaurant in Washington, DC: Dan Gasby (B. Smith's husband), Maurice Daniel, Craig Kirby, Lydia Sermons, Hilda Pinnix Ragland, Carole Hall (AAEF Board chair), B. Smith, Cynne Simpson (WJLA ABC 7 Anchor), Robert Stanton (AAEF Chair Emeritus), Rutledge Simmons, and R. Lucia Riddle
How can readers get involved to support AAEF?
Public support is very important to our future, without it, AAEF and African American heritage sites could begin to fade away. Read more about AAEF at
www.aaexperience.org
and learn more about paid internships for college students at AAEF sites as well as the sites we support and upcoming events. And be sure to make a tax deductible contribution to help support the sites, our programs and our history!