Kesha Nichols, star of VH1's Basketball Wives; Tara Dowdell, The Tara Dowdell Group; Tamika Mallory, National Action Network (NAN) and Rachel Nordlinger, Rev. Al Sharpton spokeswoman at the Young Professionals United for Change mentoring launch in Harlem, New York.
HARLEM, NY - On Wednesday, April 24th, Young Professionals United for Change (YP4C), an organization that focuses on increasing community service and civic engagement among young professionals of color, launched a weekly Speaker Series initiative consisting of skill-building workshops and personal development sessions at Wadleigh Secondary School for the Performing Arts. Wadleigh is a historic 112-year old institution, which gained tri-state recognition in 2012 when local residents successfully fought to keep the school open after it was slated to be shut down by the New York City Department of Education.
Among the guests in attendance at the launch included New York City Councilwoman Inez E. Dickens, Basketball Wives Star Kesha Nichols, National Action Network Executive Director Tamika Mallory, and YP4C Founder Brian A. Benjamin.
YP4C believes that the lack of exposure to successful young adults of color is a contributing factor to the academic underperformance plaguing too many urban schools. YP4C's goal is to highlight examples of young urban success; and in doing so, combat negative images and promote achievement. Future speakers for the series will feature Dr. Muri Raifu, Neurosurgeon; Harry Hutchison, formerly of Bad Boy Entertainment and Tiffany Jones, Fashion Executive and Founder of Breast Cancer Awareness Organization, PinkChoseMe.org.

Kesha Nichols talks with the students.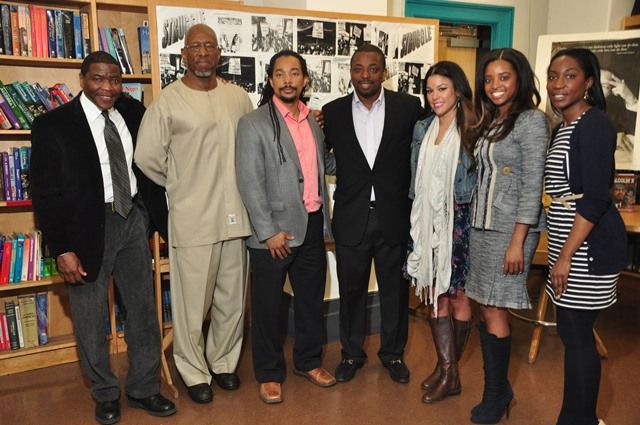 Ralph Johnson, Speaker, Microbiologist for US Customs; Paul McIntosh, School Librarian; Tyee Chin, Principal, Brian Benjamin, Founder, YP4C; Kesha Nichols, BBW; Tamika Mallory, NAN and Kercena Dozier, Banker, Carver Bank
About Young Professionals United For Change
YP4C's mission is to increase community service and civic engagement among young professionals of color, and in doing so, assist in strengthening economically-disadvantaged urban communities. In support of its mission, YP4C focuses on three areas: supporting community-based organizations, promoting awareness and involvement around issues impacting underserved communities and improving urban public education. Visit the website at
http://yp4c.org/
.