Valaida Fullwood named Lake Institute Distinguished Visitor for 2014, First African American bestowed the honor
A gift opens the way and ushers the giver into the presence of the great
. Proverbs 18:16
Upon naming the selection for 2014, Dr. William G. Enright, director of Lake Institute on Faith & Giving stated, "Valaida Fullwood is a natural choice for the 2014 Lake Institute Distinguished Visitor Program. After reading
Giving Back: A Tribute to Generations of African American Philanthropists
, I was particularly struck by the vivid images and the lost stories that she so eloquently shares with a wider audience. Her understanding and message that love of humankind encompasses our entire nation will well serve Indianapolis."
The Lake Distinguished Visitor Program is a speaker series of
Lake Institute on Faith & Giving
at Indiana University Lilly Family School of Philanthropy. Through public discourse, academic research and signature seminars, Lake Institute nurtures conversation and scholarly study around the ways in which faith inspires generosity. The program allows Lake Institute to bring visionary philanthropic practitioners to share their stories, fostering the opportunity to awaken generosity, explore the joy of transformative giving, and create new philanthropic endeavors.
Leaders of faith-based organizations, scholars, humanitarians, development professionals, researchers and an interfaith partnership of stakeholders recommend forward-looking individuals who represent the best and brightest pacesetters from across the nation for consideration. Distinguished Visitors are confirmed one year in advance, providing a platform to develop a tailored series of programs, seminars and events that introduce the greater Indianapolis community to innovative practitioners with a clear voice and calling in this field.
2014 Lake Institute Distinguished Visitor
Valaida Fullwood
is a Charlotte-based contributor for BlackGivesBack.com. A writer and consultant in the field of philanthropy, she is author of
Giving Back
, a 400-page book of stories and photography chronicling traditions of giving among Americans of African descent. A collaboration with photographer Charles W. Thomas Jr.,
Giving Back
won the prestigious 2012 McAdam Award, as "best new book for the nonprofit sector." Fullwood is a founding member of New Generation of African American Philanthropists, a giving circle affiliated with
Community Investment Network.
"Selection as a Lake Distinguished Visitor is an honor of the highest order and I am thrilled," stated Fullwood. "Leaders and associates of the esteemed program recognized the work poured into the Giving Back Project, its value as a catalyst for constructive community conversations and the threads of faith that bind
Giving Back
. This opportunity is an answer to a prayer yet prayed."
Distinguished Visitors are selected by the External Affairs Committee, a subset of the Lake Institute Advisory Board. Each year the program brings to Indianapolis inspiring practitioners at the intersection of faith and philanthropy. Among others, Lake Distinguished Visitors have been: Kerry Robinson (2013), specialist in Catholic Church best practices; Janet Prindle (2009), pioneer of the socially responsible investing movement; Eboo Patel (2008), president of the Interfaith Youth Core; and Tom Cousins (2007), community-based philanthropist and developer from Atlanta. Fullwood is the first African American bestowed the honor.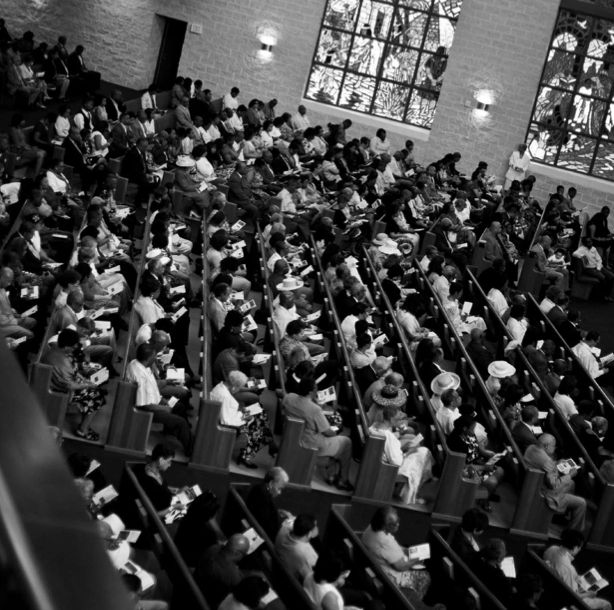 Friendship church balcony view, photography from Giving Back
Depending on his or her area of expertise and innovation, the Lake Distinguished Visitor may spend time on campus leading seminars, giving lectures, and engaging faculty and students from various disciplines in conversation on the role of faith and values in philanthropy.
"I'm a believer that everything happens for a reason," said Aimée Laramore, associate director of Lake Institute. "As a society we are at the crossroads of economic struggle and economic empowerment, and the time for owning our legacy of generosity in the African American community is NOW. Valaida's command of language about philanthropy and the accessible imagery of Charles Thomas speak to my heart after two decades of service to the non-profit world. The ability to match talent and passion with the opportunities we offer at Lake Institute, affirms my faith that my career has a bigger purpose for providing a platform for greatness to be heard."
Lyord Watson Jr., a clergy member from Birmingham and member of Community Investment Network along with Fullwood, cited a biblical passage while extending congratulations. "Proverbs says that a man's gift will make room for him. Valaida's talents in writing and prose coupled with her passion for philanthropy has resulted in Giving Back, a modern-day scroll that documents stories of African American giving. It is fitting for Valaida to be selected as the 2014 Lake Distinguished Visitor because one cannot tell stories of African American giving and not include faith."
"After two decades of service to the field of nonprofit capacity building, I am often searching for personal inspiration," Laramore shared. "Every day of my career has been spent marrying the concept of systemic excellence with mission and faith-based passion. Valaida's work, as an author, speaker and 'idea whisperer' reminds me of why I made the decision to do this work. My name is Aimee Laramore and I am a philanthropist."
Giving Back book cover
About Lake Institute on Faith & Giving
Led by William G. Enright, Ph.D. and Karen Lake Buttrey Director, Lake Institute fosters a greater understanding of the ways in which faith both inspires and informs giving. As a research-based teaching, training and practical education arm of the School of Philanthropy, Lake offers a public forum for exploring the connections between individual philanthropy and faith. Through continuing education programs and an interactive teaching model, Lake provides seminars whereby leaders, congregations, religious development officers, diverse students and clergy may explore the many faces of philanthropy and advance needed skill sets, in such a way as to inspire transformative and generous giving.
Lake Institute was created from the legacy gift of Tom and Marjorie Lake, their daughter Karen Lake Buttrey and the Lilly Endowment. Lake Institute exists to honor the philanthropic values of the Lake family and blesses the community with a space for public inquiry and hands on training in the service and study of faith and generosity.
philanthropy.iupui.edu/the-lake-institute
About Indiana University Lilly Family School of Philanthropy
The Indiana University Lilly Family School of Philanthropy is dedicated to improving philanthropy to improve the world by training and empowering students and professionals to be innovators and leaders who create positive and lasting change. The School offers a comprehensive approach to philanthropy through its academic, research and international programs and through The Fund Raising School, Lake Institute on Faith & Giving and the Women's Philanthropy Institute. Learn more at
philanthropy.iupui.edu
.
Photo credit: All images from the book Giving Back: A Tribute to Generations of African American Philanthropists, by Valaida Fullwood with photography by Charles W. Thomas Jr.