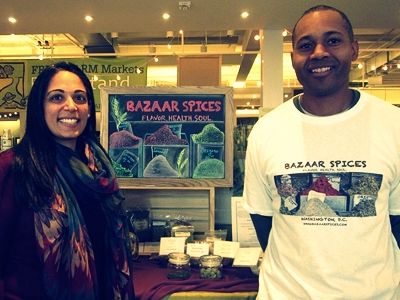 Husband and wife duo Ivan and Monica Grover Fitzgerald grew up in homes that valued holistic traditions, gardening and nature. As adults they traveled the four corners of the world visiting markets, observing firsthand their power to contribute to the fabric of a community. Inspired by this, Ivan and Monica launched
Bazaar Spices
, a unique shop located in Washington, DC that offers a variety of spices, herbs, botanicals, rice, flours, and lentils to enlighten the mind, body, and soul. In addition to their retail business, Bazaar Spices provides educational workshops on using nature's gifts for health and healing. The couple also gives back to their community by supporting a variety of organizations, and are members of
The Black Benefactors
, a local giving circle. Monica shares with us more about Bazaar Spices and their commitment to community.
What inspired you and your husband to become entrepreneurs?
We have lived in the Washington, DC community for over 10 years. Recently, we left the corporate and nonprofit worlds to pursue our entrepreneurial dreams. Witnessing how local markets contribute to the fabric of a community and how the spice and herb shop, alongside the butcher and the baker, forms the foundation of these markets, we were inspired to launch Bazaar Spices. We come from families that incorporated holistic traditions and gardening into our lives, and we have a strong connection to nature that we wanted to share with our community. We have also always wanted to start our own business together. It's something my parents have done and something that we believe gives us more autonomy over our own lives.
What can visitors find at Bazaar Spices?
Through Bazaar Spices, our approach is not only to offer a diverse assortment of high-quality spices, herbs, botanicals, rice, flours, and lentils from around the world, but also to educate and be educated, about these wonderful natural gifts.
Spices have been used throughout history for everything from currency to medicine to warding off evil spirits and attracting good ones. Spices provide valuable health benefits and, of course, also make food taste good. No matter how you choose to use them, Bazaar Spices carries a wide selection of spices from all over the world, from Piment d'Espelette, a gourmet pepper that is unique to only 13 villages in France, to Juniper Berries, used for a millennium to season rabbit, venison, wild boar, pork, and fowl. Many of our spices can be purchased in small sample packages, as well as in larger quantities.
As with our herbs and botanicals, we obtain our spices from suppliers that value and utilize sustainable production practices. We try to cover the most common to the most rare and exotic spices; if there is something we do not have in stock, just ask and we will be more than happy to try to hunt it down for you. We love to hear stories about how our customers use their spices, and we welcome you sharing your stories with us via recipes, perhaps some family folklore, or even just what's in your spice cabinet!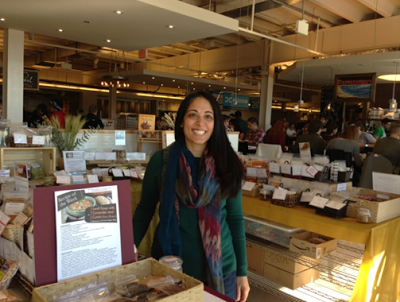 How do you and your husband give back to your community?
We give back to our community by supporting many DC arts and education initiatives, and we want to weave that sense of giving into the culture of Bazaar Spices. We also provide free or low cost educational opportunities at our spice boutique. These classes and seminars teach our community about how spices and health are interconnected. We've had classes such as "
Nutrition and Cancer
," "
Sri Lankan Home Cooking
," "Creole and Cajun Spice Blending," "World Salt Tastings," etc. We have a few free upcoming classes that include "
Cooking with Edible Flowers
" and "Everyday Ethiopian." We find that through sharing our expertise and knowledge with our community, education is one of the most powerful ways to give back.
Anything else you'd like to share?
Bazaar Spices is a unique shop. You can come to Bazaar Spices and explore, experiment, and learn. It's an educational outing and a place that you can travel to within the city that will take you across the globe through its offerings. Folks can find us on twitter @bazaarspices and on Facebook at
www.facebook.com/bazaarspices
. If you can't make it into our store, you can check out our product list on our website and send us an email with an order you would like to place, and we'll mail it right out to you!
Bazaar Spices is located in Union Market, 1309 5th Street, NE in Washington, DC. To register for their upcoming free workshop,
Cooking with Edible Flowers
on Thursday, May 9th at 6pm, visit
here
. And be sure to visit their blog,
Spicy DC
that features wonderful dishes using their spices and highlights from their community events.
Update
:
Zagat.com
named Bazaar Spices as one of 16 Food Artisans You Need to Know From Around the U.S.!