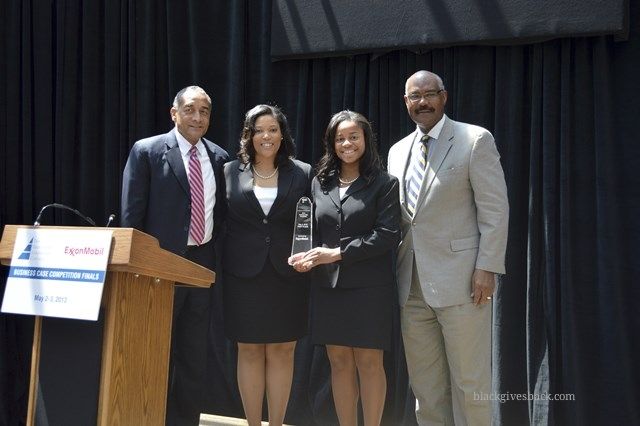 Jeffrey G. Webster of ExxonMobil, Business Case Competition 1st Place winners Crystal Moore and Erica Jones of Duke University and Ronald C. Parker, president and CEO of The Executive Leadership Council and Foundation
Team developed strategies and solutions for helping American corporations build and sustain a diverse pool of STEM talent
FAIRFAX, VA - The Executive Leadership Foundation recently awarded two second year MBA candidates from The Fuqua School of Business at Duke University first place honors in their 2013 Business Case Competition, which focused this year on developing workforce talent with skills in science, technology, engineering and math (STEM) disciplines. Sponsored again this year by Exxon Mobil Corporation, ELF's annual competition invited MBA/MA teams from 70 business schools to analyze a compelling business issue that challenged their critical thinking, analytical, and communications skills. The 2013 winners were selected by a distinguished panel of judges that included leaders from corporations and non-profits such as BAE Systems, Lockheed Martin, Merck, Sustainable Star, The Johns Hopkins University, and the National Council of La Raza.
"With our backgrounds in public education management, we were passionate about this subject and worked hard to develop effective strategies for preparing more U.S. women and minorities for STEM careers," said team captain Crystal Moore, a native of Collinsville, Miss. "We spent many early mornings, late nights and hours of conducting research and interviewing other students, industry leaders, and faculty at Duke to put our best effort into this challenging business case, and it paid off." Duke teammate Erica Jones of Chicago added, "We are grateful to The Executive Leadership Foundation and ExxonMobil for this opportunity and the generous scholarship."
ELF's Business Case Competition challenged this year's teams to develop strategies and solutions for helping American corporations build and sustain a diverse pool of STEM talent. The competition focused on how to grow talent domestically, particularly among women and minorities, to meet current and future workforce needs. Teams also were asked to develop strategies for increasing the number of college graduates with STEM degrees.
Recommendations by Duke's winning team included creating partnerships between Historically Black Colleges and Universities (HBCUs) and top engineering schools, introducing a STEM media branding campaign to promote studies in STEM fields, and collaborating with K-12 schools to create technology labs, corporate endowed teaching positions in middle and high schools, and launch a pathway to STEM degrees program.
"I would like to congratulate all of the teams for their strong showings in The Executive Leadership Foundation's Business Case Competition sponsored by ExxonMobil, and for placing in the Finals. The team from Duke provided creative recommendations with innovative and actionable solutions for addressing this important workforce issue," said Ronald C. Parker, president and CEO of The Executive Leadership Council and Foundation. "For our nation to compete globally, we need more college graduates with degrees and training in the STEM fields. It will be important for corporations to build a qualified pipeline of American workers to fill these jobs," Parker added.
In addition to the $35,000 scholarship cash award, Duke's Moore and Jones will be recognized during ELF's 2013 Recognition Gala on October 24 before an audience of more than 2,000 corporate, education and government leaders. The second place team from Vanderbilt University's Owen Graduate School of Management will receive a $20,000 scholarship cash award with the third place team from Wake Forest University's School of Business receiving $15,000. Participating teams also had an opportunity to meet with ExxonMobil executives and recruiters during the competition to be considered for internships and entry-level employment opportunities with the company.
ExxonMobil has sponsored the Business Case Competition for four consecutive years on topics such as innovative STEM education for middle school students, devising an energy plan for the U.S. by the year 2030 and
corporate philanthropy and black nonprofits
.
About The Executive Leadership Foundation
The Executive Leadership Foundation focuses on improving local communities and helping disadvantaged groups within the broader society. The 501(c)(3) affiliate of The Executive Leadership Council, Inc. (ELC) supports education programs and provides scholarships to deserving students interested in business and corporate careers. Programs develop future business leaders, filling the pipeline from the classroom to the boardroom. For more information about The Executive Leadership Council and Foundation, please visit
www.elcinfo.com
.
Source and photos: Executive Leadership Council