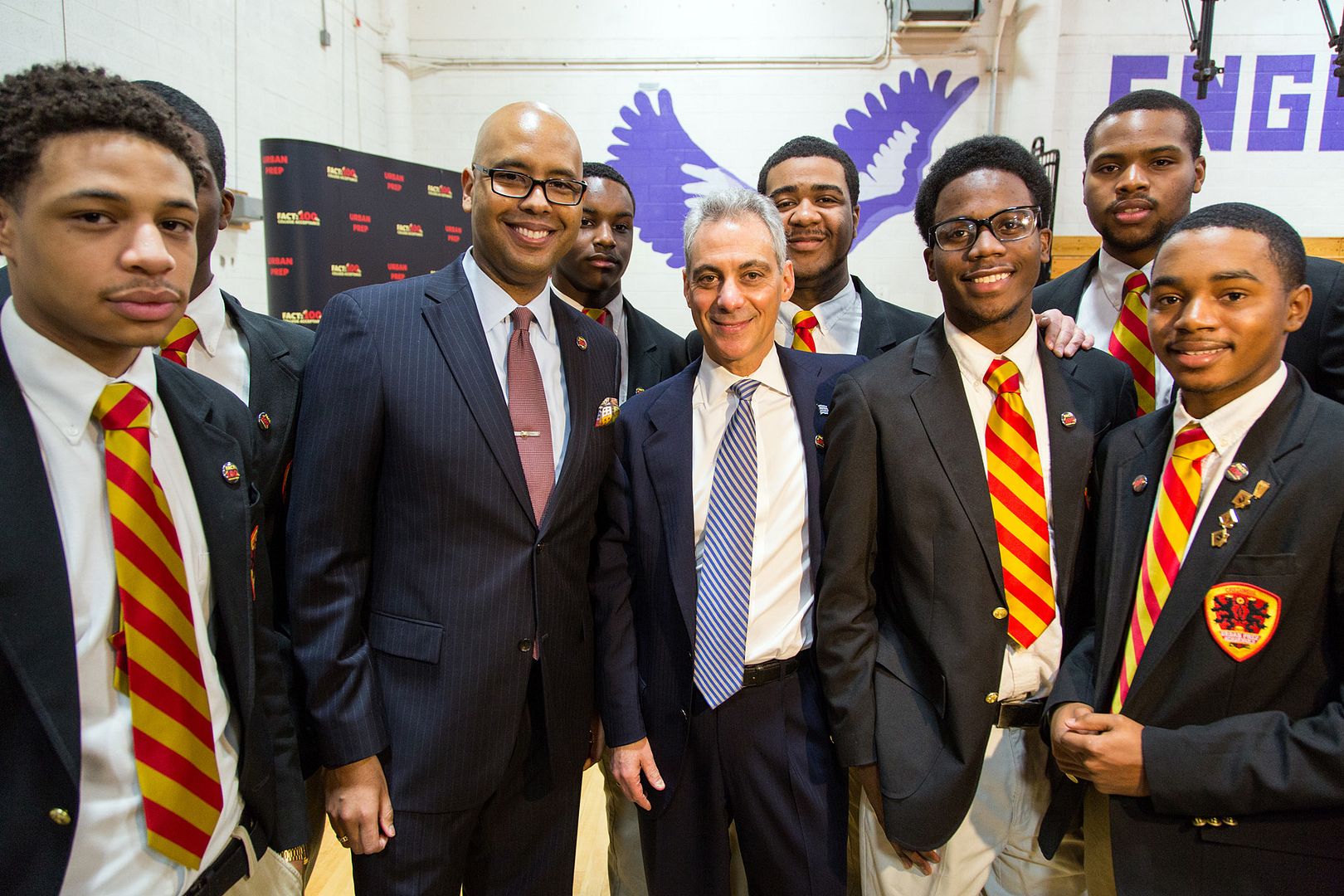 Tim King, founder, president and CEO of Urban Prep Academies with Chicago Mayor Rahm Emanuel and students.
CHICAGO, IL - In 2002, Tim King along with a group of African American education, business and civic leaders founded Urban Prep Academies, a network of public college-prep boys' schools and related programming, to improve the educational opportunities available to Chicago's urban males. In 2005 the organization opened Urban Prep Charter Academy for Young Men – Englewood Campus, the country's first charter public high school for boys. Today, Urban Prep operates three schools that have received national recognition for graduating its students in a city where fewer than 40% of African American males finish high school.
Last month, Urban Prep proudly announced that all seniors from their Englewood campus and seniors from the inaugural graduating class from its West campus, 167 African American males, have been accepted to a four-year college or university with more than $6 million in scholarships. Chicago Mayor Rahm Emanuel touted their success stating, "Their accomplishment today is a ringing example that when you have a teacher in the classroom that is committed, a principal in the school who is accountable and adults at home that are involved, any student from any neighborhood or background in Chicago can achieve the dream of graduating and going to college."
Read on to learn how Urban Prep accomplishes its success, Tim's thoughts on Chicago's youth violence epidemic and the organization's new initiative funded by the Citi Foundation to support its alumni affairs program in this two-part blog series.
Hometown
: Chicago, IL
Education
: Howalton Day School and St. Ignatius College Prep High School in Chicago, Bachelor of Science in Foreign Service and Juris Doctor Degrees from Georgetown University
Honors/Awards
: ABC World News "Person of the Week," Chicago Magazine's "Chicagoan of the Year," People Magazine's "Hero of the Year," The Grio's 100 History Makers in the Making, Ebony Magazine's "Power 100" List
Congratulations on a 100% college acceptance rate for the 2013 class of Urban Prep! As our nation's schools continue to face challenges graduating young men of color, how does Urban Prep accomplish this mighty feat?
There's no secret sauce to what we do. It truly is an earnest effort by a group of professionals who are dedicated to the organization's mission. It starts with having clearly communicated expectations for the students, families and faculty. Within that, building a strong school culture that supports the mission and vision. At Urban Prep, our positive school culture is built upon four pillars—also known as our 4 R's: Respect, Responsibility, Rituals and Relationships. Each of these plays a vital role in the overall academic success and social emotional development of our students and alum.
Please share with us, what are your thoughts on the youth violence plaguing Chicago and other cities? How are your students responding?
The circumstances and negative statistics surrounding youth violence, especially in the case of African American males, have reached crisis level. The Centers for Disease Control cite the leading cause of death among African American men between the ages of 15 and 24 is homicide. Last year, more people were killed in Chicago than in the U.S. military in Afghanistan. I was asked to
give a testimony
to Congress on violence and I've
written on the subject
, so it's something that we are incredibly concerned about and focused on. But, I'm proud of the fact that our guys, who have to traverse the tough streets day-in and day-out, still make the choice to come to school (we have a 95% daily attendance rate). They choose non-violence over violence; they choose to believe in their future.
Probably the best way to answer this question, however, is through an anecdote. Last summer, there was this boy who was shot twice in the chest. The facts said that as a Black boy in the 'hood he was supposed to drop-out of school; supposed to end-up in jail; supposed to die a violent death. But this boy made the decision to defy the data. He refused to let the facts that made up others' futures define his destiny. Instead, when he got out of the hospital, he returned to school and now is just a few weeks away from graduating from Urban Prep. The facts might have pointed him to a coffin, but he, like his Urban Prep classmates, is pointing himself to college.
Urban Prep recently announced a $150,000 donation from the Citi Foundation to support your Alumni Affairs Program, Project GOLD. Tell our readers more about this project and its importance to the success of Urban Prep.
When a student enrolls in Urban Prep as a freshman, we tell him and his family that we are committed to the student until he graduates from college. We pride ourselves on the fact that we care more about college degrees than high school diplomas. The goal of Urban Prep's Alumni Program, also known as Project GOLD, is to track graduates to and through college. This program provides the necessary support for our young men while enrolled in college. The program utilizes myriad tactics to follow and further support young men through their college careers (social media contact, phone calls, letters, care packages, workshops on financial aid resources and career planning, campus visits, alumni gatherings, etc.)
There are more UP grads at Morehouse tham from any other high school in the nation #FACT100
— Urban Prep Academies (@UrbanPrep) March 28, 2013
Last month, an alliance of foundation heads and nonprofit leaders gathered in Chicago during the annual Council on Foundations conference to discuss issues facing boys and young men of color and pledged to take collective action. What would be your suggestions to the group as they begin to examine, recommend and support efforts at national, regional and local levels?
My biggest suggestion would be for funders to talk to folks who are on the ground, running organizations that are focused on African American male achievement and determine what these organizations need in order to sustain their success. The focus shouldn't be on reinventing the wheel, but rather finding ways to keep the wheels on organizations that are effectively serving Black males.
How can readers support Urban Prep?
Urban Prep Academies is a 501(c)(3) non-profit organization and as such, donations are tax-deductible (and greatly appreciated!). Visit
www.urbanprep.org/donate
to make a donation;
www.urbanprep.org
for more information on Urban Prep; and
www.urbanprep.org/about/contact-us
to contact us and sign-up for regular updates.
Anything else you'd like to share?
The Urban Prep motto is We Believe. It's important to always have faith and believe in people, but also you have to believe in your ability to positively affect the lives of others. Places like Urban Prep are what happen when We Believe.