Apollo Legend Hall of Fame inductee, Chaka Khan and Paul Tudor Jones, Co-Chairman and Chief Investment Officer of Tudor Investment Corporation and Apollo Theater board member on stage at the Apollo Spring Gala 2013
New Legends Hall of Fame Inductee Chaka Khan joined on stage by Mary J. Blige, Patti LaBelle, Sarah Jessica Parker and Erykah Badu
Harlem, NY – The Apollo Theater, one of the nation's greatest cultural treasures, held its 8th annual Apollo Gala Concert and Awards Ceremony on Monday, June 10, 2013. Tastemakers from both business and entertainment gathered to support the Apollo's educational programs in New York City, preservation of the non-profit Theater's unparalleled legacy and its current initiatives for emerging artists. The Gala raised $1.5 million for the theater's performing arts, education and community programs.
Erykah Badu presented Chaka Khan with the Apollo's highest honor. An international music icon and an American institution, the ten-time GRAMMY® Award winner is the recipient of numerous awards for her extraordinary achievements in music and entertainment. In 1999, she established the Chaka Khan Foundation, which includes a variety of programs and initiatives that assist women and children at risk. This year, 2013, marks the 40th anniversary of Chaka's career in music and entertainment.
The cultural icon joined past inductees including Lionel Ritchie, Etta James, Stevie Wonder, Michael Jackson, Aretha Franklin, Quincy Jones, Patti LaBelle, Smokey Robinson, James Brown, Gladys Knight, Little Richard, and Ella Fitzgerald, in the Apollo Legend Hall of Fame. After the gala, Ms. Khan was presented with her plaque which will be installed on the Apollo Walk of Fame under the Theater's iconic marquee on 125th Street in Harlem.
During the event, several artists took the stage, including Mary J. Blige, Patti LaBelle, Jennifer Holliday, Deborah Cox and Alexandra Burke, to honor Ms. Khan and her induction by performing some of her greatest hits. In the evening's finale, Ms. Holliday, Ms. Burke and Ms. Cox joined onstage for a stunning performance of Ms. Khan's 1978 classic, "I'm Every Woman."
Wayne Brady, Emmy Award-winning comedian and star of Whose Line Is It Anyway?, hosted the evening.
Alexandra Burke, Jennifer Holliday and Deborah Cox perform at the Apollo Spring Gala 2013
Singer, Mary J Blige performs at the Apollo Spring Gala 2013
Sarah Jessica Parker presented Time Warner, Inc. with its Corporate Award, accepted by CEO Jeff Bewkes in recognition of the company's generous support of the Apollo. Carol's Daughter Founder & President Lisa Price received The Percy E. Sutton Civic Leadership Award, named in honor of one of New York City's legendary leaders and a champion of Harlem and its cultural institutions. This award is given to an individual or group who has demonstrated extraordinary support for and understanding of the value of the arts.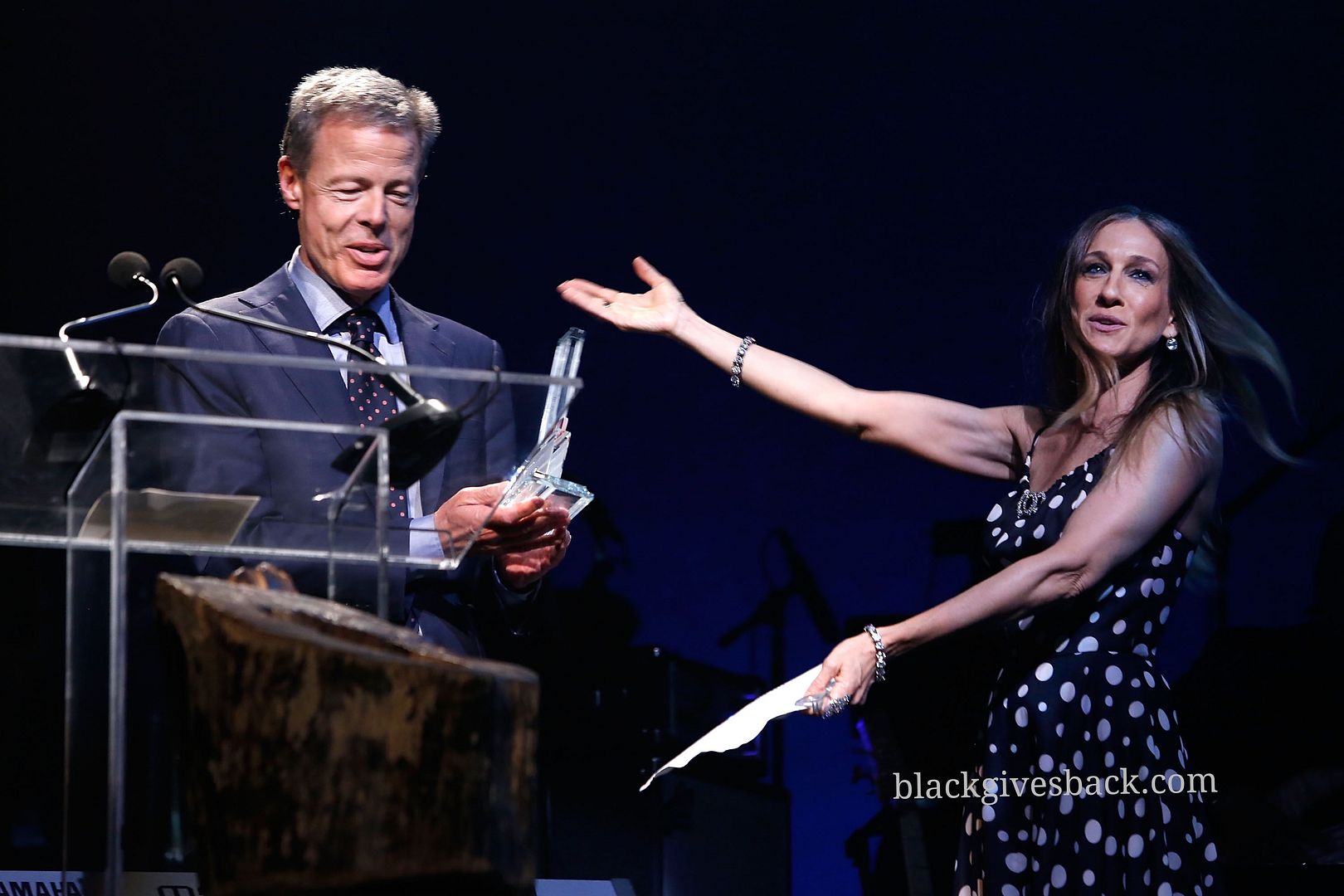 Time Warner CEO, Jeff Bewkes accepts the Corporate Award presented by Sarah Jessica Parker, at the Apollo Spring Gala 2013
Among the celebrity attendees were Rosie Perez, Jeffrey Wright, Michael Williams, Debra L. Lee, Ron Perelman and Ana Chapman, Marcus Samuelsson, Wendell Pierce and Tamara Mellon.
Paul Tudor Jones, CBS This Morning Co-Anchor Gayle King, Apollo Theater president and CEO, Jonelle Procope and Sonia Jones
Actor, Wendell Pierce with friend and Apollo Theater board member, Marcus Samuelsson
CEO of BET, Debra L. Lee and Paul Tudor Jones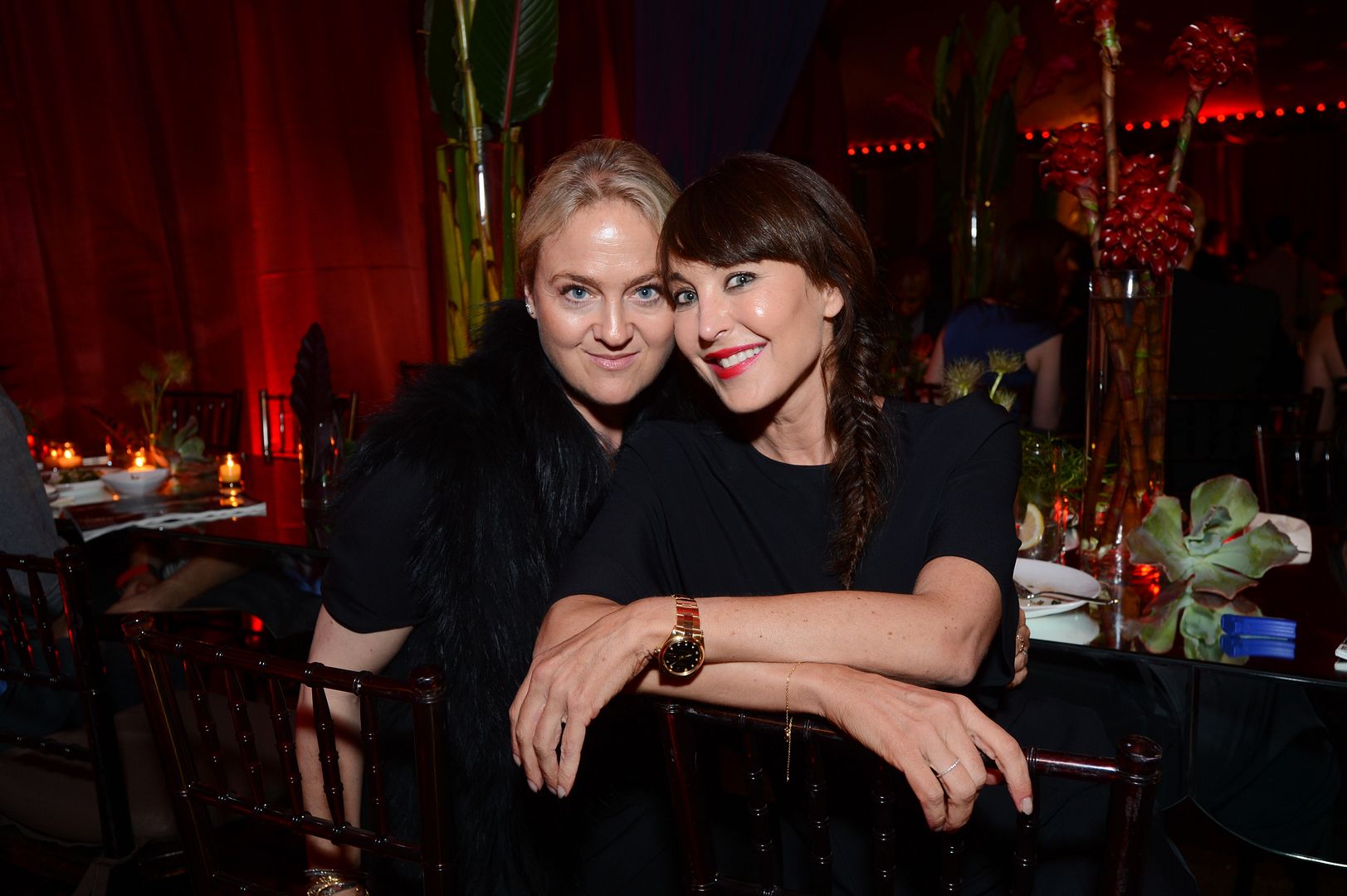 Jimmy Choo Co-Founder, Tamara Mellon, OBE (right) and guest
The evening included the gala concert and awards ceremony, produced by Ron Weisner for Ron Weisner Entertainment, and a post performance party featuring a stylish lounge created by celebrity event planner Bronson van Wyck.
The Apollo Theater gratefully acknowledges its Spring Gala Sponsors: Time Warner Inc., MacAndrews & Forbes, Macy's, BET Networks, BNY Mellon, The Coca-Cola Company, Chase, and TVOne. Special thanks to American Airlines, Belvedere Vodka, Bronson van Wyck, Bite, Magnolia Bakery, Rogers Eckersley Design, and Manhattan Magazine.
Featured tweet from the event:
Tonight was everything to me, I grew up attending shows at the @ApolloTheater & now I'm a grown up & I support the gala! #apollogala
— bevysmith (@bevysmith) June 11, 2013
Source: Press release/Apollo Theater
Photo credit: Shahar Azran