By Valaida Fullwood, Charlotte Contributor
Music Camp Gives Youth A New Way to Play Over the Summer
Charlotte, NC — American jazz aficionado and tuba player, Allan Jaffe once said, "New Orleans is the only place I know of where you ask a little kid what he wants to be and instead of saying 'I want to be a policeman,' or 'I want to be a fireman,' he says, I want to be a musician."
That could soon be the case in Charlotte, too, if New Orleans native and Charlotte newcomer Lonnie Davis has her way. Davis is founder and president of a nonprofit organization called
Jazz Arts Initiative
(JAI). Through JAI, she is satisfying an appetite for jazz and elevating local tastes for the classic and wholly American art form. Davis also is cultivating a new generation of homegrown jazz musicians in Charlotte.
"Together we hope to nurture future audiences, preserve the tradition of jazz music and operate as a catalyst for cultural enrichment and music education that brings creative inspiration to the lives of those in the Charlotte region," says Davis about her nonprofit. Founded in 2009, JAI is dedicated to the promotion, education and preservation of jazz.
To that end, JAI is now preparing for its summer JazzArts Music Camp, which runs June 24-28. The day camp provides comprehensive music training program for students in grades 7-12 from across North Carolina. Musician Donald Harrison Jr. is the 2013 JazzArts Music Camp Guest Clinician. Student musicians will learn and gain from their weeklong experience with Harrison, a world-renowned saxophonist and music educator.
Davis notes, "We are extremely honored to have the legendary Donald Harrison Jr. teaching our campers this summer. This will be a rare opportunity for students in our region to learn from a performer and educator of his caliber. Donald has mentored some of the greatest young jazz artists today, and I am sure that the students attending this year's JazzArts Music Camp will gain countless lessons and insight from this master musician."
Guest clinicians in past years have included Delfeayo Marsalis, celebrated trombonist and NEA Jazz Master Award recipient, and Jamey Aebersold, a renowned jazz arts educator. Welcoming all instruments, the camp has a curriculum that covers jazz history and listening; jazz theory; improvisation; composition; master class instruction; small combo performance; faculty concerts; and student jam sessions. A culminating public performance closes the camp on the evening of Friday, June 28.
Delfeayo Marsalis performs at JAI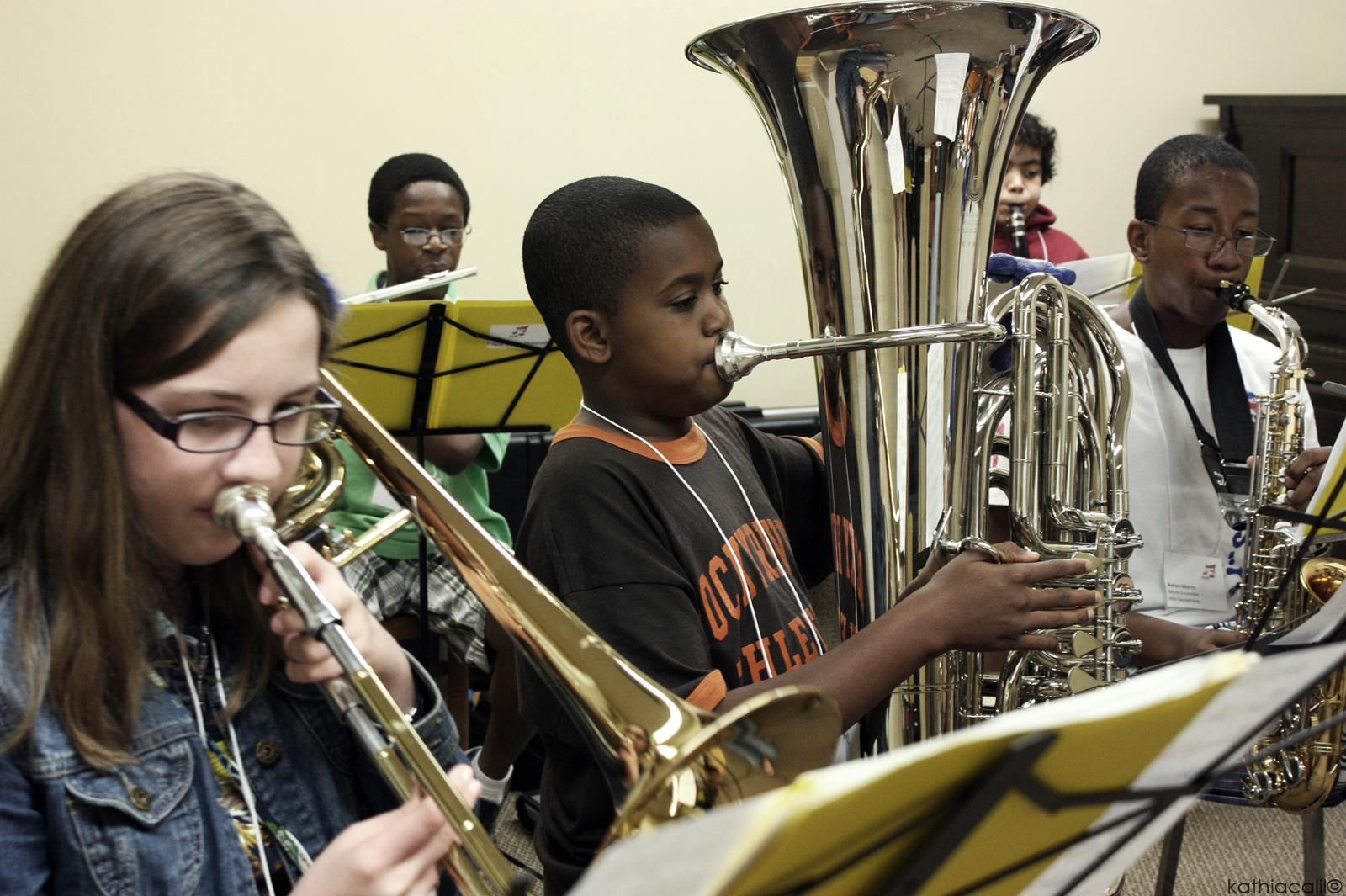 Donor contributions help support the summer camp. To generate additional funds, JAI recently launched a new performance series called The Jazz Room @ The Stage Door Theater. The series recreates an aura of classic jazz from a bygone era and is featuring some of the most gifted contemporary musicians in the region such as pianist Chad Lawson, trumpeter Mark Rapp and trombonist Tyrone Jefferson. Proceeds benefit the camp, school-based outreach and a range of JAI programs.
JAI is a 501(c)(3) nonprofit organization with a mission centered on "connecting the cultural community and developing an audience for jazz through quality education, performance and musician support." Davis, an accomplished jazz flutist, runs the nonprofit and leads her own ensemble, the Lonnie Davis Quartet. Her husband Ocie Davis serves as the nonprofit's artistic director and is an internationally recognized musician, educator, and composer. For information on JAI events and ways to support its mission, visit
www.TheJazzArts.org
or call 704-336-9350.
Story submitted by Valaida Fullwood
Described an "idea whisperer," Valaida brings unbridled imagination and a gift for harnessing wild ideas to her work as a writer and project strategist. She is a founding member of Charlotte's New Generation of African American Philanthropists and author of "Giving Back: A Tribute to Generations of African American Philanthropists." On Twitter, follow
@ValaidaF
and
@BlkGivesBackCLT
.
Photo credit: Provided by Jazz Arts Initiative