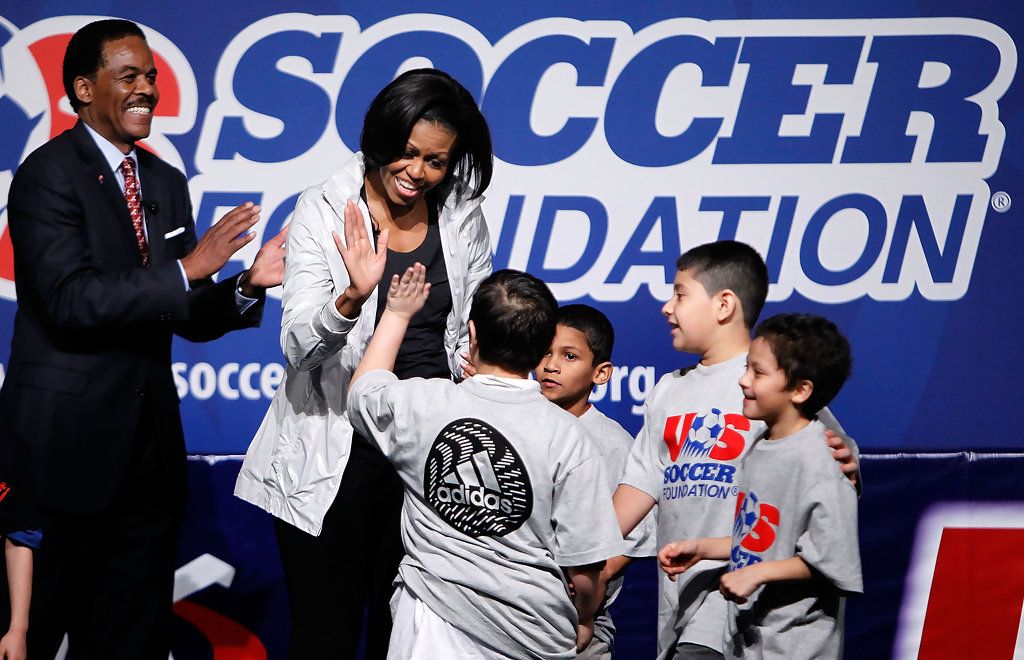 Ed Foster-Simeon (left) with First Lady Michelle Obama at a U.S. Soccer Foundation event.
Our latest Insider is a U.S. Navy veteran and a champion for soccer as a vehicle for youth development and social change. Ed Foster-Simeon is president and CEO of the U.S. Soccer Foundation, a leader in sports-based youth development that has awarded over $59 million in financial support to soccer organizations and field building initiatives nationwide. He first began working with the foundation as a volunteer in 2004 and served on several key committees, including the Executive Committee. At the grassroots level, Foster-Simeon possesses over 20 years' experience at the local, state and national levels of soccer in the United States as a former Vice President of the Virginia Youth Soccer Association and past president of Prince William Soccer, Inc. — a 3,000-player recreational and travel club in Northern Virginia.
Under his leadership, the foundation was named winner of the 2010 Steve Patterson Award for Excellence in Sports Philanthropy which is presented by the Robert Wood Johnson Foundation. In 2011, the foundation received a prestigious federal
Social Innovation Fund
award to advance its work using soccer as a vehicle to improve health outcomes among children in low-income communities.
Prior to being named CEO, Foster-Simeon served as Deputy Managing Editor at USA TODAY where he was responsible for Washington, Political and Foreign news operations. During his 15 years there, Foster-Simeon opened the newspaper's Beijing bureau and organized and executed coverage and logistics for the wars in Iraq and Afghanistan.
Read on to learn how he transitioned from journalism to the non-profit sector, issues areas where the foundation is having the greatest impact, his advice to aspiring non-profit CEOs, and how you can get involved.
Hometown:
Brooklyn, NY
Education:
Bachelor of Science in Journalism, University of Maryland University College
Community Involvement:
Board of Directors, Campaign to End Childhood Obesity; Board of Directors, U.S. Soccer Hall of Fame; Member, Grantmakers for Effective Organizations (GEO)
Scaling What Works
Advisory Group
You first began at the U.S. Soccer Foundation in 2004 as a volunteer. Four years later, you were promoted to president and CEO. What first brought you to the foundation and how did your advancement progress within the foundation?
I'd been involved in soccer as a volunteer ever since my eldest son started playing 25 years ago when he was just four. I went from being drafted as a coach, even though I did not play soccer growing up, to serving as travel team manager and eventually President of the 3,000 player youth club in the Virginia suburbs of Washington, D.C. I was later elected Vice President of the Virginia Youth Soccer Association and eventually asked to serve on the Board of the U.S. Soccer Foundation where I served on the Executive Committee and chaired a number of ad hoc committees. Those volunteer positions gave me an opportunity to learn a lot about the organization. In the meantime, I was advancing my career in journalism at USA Today. When my predecessor at the Foundation told me he was retiring, he asked if I would put my name in for consideration. The Board conducted a national search and I was fortunate to be selected. My wife told me I would be crazy not to pursue the position since it would allow me to pursue full time my personal passion for the game and the positive impact it can have on the lives of children.
In 2011, the foundation received a federal Social Innovation Fund grant award to advance its work using soccer as a vehicle to improve health outcomes among children in low-income communities. Please share more about this grant and your progress to date.
In 2011, the U.S. Soccer Foundation was awarded a grant from the Social Innovation Fund (SIF), on behalf of the Corporation for National and Community Service, to support programs that promote healthy lifestyles and reduce obesity rates for children in urban underserved communities. The U.S. Soccer Foundation was one of five intermediaries to receive an award from SIF in 2011 – and with this award, we were able to replicate and expand our program,
Soccer for Success
, in 2012. By the end of the 2012-2013 program year, we will nearly double the number of cities and children we serve through our Soccer for Success program. More information about Soccer for Success can be found
here
.
What are some of the issue areas that the foundation's grant making is having the greatest impact?
Children in urban, underserved communities need a safe place to play and positive programming surrounded by caring, consistent adults that can help them lead healthy and happy lives. The Foundation's grants are designed to support organizations that are utilizing soccer in a positive way and provide children with a safe place to play.
By supporting community based organizations that share our philosophy, we help grow the game in underserved communities and provide sustainable, impactful programming to children nationwide. The most dangerous time for children are the hours immediately following the close of school and many underserved communities lack the resources to provide youth programming. Many of the programs we support help to provide children with a safe outlet during those critical hours and have a low-cost barrier of entry so that all children have the chance to play a sport that encourages positive development. We help children develop the soccer skills they need to enjoy and excel at the game on the field and to develop the life skills they need to succeed off the field.
Additionally, many urban areas lack the green space available to play outside. By providing funding to support the building or enhancing of innovative field projects nationwide, we give children the opportunity to play this wonderful sport, in a safe area that can help their physical and social development.
What advice do you have for an aspiring president/CEO of a national non-profit organization?
Non-Profit CEOs have to be artful jugglers of three key priorities -- organizational culture, the organization's impact in communities and getting the most out of your Board of Directors. Few excel at all three, but that's what we should strive for. A couple of other points I try to keep in mind:
You need a growth mindset, one that embraces challenges, learns from criticism, and persists in the face of obstacles and setbacks.
In pursuing goals it's important to strike the right balance between a sense of urgency and patience. You need both.
Understand that in the non-profit world the real knowledge is in the community. It's among the people you seek to serve.
It also helps to be both strategic and opportunistic. You need a well thought out plan, but you need to remain nimble enough to act on opportunities you didn't plan for.
The same skills that lead to success in business are needed to succeed at running a non-profit. The big difference is that non-profits have multiple bottom lines. In addition to pursuing revenue and controlling expenses, you also have the bottom line on the organization's mission. What impact is the work you are doing having in the communities you serve? That is a critical measure of success.
How can readers get involved to support the U.S. Soccer Foundation?
There are a few ways that readers can get involved with our work. We encourage them to visit our website to view our different programs (
http://www.ussoccerfoundation.org/our-programs/
) and contact Wylie Chen, our Director of Programs & Grants (
wchen@ussoccerfoundation.org
) to learn more about how to get involved. Anyone can donate funds or new and gently used equipment to our programs, to help us grow the game and provide children, who might not have had the chance to play otherwise, the opportunity to play soccer. You can also follow us on
Facebook
and
Twitter
.
Anything else you'd like to share?
It has been quite a transition from the newsroom to a non-profit board room. Having the opportunity to use soccer in a way that goes beyond winning and losing to improve health and social outcomes among our children is incredibly rewarding and the kind of work that can make a real difference in under-resourced communities. It truly is a blessing being in a position to serve.