UNCF Board Members and Member Institution Presidents: Milton H. Jones, Jr., Chairman and Chief Executive Officer, Certus Bank; Lester C. Newman, Ph.D., President, Jarvis Christian College; William P. Gipson, Senior Vice President, Global Diversity and Research and Development, P&G; Tamara Harris Robinson, Chief Executive Officer, Haramat Group; Michael L. Lomax, PH.D., President and CEO, UNCF; Teresa Sebastian, Senior Vice President, General Counsel and Secretary, Darden Restaurants; David H. Swinton, Ph.D., President, Benedict College; and Ernest C. McNealey, Ph.D., President, Stillman College.
By Stacey Trammel, Contributor
Washington, DC – UNCF (United Negro College Fund) formally unveiled its' new headquarters in the historic Shaw neighborhood of Washington, DC during a ribbon cutting ceremony held on Thursday, June 20th. The office space at Progression Place, a mixed-use office, retail and residential project at 1805 7th Street, NW is conveniently located just blocks away from the storied Howard University and policy makers on Capitol Hill.
The office holds several amenities including UNCF's College Knowledge Center, a 5,000 square foot resource center offering students standardized test preparation, college application and financial aid assistance, and internship and job placement assistance, among others. The Progression Place project in which UNCF is housed now serves as a flagship and economic engine for the continuing resurgence of the surrounding community.
Many were in attendance to celebrate the building dedication and hear remarks from UNCF President and CEO Dr. Michael L. Lomax; DC Mayor Vincent Gray; and DC Congresswoman Eleanor Holmes Norton, who dubbed the block "the education corner in the nation's capital."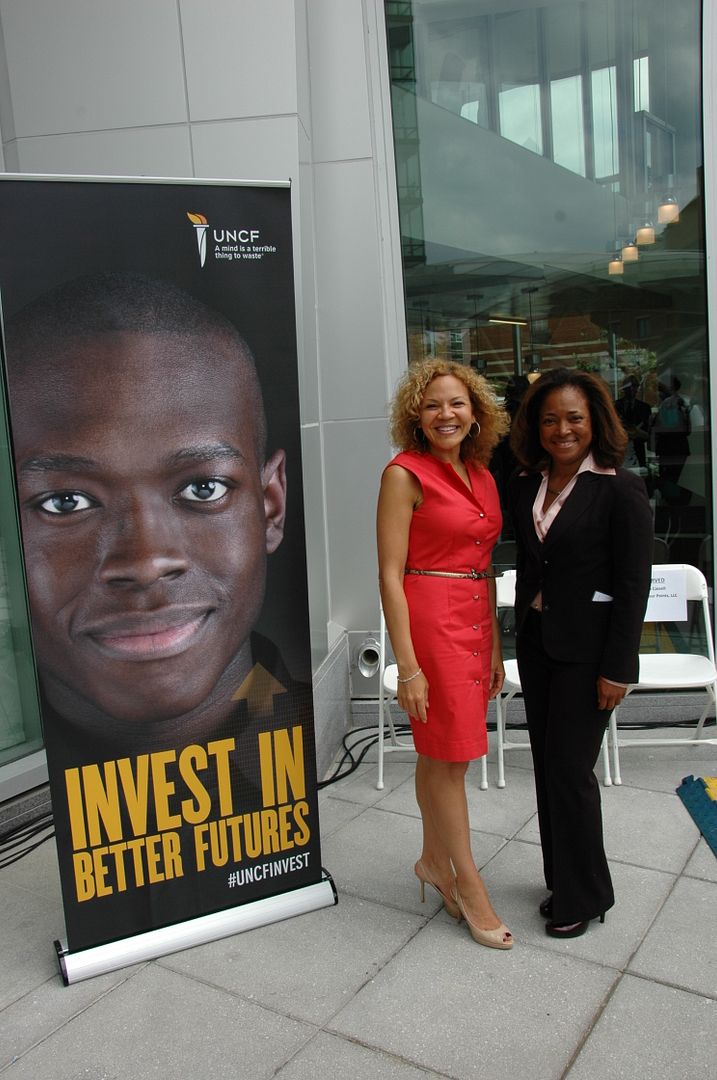 UNCF board members Tamara Harris Robinson, Vice Chair and Teresa M. Sebastian
Earlier this month, UNCF hosted US Secretary of Education Arne Duncan and former UNCF executive director Vernon Jordan at the Department of Education Lyndon B. Johnson Building in Washington to introduce the city to "Better Futures," a national multimedia public service campaign. The initiative is focused on closing the African American college completion gap currently at twenty-one percent, versus the national average of 30%.
In the recently released UNCF Frederick D. Patterson Research Institute report "Building Better Futures: The Value of a UNCF Investment," data shows those who have received UNCF scholarships have a 60 percent five-year graduation rate, five percent higher than the national average. Analysis shows that the value of a UNCF scholarship recipient's five-year graduation rate is 25% higher than the average of all African Americans graduates. And for every $5,000 the organization provides to a freshman via scholarship, that recipient's likelihood of graduating from college increases by an impressive 8%.
The campaign "transforms the idea of donating to a cause to a more powerful idea of investing in the future, including the introduction of a 'stock' for social change where people can see the direct social return of their investment." It also introduces an update to the organization's iconic slogan "A Mind Is A Terrible Thing To Waste, But A Wonderful Thing To Invest In ®" and will incorporate "television, radio, print, outdoor and digital PSAs featuring students who have personally benefited from UNCF sharing their poignant stories of success" so donors can see the direct impact their funds have on UNCF scholarship recipients.
"For more than four decades, the "A Mind Is A Terrible Thing to Waste ®" campaign has been the engine that has helped more than 300,000 students earn college degrees. This new iteration represents a new kind of philanthropy, one that doesn't urge a gift, but an investment in our country's young people," Dr. Lomax stated during the "Better Futures" launch.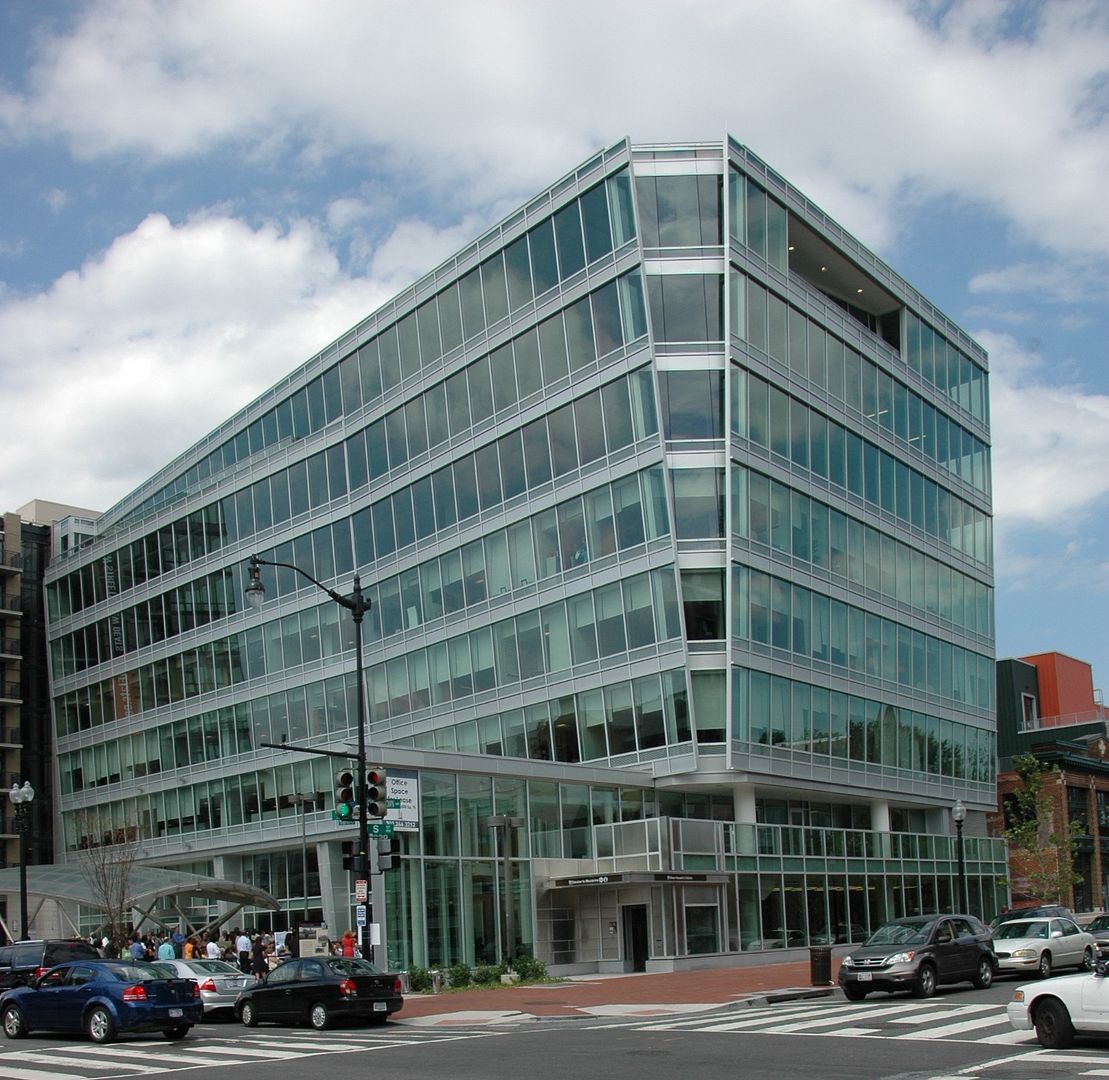 Progression Place, UNCF's new national headquarters in Washington, DC
Alex Padro, Executive Director, Shaw Main Streets; Robert Pincus, Vice Chairman, EagleBank; Adrianne Todman, Executive Director, DC Housing Authority; Chip Ellis, CEO, Ellis Development Group; Victor Hoskins, DC Deputy Mayor for Planning and Economic Development; Michael L. Lomax, UNCF President and CEO; Vincent Gray, DC Mayor; Jim Graham, DC Councilmember; and Eleanor Holmes Norton, DC Congresswoman
To learn more about the new campaign, and other initiatives such as The UNCF Gates Millennium Scholars Program and UNCF Institute for Capacity Building, visit
www.uncf.org
.
Photos by Stacey Trammel/
Buzzology