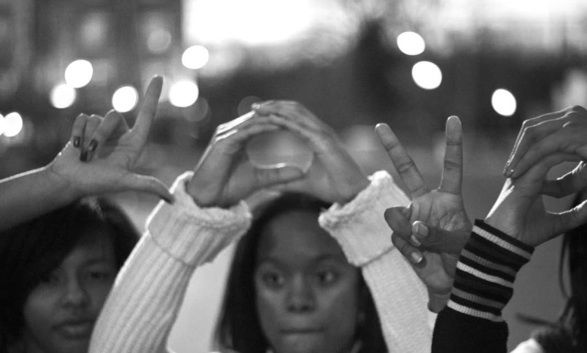 Photo from the book "Giving Back," Copyright 2011 ©
Multi-media campaign aims to inform, inspire and invest in Black philanthropic leadership
As the country embarks on commemorating 50 years of the historic 1963 "March on Washington for Jobs and Freedom" and Dr. Martin Luther King's transformative "I Have a Dream" speech, four groups are gearing up to launch "
Black Philanthropy Month 2013
" in August with the purpose of inspiring people to give back more strategically and improve their communities locally and globally. The theme for the campaign is "An August of Dreams and Mountaintops," which reflects the state of the "dream" a half­‐century later and calls for action to address the most pressing challenges of the 21st century.
The architects for BPM 2013 are the
African Women's Development Fund USA
(AWDF USA), which created the initiative in August 2011 as an annual, global celebration of African-descent giving; BlackGivesBack.com;
Community Investment Network
(CIN) and
Giving Back Project
(GBP).
"Black Philanthropy Month gives our diverse communities an opportunity to celebrate and renew their rich, shared traditions of giving, self-help and innovation throughout the US and the world," says Dr. Jackie Copeland-Carson, Executive Director, AWDF USA, an organization that provides a vehicle for effective American philanthropy to Africa and builds the capacity of the continent's women for social change and sustainable development.
Events across the country and online begin next month and continue through February 2014. Gatherings in August include a summit on Black philanthropy on Martha's Vineyard; a Northern California benefit in support of improving maternal health in Africa; a moderated panel discussion in Charlotte, NC observing the 50th anniversary of the March on Washington; and Tuesday TweetUps @ Two (2:00 PM ET/1:00 PM CT/12:00 PM MT/11:00 AM PT), a weekly Twitter chat (follow hashtag #BPM2013 to join the conversation).
BPM 2013 invites all to get involved, offline and online, in activities, discussions, thought pieces, events and generosity that are important to the African American community. Conversations around giving and charitable fundraising efforts will be mounted and publicized as well. "We expect to see more people giving in strategic, new ways as well as groups investing in Black philanthropic know-how and leadership, across generations," says Valaida Fullwood of the Giving Back Project, a joint effort of New Generation of African American Philanthropists (NGAAP-Charlotte) and author of the award winning book "Giving Back."
Here are just a few ways you can
get involved
:
Attend a philanthropy or community related event - Visit the

BPM Calendar

for happenings
Join or start a giving circle in your community
Host local civic engagement forums e.g., panel discussions, community conversations, etc. around topics/issues of local interest
Engage in a community service project
Lead or support a back-to-school drive for school supplies and clothing
Hold an event or internal social on August 28 to commemorate the 1963 March on Washington
Donate to a cause of interest
Follow happenings on social media: Twitter hashtag #BPM2013 &

Facebook.com/BlackPhilanthropyMonth
The overall goal of BPM 2013 is to empower "communities to be the change they wish to see and will help shape the philanthropic landscape of the 21st century," says Chad Jones, Executive Director, Community Investment Network, which cultivates donors of color and giving circles nationally.
Stay tuned to
BlackGivesBack.com
for future announcements, which is serving as BPM 2013's official media hub for information on this exciting initiative with events, articles, happenings and more. Also visit
www.BlackPhilanthropyMonth.com
to learn the history of Black Philanthropy Month, how to get involved, download the social media guide and online banners, and submit events for the BPM Events Calendar.
If you plan to observe Black Philanthropy Month 2013, let us know how by using #BPM2013 on Twitter and Facebook!