Vernon Davis with students from Paul Public Charter School in Washington, DC
WASHINGTON, D.C. – San Francisco 49ers Tight End Vernon Davis, distinguished alumnus of Paul Public Charter School (PCS) in the nation's capital and founder of the
Vernon Davis Foundation for the Arts
, returned on July 9, 2013 to talk with students about arts, academics and athletics. Over 140 students, teachers, local business owners and organizations participated along with Paul PCS board members as Davis shared the importance of arts and athletics, and how his experiences impacted his successes in life personally and professionally.
"We are extremely honored to have an alumnus like Vernon Davis to come back to Paul and share his journey with our students" noted Jami Dunham, Paul PCS Chief Executive Officer.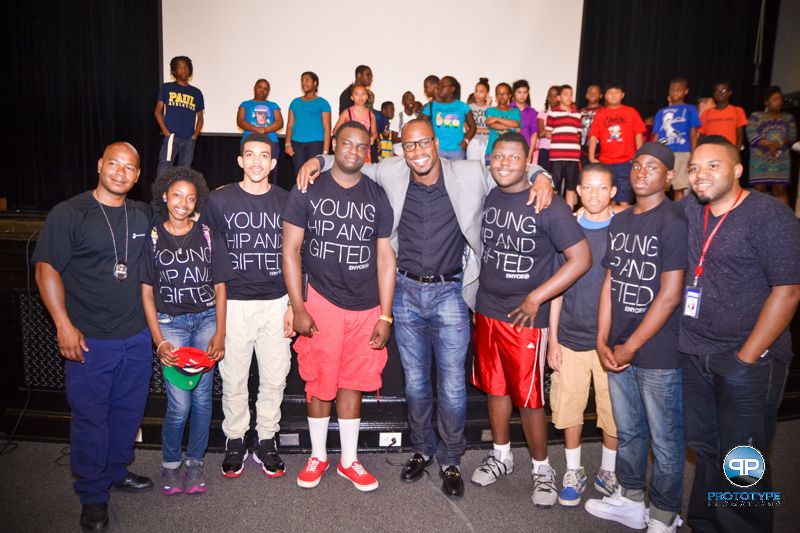 Vernon Davis (center) with Boys and Girls Club of DC youth.
Takita Mason, Director of Development, Paul PCS; Jami Dunham, CEO, Paul PCS; Vernon Davis; and Paul PCS board members.
"Paul PCS has graduated many distinguished alumni and we're excited that Vernon Davis continues to be such a huge supporter to help guide the current student body on the importance of our "Triple A Program" – Arts, Academics and Athletics. We want to make sure everyone remembers that you can Experience it ALL at Paul!" said Takita Mason, Paul PCS Director of Development.
About Paul PCS
Paul Public Charter School is located in Northwest Washington, DC, serving students in grades 6 through 10 and is the home of the M.E.R.I.T. scholars (motivated, educated, responsible, independent thinkers). Paul PCS was founded in 2000 by educational trailblazer Cecile Middleton and is currently in its thirteenth year of operation. The mission of Paul Public Charter School is to educate its students and to develop in them the capacity to be responsible citizens, independent thinkers and leaders. Throughout its years of operation, Paul PCS scholars have continued to outperform their counterparts on state assessments (based on state average). Paul International High School will complete expansion by fall 2015. For more information about Paul Public Charter School, please visit
www.paulcharter.org
.
Note: Post edited from original version.