It's been another phenomenal week for Black Philanthropy Month and in case you missed anything, here's a recap!
Our weekly #BPM2013 #TuesdayTweetUp (Twitter chat) on
black men and boys
was our biggest to date. Presented in partnership with
BMAFunders.org
and co-hosted by Shawn Dove, manager of the Black Male Achievement Campaign at Open Society Foundations and Tonya Allen, CEO of the Skillman Foundation, participants shared their thoughts on philanthropy's role in advancing black male achievement. The response was so great that the #BPM2013 hashtag became a top trending topic in Washington, DC. Here's a sampling of the tweets:
Still pressing and planning for a Corporation for Black Male Achievement to sustain this work over the next generation #Willionaire #BPM2013
— Shawn Dove (@DoveSoars) August 20, 2013
philanthropy can work with media to inform accurate, diverse images of boys and men of color so we can move beyond stereotypes #BPM2013
— David Johns (@MrDavidJohns) August 20, 2013
Philanthropy can help end school pushout & lockout crises for young black men: http://t.co/f5Ez7qy9oT #bpm2013
— Opportunity to Learn (@OTLCampaign) August 20, 2013
is there anyone in Detroit interested in connecting after this session to discuss further? #bpm2013
— Lima Pereira (@Limap409) August 20, 2013
Excited that I can't keep up! Seems there's a groundswell of #BMA support. Can't wait to see that spill over at the local level. #bpm2013
— Tammie Jones (@TammieJones) August 20, 2013
National Tweetup is outstanding! #bpm2013 BLACK MEN AND BOYS: WHERE DO WE GO FROM HERE?
— oneloveglobal (@oneloveglobal) August 20, 2013
Thanks to the star power during the #BPM2013 Twitter chat on black boys & men @DoveSoars @BlkGivesBack @ValaidaF @MrDavidJohns @rshabazz
— Tonya Allen (@allen_tonya) August 20, 2013
BMAFunders.org
will post a full recap of the Black men and boys #BPM2013 TweetUp soon. Be sure to visit the website!
And check out these Black Philanthropy Month news articles in the past week:
Charlotte Viewpoint features "
A conversation with David L. Howard
," Senior Vice President of Special Projects and Community Affairs, The Housing Partnership in Charlotte, NC in observation of Black Philanthropy Month. Howard shares about his first memory of generosity and how it influences his philanthropy:
"My grandmother's dedication to serving and helping others became a part of who I am. I have spent the majority of my career on the grant seeker side of philanthropy, which has given me a greater appreciation and respect for the need for more individuals to get involved. Philanthropy is important and necessary to support and undergird the social fabric of our community. Government and business cannot do it all. Philanthropy provides the community the opportunity to participate."
Laura Savage writes
Celebrating Black Philanthropy Month
for the San Francisco Bay View.
The
Charlotte Post features Charles Thomas, Jr
., Executive Director, Queen City Forward and co-author of the award-winning book 'Giving Back: A Tribute to Generations of African American Philanthropists.'
Charlotte Viewpoint presents "
A conversation with Lucious Taylor
," Graduate School Student at Yale School of Divinity. In this moving article, Taylor shares his decision to transition from the corporate world to enrolling in divinity school: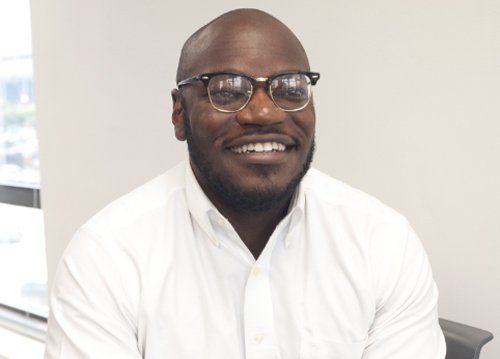 "I was relatively young, 29 years old, and single. I thought now is the best time to make a move before settling down with a family or before I got too old. I was torn between going to business school for an MBA to advance my career or enrolling in divinity school to seek further understanding of my faith but with no aspirations of becoming a pastor or to work for a church. As much as I enjoyed my investment management career, I started to realize my thoughts weren't about the whys of the market as much as they were about the whys of life.

A turning point came one day observing a man plundering through a trash bin outside of one of Wells Fargo's corporate centers in downtown Charlotte. It was during the peak time of day while everyone was outside having lunch. I noticed the man had no reservations about who watched him or what they thought; his only concern seemed to be finding something to satisfy his hunger pains. The dichotomy of poverty right outside a center of global wealth was disturbing. One because I've never seen hunger so vividly in front of me and two because I sat there and did nothing but watched. As I went back to the office I thought hard about ways I could marry my faith with my career. My conclusion was if individuals could spend countless hours during the day figuring out ways to securitize debt for profit, surely that same innovation and intellect could be used to solve issues of homelessness in downtown Charlotte."
BPM 2013 Social Media Ally Nakisha Lewis pens "Black Philanthropy Month 2013: Of Dreams and Mountaintops" for her blog
Next Gen Change Agent
. If you're in Boston, join her tonight along with Resource Generation and New England Blacks in Philanthropy for "
The Heart of Community: Reflections on Justice and Giving
" in celebration of Black Philanthropy Month.
Chad U. Jones, executive director of Community Investment Network
shares about Black Philanthropy Month
for "Smart Assets," the blog for Philanthropy New York.
See a full list of all media mentions at
http://blackphilanthropymonth.com/media/
Don't forget our BPM DonorsChoose.org matching campaign!
Donate to ANY classroom project of your choice
and up to $50 will be matched during August!