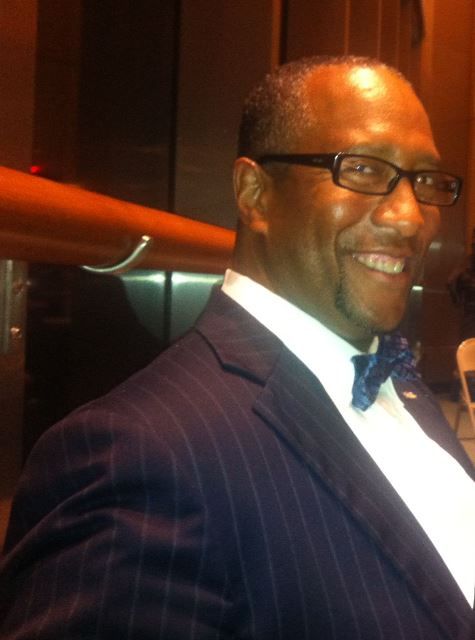 Today we are pleased to spotlight the accomplishments and thoughts of
Darryl Lester
, a Black Philanthropy Month 2013 (BPM 2013) Honorary Ambassador. Lester currently serves as Assistant Director of the African American Cultural Center at North Carolina State University in Raleigh. Principal of HindSight Consulting, Inc., Lester is widely known as the social innovator who, more than a decade ago, began promoting giving circles as a vehicle for cultivating diverse philanthropic leadership. His work would eventually lead to the founding of
Community Investment Network
(CIN), one of the architects of the BPM 2013 campaign.
Lester attributes his passion for philanthropy to his childhood in Marion, South Carolina, a small, rural community of working families. While growing up on Strawberry Street, he says he witnessed an inherent generosity among African Americans. Lester recalls that long before the jargon of "community philanthropy" emerged, he remembers a community that gathered for rent parties, provided communal day-care and collected resources for family needs under the premise of "neighbors helping neighbors."
He shared more of his story and thinking on philanthropy in his responses to questions from our "Of Dreams and Mountaintops" interview series.
Black philanthropy is . . .
Black philanthropy is the survival spirit of our ancestors coupled with a nickel and prayer propelled by the willingness to make Black communities and Black neighborhoods better than when we inherited them, by investing our individual and collective time, talent and treasure.
What are your thoughts on where America stands 50 years after Dr. King's "I Have a Dream" speech?
Fifty years after Dr. King's "I Have a Dream" speech, America is still struggling with how to see folks from communities of color, LGBT communities and poor and marginalized communities as "producers and suppliers" versus "consumers and takers."
In
The Mis-Education of the Negro
(1933), Carter G. Woodson reminds us:
"If you can control a man's thinking you do not have to worry about his action. When you determine what a man shall think you do not have to concern yourself about what he will do. If you make a man feel that he is inferior, you do not have to compel him to accept an inferior status, for he will seek it himself. If you make a man think that he is justly an outcast, you do not have to order him to the back door. He will go without being told; and if there is no back door, his very nature will demand one."
America still promotes this intentional and unintentional mis-education.
In terms of your philanthropic endeavors, what's your "mountaintop" or highest achievement to date?
My mountaintop achievement was the creation of the Community Investment Network in partnership with many talented young adult African Americans in the American South.
Name a book that has shaped your philanthropy.
The Reckoning: What Blacks Owe Each Other
by Randall Robinson (2002)
Visit
BlackPhilanthropyMonth.com
, to learn how you can get involved.
Contributed by Valaida Fullwood
Described an "idea whisperer," Valaida brings unbridled imagination and a gift for harnessing wild ideas to her work as a writer and project strategist. She is a founding member of Charlotte's New Generation of African American Philanthropists and author of "Giving Back: A Tribute to Generations of African American Philanthropists." On Twitter, follow
@ValaidaF
and
@BlkGivesBackCLT
.