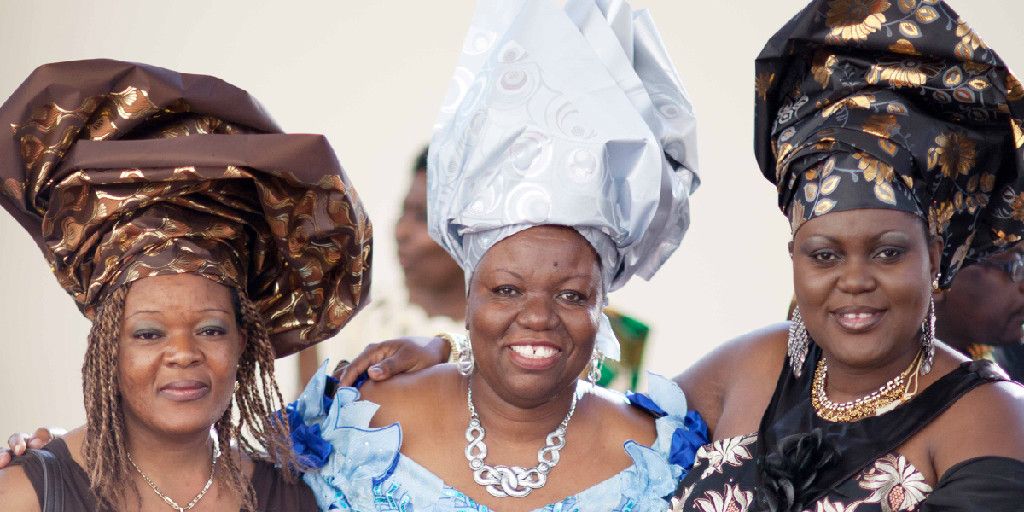 'An August of Dreams and Mountaintops' brings voices and stories of the African Diaspora
Among the Akan people of Ghana, the extended family, or Ebusua, is the foundation of society. This social network of family members is responsible, collectively, for the material welfare, spiritual wellbeing and physical protection of each other. In 1997, 18 Ghanaian families residing in the Bay Area of Northern California came together to form a family-oriented social and investment group called the
Ebusua Club
. Augusta Graves (pictured center) is president of the club.
President Graves notes that while a purpose of Ebusua Club was to serve as an extended family in Diaspora for its members, over the years its goals have expanded to include local philanthropic activities, too. Members volunteer with such organizations as Second Harvest Food Bank and Ronald McDonald House. And every few years, Ebusua Club hosts a dinner-and-dance fundraiser for non-profits whose mission is to improve lives in Africa. This year, on Saturday, August 17, its African Dream Summer Ball will benefit the
African Women's Development Fund USA
—America's trusted partner for African giving and founder of Black Philanthropy Month.
Born and raised in Ghana, Graves relocated to California in 1986 and has led a career in the high-tech industry since settling there. She presently works as a program manager for Hewlett Packard. Graves believes that having lived on two continents with different cultures has helped her develop an emotional intelligence and deeper perspective of life, which she enjoys sharing. She says, "I love people, I find beauty in everything and everyone and I love life. I love to dance, garden and read."
Below are her responses to our "Of Dreams and Mountaintops" interview questions.
Black philanthropy is…
The gifts that African Americans give back to the world that includes money, time, skills, etc.
What are your thoughts on where America stands 50 years after Dr. King's "I Have a Dream" speech?
I think America has come a long way in the last 50 years working towards justice for all. There's still a long way to go to fulfill the dream and we all need to work to fulfill that goal as a nation.
When it comes to society or our community, what is your "dream" or aspiration?
My dream is for all of our community members to live like deaf frogs. This means we need to ignore all the stereotypes and labels so that we can really live life fully from our own greatness that we were born with.
In terms of your philanthropic endeavors, what's your "mountaintop" or highest achievement to date?
It is very difficult for me to measure the highest achievement in my philanthropic endeavors because I don't keep track of the impact it has on the recipients. I think educating a young girl in Ghana is one achievement I can think of as being memorable. We have a proverb that says that if you educate a woman you educate a nation. I know the girl's life will be impacted positively because of her education but more importantly, I know that her education will be carried on to all the young lives she will ever touch. She's just the beginning of educating a village.
Name a book that has shaped your philanthropy.
I've never a read a book on philanthropy. Like many other Africans, philanthropy was part of my upbringing. Sharing what you are or have was part of the culture.
Click
here
for more information on the
Ebusua Club's 2013 African Dream Summer Ball
, benefiting AWDF USA and its Mother Africa Campaign for maternal health. To get involved in BPM 2013: An August of Dreams and Mountaintops, visit
BlackPhilanthropyMonth.com
.
Contributed by Valaida Fullwood
Described an "idea whisperer," Valaida brings unbridled imagination and a gift for harnessing wild ideas to her work as a writer and project strategist. She is a founding member of Charlotte's New Generation of African American Philanthropists and author of "Giving Back: A Tribute to Generations of African American Philanthropists." On Twitter, follow
@ValaidaF
and
@BlkGivesBackCLT
.