Dwyane Wade with mother Pastor Jolinda Wade and sister Tragil Wade at the Wade's World Foundation's 10th Anniversary Celebration Gala.
Wade's World Foundation Weekend hosts events benefiting Chicago organizations
CHICAGO, IL —Miami HEAT Champion and Chicago-native Dwyane Wade returned to his hometown for a weekend of events in support of his Wade's World Foundation and the Chicago community. This year marks 10 years of service that the Wade's World Foundation has provided to communities across the country.
In celebration of their anniversary, the foundation partnered with Mayor Rahm Emanuel and the city of Chicago to host a weekend of events."Making our kids safer and their futures brighter is something we are all responsible for, and providing safe, fun places where they can learn and explore," said Mayor Rahm Emanuel. "I am proud that the City of Chicago has partnered with the Wade's World Foundation which continues to make a defining difference in the lives of so many children."
The weekend's festivities began on Friday, September 6 with the foundation's 10th Anniversary Celebration Gala at the Peninsula Hotel hosted by award-winning journalist and former CNN correspondent TJ Holmes along with Chicago's own Robin Robinson, award-winning anchor of WFLD's evening newscast. The evening featured live performances from violinist Lee England, Grammy Award winning gospel artist Vashawn Mitchell, singers Kristen Lowe and MaeYa Ryan and comedian Damon Williams. Media personality Steve Harvey and his wife Marjorie, and Laura Ricketts, chair of the Chicago Cubs Charities, were honored with the 2013 Excellence in Philanthropy Award for their profound commitment to youth and positively altering the life of many disadvantaged young people across the country.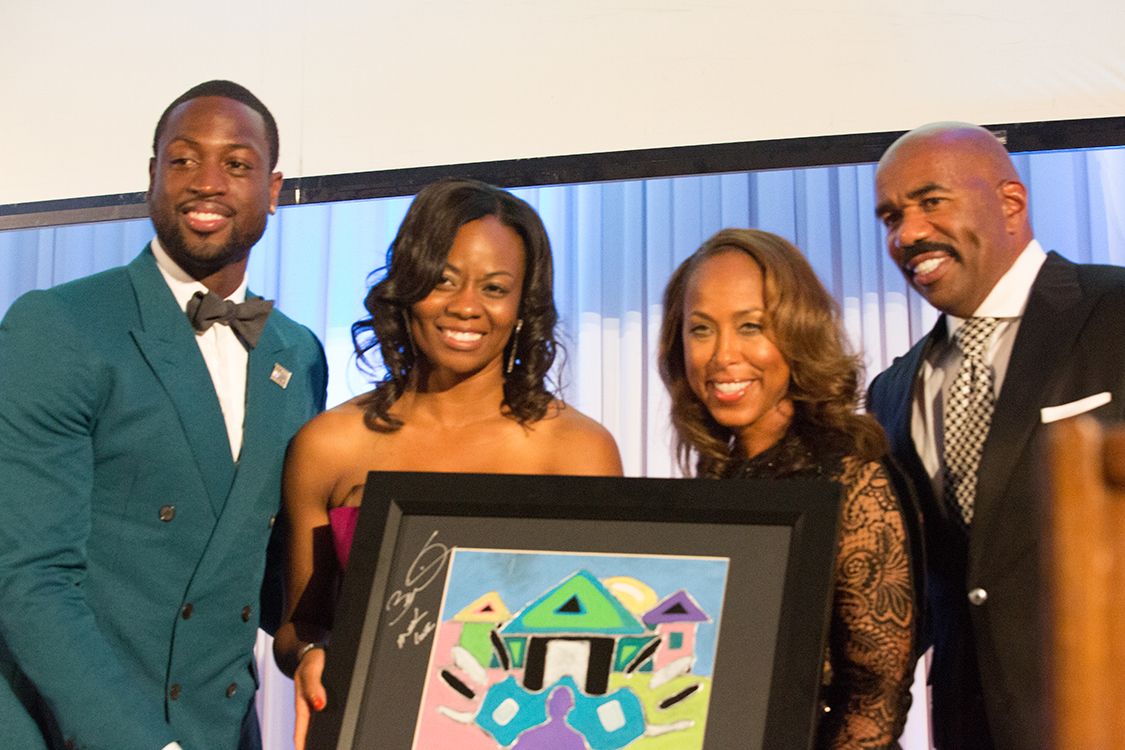 Dwyane Wade and Tragil Wade with 2013 Excellence in Philanthropy Award recipients Marjorie and Steve Harvey
Laura Ricketts is presented with the 2013 Excellence in Philanthropy Award
On Saturday, September 7, Wade hosted the "Live to Dream" Festival at Douglas Park, a free community event that featured entertainment, free dental and health screenings, employment opportunities for young adults and opportunities to sign up for City approved after school programs. "My foundation and I want to stress the importance of after school programs that help keep children focused and safe," stated Wade.
All net proceeds benefited the Wade's World Foundation and local Chicago community organizations.
About Wade's World Foundation:
The mission of Wade's World Foundation is to help inspire and provide support to community-based organizations that promote education, health and social skills for youth in at-risk situations so they have the necessary tools needed to leave a positive footprint within their community and succeed in their life experiences. Since the foundation launched in 2003, Wade and his family have been committed to giving back in Chicago, South Florida and throughout the country.
www.wadesworldfoundation.org