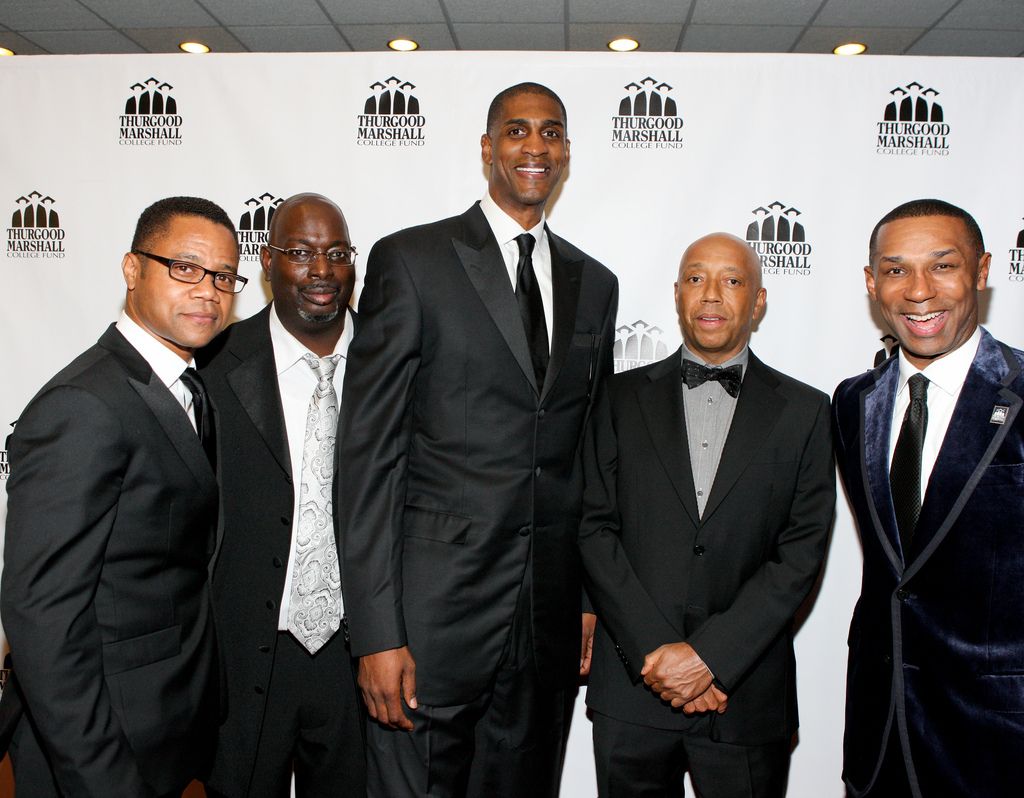 Among the guests at the 2011 gala included Cuba Gooding, Jr. (left) and honoree Russell Simmons (2nd from right) with TMCF President and CEO, Johnny C. Taylor, Jr. (far right)
Event moves to nation's capital with host Bill Cosby
WASHINGTON, DC – This Veteran's Day on Monday, November 11th will have special meaning for the Thurgood Marshall College Fund (TMCF). The organization will gather congressional members, international dignitaries, corporate and educational leaders and celebrity "A-Listers" at the Hilton Washington for its 25th annual gala to celebrate the achievements of visionaries who have used their status to positively impact the lives of students attending public Historically Black Colleges and Universities (HBCUs). The black-tie gala will be hosted by Emmy and Grammy Award-winning actor,
Dr. Bill Cosby
and feature a performance by Tony and Grammy Award-winning entertainer,
Jennifer Holliday
.
The gala will begin at 6pm with a cocktail reception and silent auction/raffle followed by a dinner program at 7:15pm. For the first time ever, Congressional members will serve as the Gala's bi-partisan honorary host committee; and the gala will honor three award recipients:
Janice Bryant Howroyd
, Founder and Chief Executive Officer of The ACT•1 Group with the CEO of the Year Award;
Johnson & Johnson
will be presented with the Corporate Leadership Award;
Larry Waters
, Senior Director of Community Commerce and Partnerships at Miller Coors will be presented with the Community Leader of the Year Award; and
Wayne D. Watson, Ph.D
., President, Chicago State University will receive the Educational Leadership Award.
The gala is being held at a critical time as thousands of HBCU students have had to leave school in recent years due to financial challenges. "This year's 25th Gala is perhaps our most important ever because of the unprecedented challenges facing students attending HBCUs. The college access battle is no longer a legal one; it is a purely financial one," stated TMCF's President and CEO,
Johnny C. Taylor, Jr
.
TMCF students attend the 2011 gala in NYC
To shed more light on the issue, Taylor spoke with BlackGivesBack and shared the importance of supporting the gala: "I'm calling on individuals, churches, local businesses, fraternities, sororities and social groups to purchase tickets, or buy a table that will provide a scholarship for a student. The average cost per year for an HBCU student is $6,200. Buying a table can provide a student with a year of tuition. Last year 14,616 HBCU students were affected by eligibility changes in the Parent PLUS loan program and were forced to leave school – many of them were seniors." He stated that enrollment is down at many HBCUs largely due to affordability. Proceeds from the event will enable TMCF to continue its work as a critical link between students getting the most from their education and the opportunity to become part of a new generation of global leaders. Taylor also would like the annual event to be among the top go-to galas in Washington, DC. "Buy a table, save a scholar – you'll have a great time!"
Visit the
gala website
for more information, to purchase tickets or buy a table.
About TMCF
Thurgood Marshall College Fund (TMCF) is named for the U.S. Supreme Court's first African-American Justice. Established in 1987, TMCF supports and represents nearly 300,000 students attending its 47 member-schools that include public Historically Black Colleges and Universities (HBCUs), medical schools and law schools. The Gala is also the culminating event of TMCF's 13th Annual Leadership Institute being held November 8–11, 2013 where over 60 Fortune 500 companies and government agencies, as well as 500 selected HBCU students will be in attendance.
TMCF has proudly made Washington, DC its new flagship home, moving the corporate office from New York City. Moving the office and the largest fundraising event of the year to DC will better position TMCF as the place WHERE EDUCATION PAYS OFF®.
ThurgoodMarshallCollegeFund.org