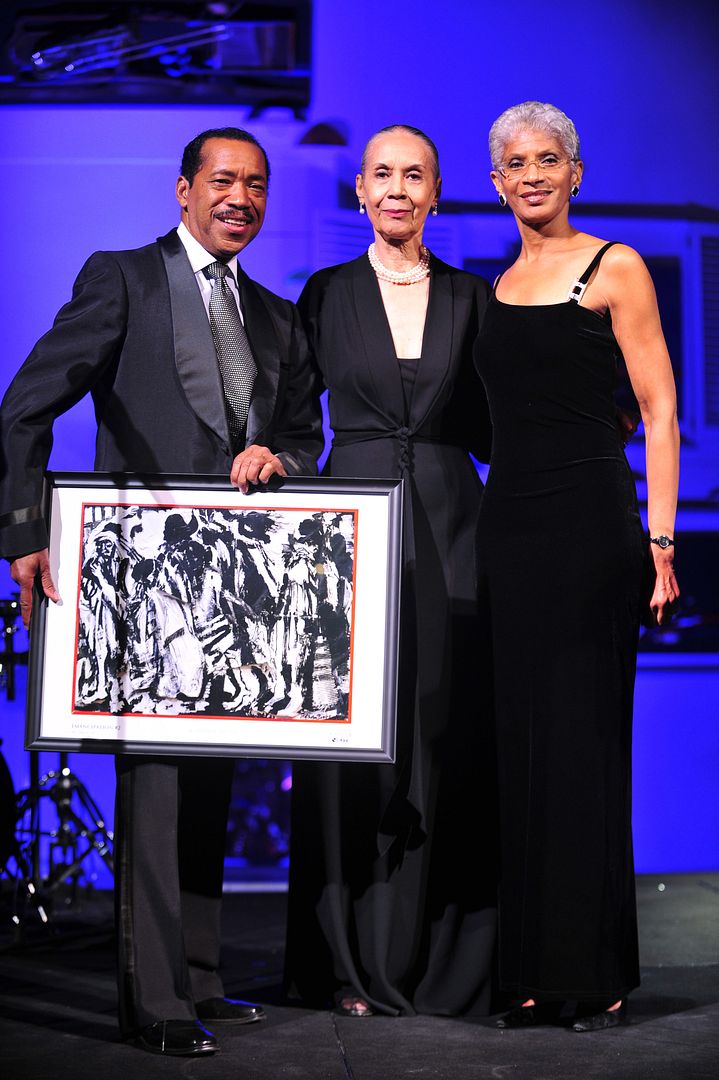 Award presenter Obba Babatune, gala honoree Carmen
de Lavallade and CAAM executive director Charmaine Jefferson
Geoffrey Holder and Carmen de Lavallade receive lifetime achievement award during "An Artful Evening" at CAAM
LOS ANGELES, CA – Friends, the Foundation of the California African American Museum (Friends) honored legendary entertainers Geoffrey Holder and Carmen de Lavallade with Lifetime Achievement Awards in Dance, Choreography and Acting during their annual gala, An Artful Evening at CAAM. Hosted by actress CCH Pounder, other honorees included visual artist Phoebe Beasley, honored with the Visual Arts Award; and businessman Leon T. Garr with the Tom Bradley Unsung Hero Award for Real Estate, Business and Philanthropy.
The elegant, black-tie affair was the California African American Museum's (CAAM) largest fundraiser of the year and benefits CAAM's Mentoring Generations program, an umbrella program that provides innovative cross-cultural programming serving K-12 students and families with children. Major components of the Mentoring Generations program are: Young Docent and Young Docent After-Hours, an employment training program for high school students; Buses and Docents; and Young Voices at CAAM.
About the California African American Museum
The California African American Museum (CAAM) researches, collects, preserves and interprets for public enrichment the history, art and culture of African Americans. Chartered by the California State Legislature in 1977, CAAM is a state supported institution and a partner with the 501(c)(3) non- profit organization Friends, the Foundation of the California African American Museum. In addition to its permanent collection of over 3,000 objects of art, artifacts and historical documents, CAAM also presents 13 exhibitions and 85 programs annually and houses a research library containing more than 20,000 volumes, employs and trains high school students through its Young Docent program, and hosts in-house curated exhibitions and traveling exhibitions on a regular basis. The museum also tours CAAM exhibitions throughout California and the nation. Visit the
website
for more information.
Source/photo: Press release