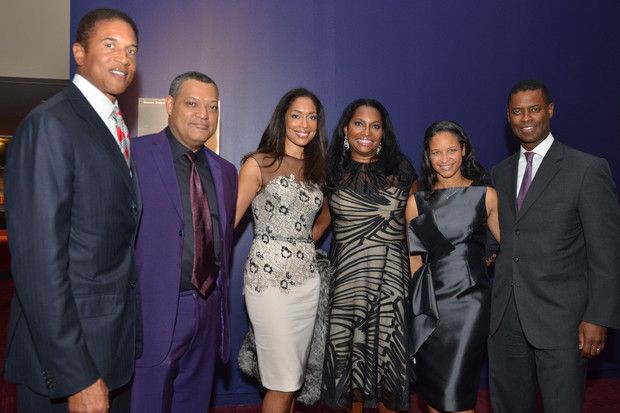 Honorees Christopher J. Williams, Laurence J. Fishburne, Gina Torres and Janice Savin Williams
with HSA President and CEO Yvette L. Campbell and Michael Campbell
By Akira Barclay, NY Contributor
NEW YORK, NY – On Tuesday, October 8th, The Harlem School of the Arts (HSA) celebrated their Fall Benefit at Jazz at Lincoln Center's Allen Room in New York City. The night's honorees included Janice Savin Williams, HSA Board Member & Co-Founder and Senior Principal of The Williams Capital Group, L.P. and Christopher J. Williams, CEO and Founder of The Williams Capital Group. Commissioner Kate D. Levin, Department of Cultural Affairs, presented the couple with the Leadership Award. The Visionary Artist Award was presented to actors Gina Torres, star of USA Network's hit original series "Suits" and Laurence J. Fishburne III. The Philanthropy Award presented by Rona Sebastian, President of the Herb Alpert Foundation was given to the Ford Foundation and accepted by Darren Walker, the Foundation's new President.
"I'm thrilled to celebrate these exceptional honorees - who in their own unique ways - are making it possible for us as HSA to continue bringing the arts to children every single day. For nearly 50 years The Harlem School of the Arts has made it their stellar mission to enrich the lives of children through the arts, and every honoree, performer, student and attendee is helping make that mission a reality, shared Yvette L. Campbell, HSA President & CEO, of the Fall 2013 Benefit.
Musical and dance performances included "The Prayer" featuring Solo Pianist, Warner Meadows and HSA students: Deja Anderson, Kendal Carter, Naomi Christiansen, Makila Cooke, Errick Grubbs, Jahir Hipps, Naya Lovell, Jaden Michael, Khayr Muhammad, Wander Sanchez, Amar Smalls, Aiyana Smash, Brandon Trent, Allegra Vacin, Gary Walker and Taliyah Whittaker. HSA Artist in Residence, Arturo O'Farrill performed "Manteca" with the Fat Cats Youth Orchestra and HSA students Gabrielle Garo, Dominique Gervais, Maximo Gonzalez, Zack Heinze and Gabe Nathanson.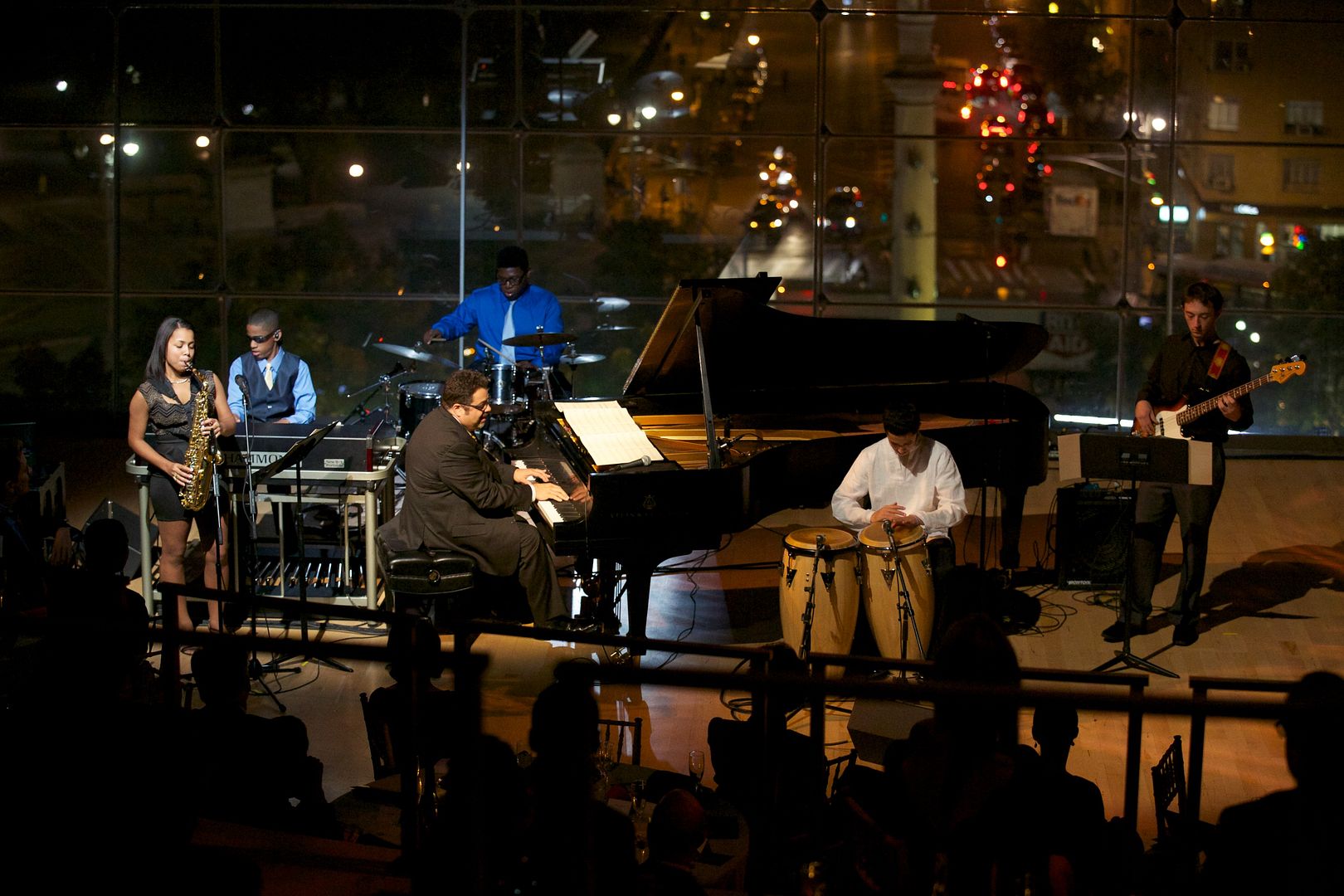 Laurence Fishburne and Herb Alpert, Lead Chair of Gala; Christopher and Janice Savin Williams
Actors Gina Torres and Laurence Fishburne accept the Visionary Artist Award.
About The Harlem School of the Arts:
For nearly a half-century, the Harlem School of the Arts (HSA) has transformed the lives of tens of thousands of young people. Located in Harlem's historic Hamilton Heights, this pioneering, world-class institution brings together music, dance, theatre, visual arts, and musical theatre instruction under one roof. Serving young people ages 2 to 18, from under-served communities of Harlem across New York City, New Jersey and Westchester County, HSA leverages its reputation for excellence and roster of celebrated alumni to empower youths and constantly revitalize its surrounding community.
For more information about Harlem School of the Arts, visit
hsanyc.org
.
Related post:
Herb Alpert Recognized for Transformational Gift to Harlem School of the Arts