Amber Sabathia with students from the Women's Academy of Excellence, an all-girls public high school in the Bronx, NY where she served as keynote speaker in 2012.
New York Yankees pitcher CC Sabathia and his wife Amber were both raised by single mothers in the inner city. Despite the financial and personal challenges they experienced early in their lives, they thrived with the support of positive role models. Today they
'
re paying it forward as the founders of the PitCCh In Foundation, a nonprofit established in 2009 to enrich the lives of inner city youth.
Amber Sabathia, the foundation's executive director explains, "CC and I are both from the inner city. Growing up, we felt there was that one special person who made a positive influence in our lives. We hope that we can be that one positive person in other people's lives. We were given a gift and an opportunity to give back and to try to touch someone's life and to make a difference. That's why we started the PitCCh In Foundation."
The foundation has three signature programs – an All-Star Baseball Clinic that introduces baseball to a new generation of youth ages 5 to 12; a Youth Backpack Program that provides back to school supplies; and the CC Christmas Caravan of seasonal giving activities. Special initiatives include athletic field renovation and maintenance of which the foundation has invested nearly $270,000, and the Nathan Berhel Scholarship named in memory of CC's cousin and childhood friend.
A graduate of San Francisco State University, Amber is presently continuing her education by pursuing a certificate in philanthropy from the Heyman College at New York University.
Read on to learn how Amber juggles motherhood, entrepreneurship and philanthropy; why she returned to school to study philanthropy; and how you can get involved with the PitCCh In Foundation.
You're a wife, a mother of four, an entrepreneur and philanthropist. How do you successfully manage it all?
Family is first! That being said, I have always felt it was important to pursue my passions and find a balance that works for me. It is interesting that most of my ventures are in one way or another influenced by my family, so they are never far away. My CCandy Clothing line came out of wanting to have sports related and fun colorful clothes for my kids. As a philanthropist, I get so much out of giving back and want my kids to learn the value of why everyone should give back. It really is the best gift that I can give my family and me.
On a day-to-day basis, we all have a schedule to ensure that there is a balance for everyone in the family. We have a blackboard in our kitchen that outlines the week for the kids. I am always going through my calendar to make sure I have the kids' activities, CC's schedule and my schedule of work commitments. It's a balancing act, but I thrive on all that is going on from watching our eldest child at football games to meeting with donors for the Foundation. I wouldn't have it any other way!
Share a success story from one of your foundation's signature programs or special initiatives.
I am so proud of all our signature programs and special initiatives. It's been a labor of love for the whole family. CC's mother Margie, CC and I have worked long hours trying to figure out how we could positively impact the community and give back. We knew that in order to build a legacy we needed to start small and grow each program.
CC and I grew up in single parent households. As you can imagine, there are significant financial challenges. It was Margie who inspired one of our first Signature Programs—Youth Backpack Program. At the beginning of each school year, she would stress about how to afford school supplies, books and a new backpack for CC. This family experience motivated us to help families who don't have the resources and help take one less burden off of a parent's shoulders. We proudly handed our first backpack to an elementary school in the Vallejo City Unified School District in our hometown of Vallejo in 2009. We have since grown to give backpacks filled with supplies to all 1st and 2nd graders in the Vallejo City Unified School District and now include public schools and nonprofits in the Bronx. This past September we hit a very significant milestone and handed out our 15,500th backpack!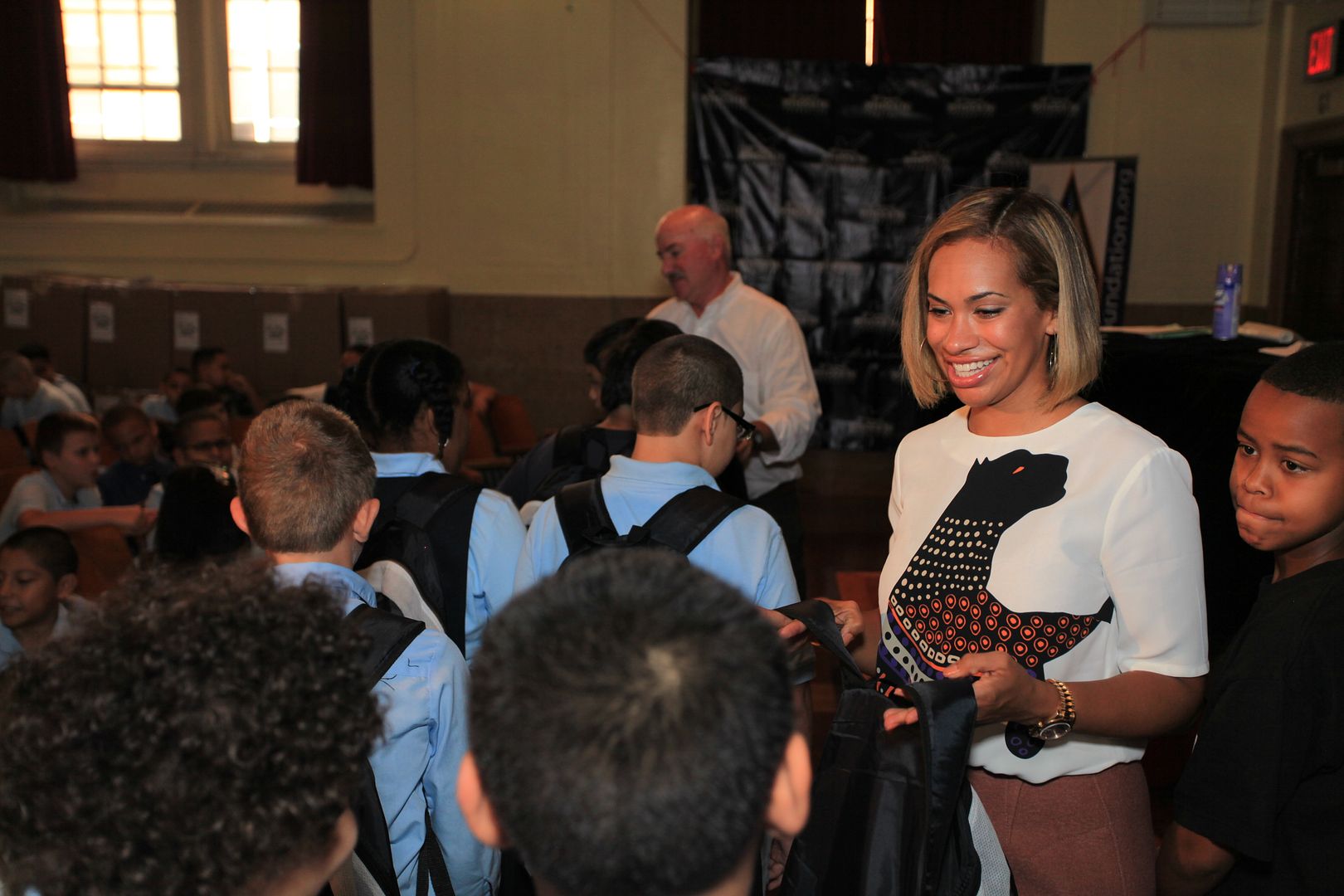 Amber and son Lil' C distribute school supplies and backpacks at PS 105 in the Bronx, Sept. 2013
You're presently pursuing a certificate in philanthropy from New York University. What led you to enroll in the program and how will you utilize knowledge gained to support the foundation?
Early on in CC's career and being on different teams, we would always participate in organized community service projects. It was amazing to be alongside CC's teammates giving back. However, when we returned to our hometown during breaks, we would see how much our community needed. Something just clicked and we wanted to do more.
After our first project which was a baseball field renovation, I realized there was more to learn. I found the certificate program at NYU and knew it would give me the tools to bring the foundation to the next level. I've taken several intensive courses from fundraising to marketing and financial management. Since the first class, I have been implementing all the things I have learned. We have a newsletter and re-designed website to update our donors on our programs and new initiatives. We have stronger programs that we are able to sustain as a result of looking at community needs and managing our growth. The foundation is four years strong and we continue to surpass previous milestones that would have been impossible to attain without going back to college.
How can readers support the PitCCh In Foundation?
Readers can support the PitCCh In Foundation by going to
www.PitCCh.org
to learn about our annual fundraiser, the CC Challenge, which is modeled on "TV's Amazing Race." On November 9th, thirty (30) teams will join CC and I to compete in a series of unique challenges throughout New York's Central Park in a fast-paced scavenger hunt filled with surprises around every corner! The event is open to all ages, so it can be a real family affair or team building experience. Individual teams can be purchased and corporate sponsorship is available.
Amber and CC host a baby shower and provide gifts for expectant mothers as part of the
2012 CC Christmas Caravan
Anything else you'd like to share?
I am currently finalizing the 2014 CCandy Clothing line. It will be available for the 2014 baseball season. For all updates, go to
www.CCandy.com
.
I am also excited about a few new roles as columnist for two magazines. I have a column called "Mom to Mom," a parenting article in 20(1) Family. It comes out 10 times a year and serves as a resource for parents in the Bergen County, NJ community. I have four kids from toddler to almost pre-teen. By no means do I have all the answers, but I want to pass on my own experiences and let parents know that they aren't alone and we are all going through this together!
And I serve as guest columnist for Athletes Quarterly. Most recently, I talked fashion and how it related to establishing CCandy Clothing.
****************************
Learn more about the PitCCh In Foundation by visiting
http://www.pitcch.org/
.