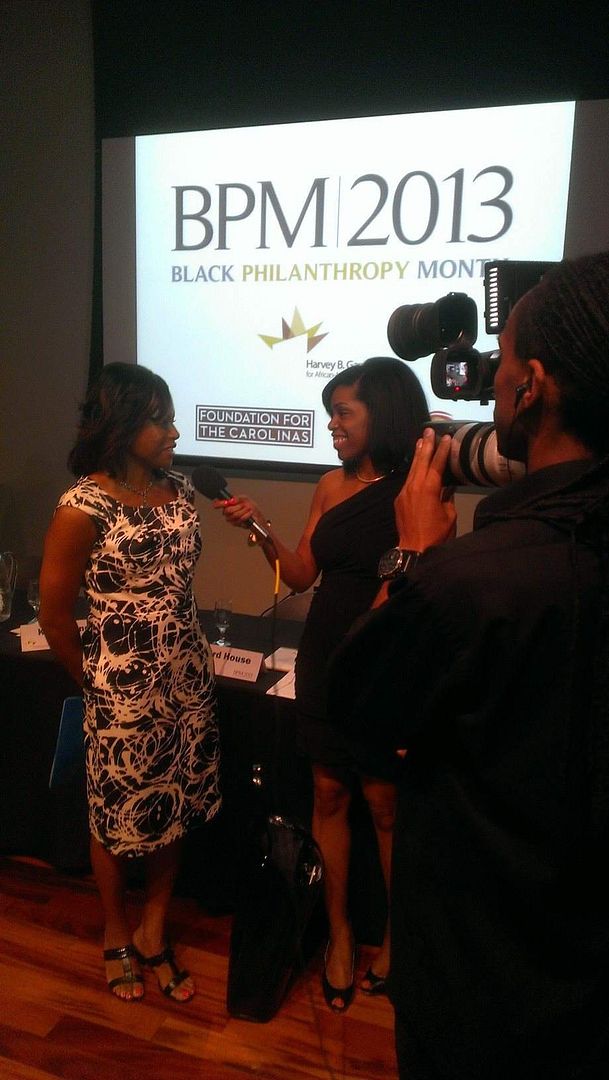 Ivey Moore interviews panelist Meka Sales, member of
NGAAP-Charlotte, during the August forum at the Gantt Center.
Venerable African American institution partners with local giving circle to mark National Philanthropy Day
CHARLOTTE, NC—The
Harvey B. Gantt Center for African-American Arts+Culture
and
New Generation of African American Philanthropists
(NGAAP-Charlotte) are co-hosting an event in celebration of National Philanthropy Day on Friday, November 15 at 7:00 pm. A panel discussion, titled Giving Thanks & Giving Back: Collective Giving and Giving Circles, will be followed by a reception and is open to the public at no cost. The community event is part of a series on Black Philanthropy that began in August.
"It's awesome to be a part of this series to help educate the community on the many facets of philanthropy," says Ed Franklin, a member of NGAAP-Charlotte and an organizer of the series.
Moderating the November discussion is Eric Frazier, a reporter for The Charlotte Observer and The Chronicle of Philanthropy. Giving circle members from across North Carolina will serve as panelists. Each panelist is part of a giving circle composing the
Community Investment Network
, which promotes collective giving among people of color as a strategy for community change:
Michelle Serrano Mills and Linsey Mills of Winston-Salem, NC
Next Generation African American Philanthropists
Barron Damon of Raleigh, NC
A Legacy of Tradition
Renee Bradford, Ed Franklin and Diatra Fullwood of Charlotte, NC
New Generation of African American Philanthropists
Aisha Strothers, membership and annual giving manager at the Gantt Center says, "Expectations for the November 15th event are for people to have a better understanding of what giving circles are, how they work and ultimately that people will feel inspired and empowered to give, no matter what vehicle they use."
Bringing together more than 100 people of all ages, the initial Black Philanthropy panel discussion took place on August 23 in celebration of
Black Philanthropy Month
and in commemoration of the 50th anniversary of the historic March on Washington. Society Charlotte magazine featured the event with a
photo spread
.
For close to 40 years, the Gantt Center, formerly known as the Afro-American Cultural Center, has served the Charlotte region by presenting, preserving and celebrating excellence in the art, history and culture of African Americans and people of African descent. The Center frequently hosts community conversations designed to inspire, empower and enlighten of all races, ethnicities and nationalities.
NGAAP-Charlotte is collaborating with the Gantt Center to advance the circle's mission: "promoting philanthropy—the giving of time, talent and treasure—among African Americans in the Charlotte region, with the goal of enhancing the quality of life within our communities." NGAAP-Charlotte and the Gantt Center plan to extend Charlotte's Black Philanthropy series through 2014. The series is made possible in part through the generous support of Foundation For The Carolinas, which is the host community foundation of NGAAP-Charlotte.
For more event details, visit the
Gantt Center website here
. While the public is welcome at no cost, an RSVP is required. If you have questions, please contact Aisha Strothers at (704) 547-3787.
Contributed by Valaida Fullwood
Described an "idea whisperer," Valaida brings unbridled imagination and a gift for harnessing wild ideas to her work as a writer and project strategist. She is a founding member of Charlotte's New Generation of African American Philanthropists and author of Giving Back: A Tribute to Generations of African American Philanthropists. For more, follow
valaida.com
, @ValaidaF and @BlkGivesBackCLT.