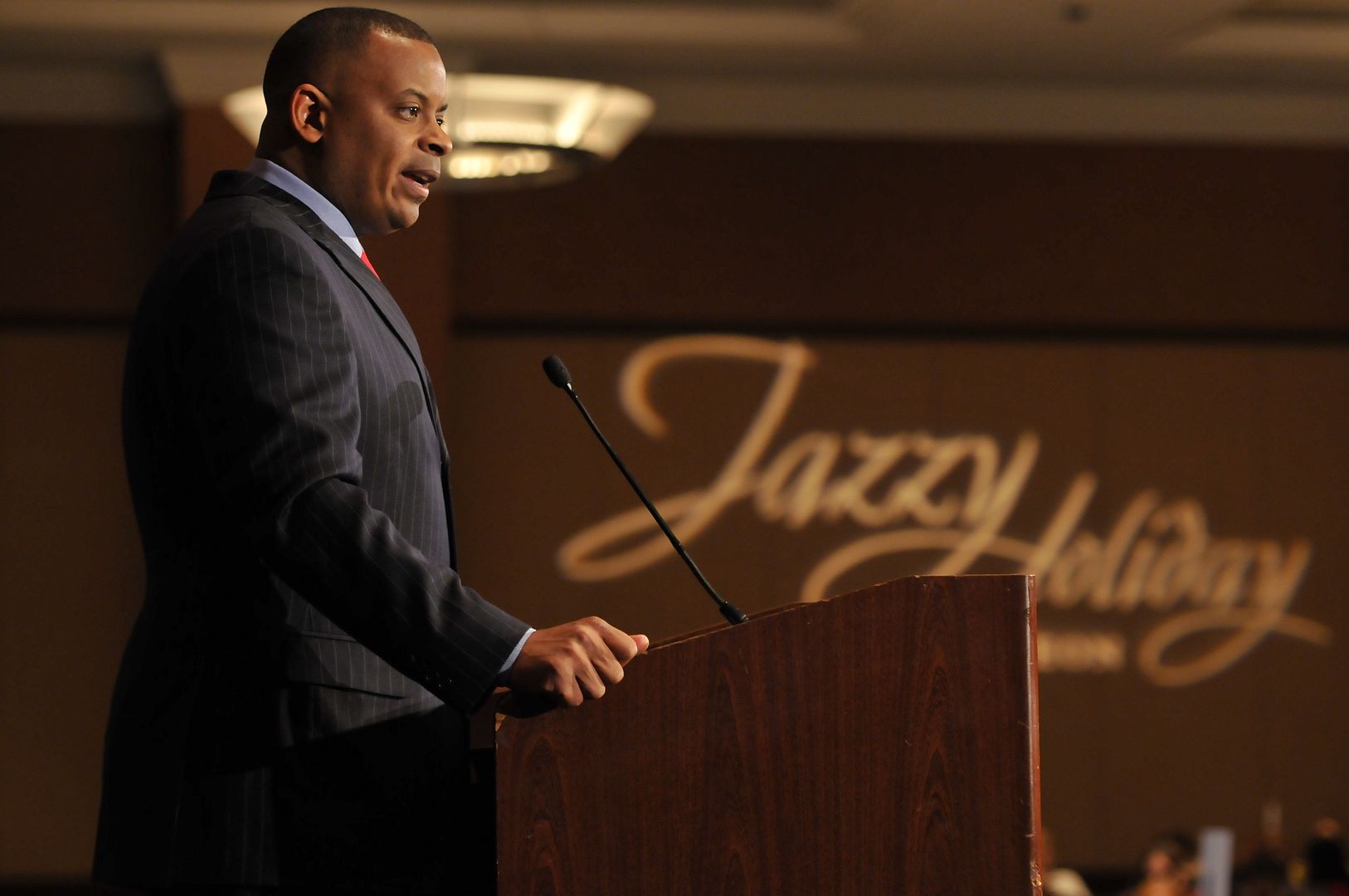 U.S. Secretary of Transportation and former Charlotte Mayor Anthony Foxx at the 2012 Jazzy Holiday Luncheon
CHARLOTTE, N.C. – PNC Bank has announced it will once again sponsor the
Harvey B. Gantt Center's Jazzy Holiday Luncheon
. Following last year's successful introduction of this sponsorship, the Gantt Center and PNC Bank are delighted to continue the partnership. As the Center's signature fundraiser, the luncheon is one of the longest running annual traditions in the Charlotte area and boasts excellence in the arts, culture, history and community and annually celebrates established arts patrons and community leaders.
This year's 33rd Annual Jazzy Holiday Luncheon will be held on Friday, December 6 at 11:30am at the Westin Charlotte Hotel. Individual seats for the luncheon are $125 per person. Tables of eight begin at $1500 and include a graduated series of benefits for civic and corporate table sponsors. Proceeds from the event will benefit the Gantt Center Annual Fund, which enables the Center to provide programming to present, preserve and celebrate the arts, history and culture of African-Americans and those of African descent.
"PNC is proud once again to sponsor the Gantt Center's luncheon and to continue our support of this important cultural institution," said Weston M. Andress, PNC Regional President of Western Carolina. "The Gantt's many contributions to our community are key to helping our region honor the art and history of African-Americans."
The Center will share the year's highlights and key accomplishments and present 2013 Gantt Center Awards to three recipients who have made remarkable contributions to the Gantt Center and the greater Charlotte community. The 2013 Gantt Center Award recipients include Sally and Russell Robinson—devoted community leaders, philanthropists, and arts patrons; Tyrone Jefferson of A Sign of the Times—award-winning musician, band leader, and arts activist; and Compass Group—corporate citizen and community supporter.
On Friday, December 6th at the Westin Charlotte Hotel, registration for seating will begin at 11:00am followed by lunch at 11:30am. The event is nearly sold out, and the purchase of seats and tables ends Monday, November 25. Tickets are available online at
www.ganttcenter.org
, by phone at 704.547.3781 or in person at the Center. Organizations and corporations should contact Gantt Center Director of Advancement, Tiffany L. Graham at 704.547.3739 for information about corporate sponsorships or group accommodations.