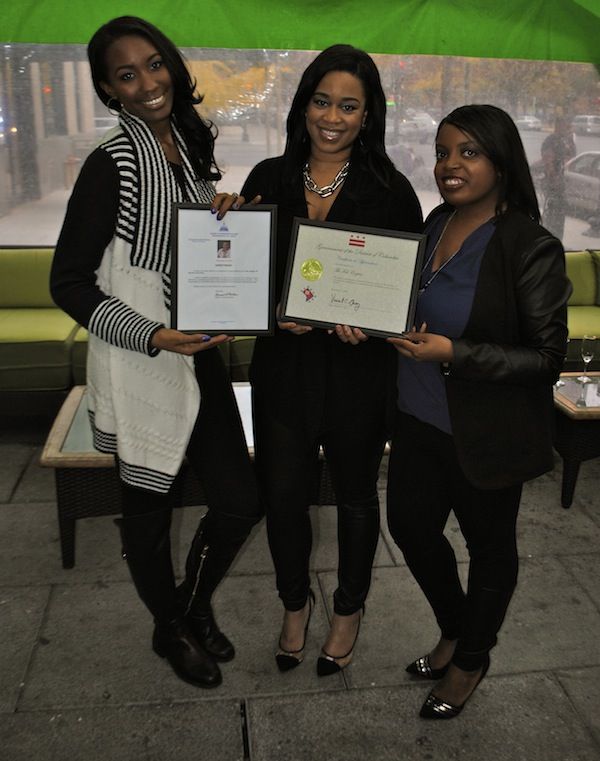 Young professionals from The Fab Empire gave back
this holiday season with a coat collection drive benefiting
Martha's Table in Washington, DC. The event
received special recognition from DC's mayor.
By Chasity Cooper, Guest Contributor
Want to make a difference in your community this holiday season? There are a number of ways you can give back. From sponsoring crowdfunding projects to volunteering in soup kitchens to hosting friend-raisers for a nonprofit of your choice, here are five ideas to get you started:
1. Find volunteer opportunities in your neighborhood.
Many people have the desire to serve, but they aren't sure where to start or how to find the right volunteer project to fit their interests. Fortunately, there are a number of websites that can provide the guidance you're looking for.
Charity Navigator
can help you find charities in your area, and
Volunteer Match
connects volunteers with charities that align with their interests. And don't forget the power of donating blood.
Blood banks
across the country are in need — and even a one-time blood donation can help save a life.
2. Host a friend-raiser.
Yes, that's right, a friend-raiser. It's a great way to find potential supporters for your charity of choice. In friend-raisers, current donors invite their friends to a private party to help raise awareness and share information about the nonprofit's work. Anyone can host various versions of friend-raisers, such as inviting friends to meet over happy hour, dinner, or brunch to raise funds for the charity of your choice.
3. Donate old winter clothes and accessories to the Salvation Army or Goodwill.
We've all got them lying around — old winter clothes and accessories we don't use anymore — like the gloves, scarves, and hats that could make a big difference to someone stuck out in the cold. Take a few minutes to lighten your closet by heading out to your nearest
Salvation Army
or
Goodwill
donation site. Not only will you help someone in need, you'll also help yourself by creating more order in your life and adding a potential deduction for the upcoming tax season. Both Goodwill and the Salvation Army offer excellent valuation websites, as does
ItsDeductible.com
.
4. Run an online campaign!
With the power of technology at your fingertips, you can accomplish amazing things through online fundraising campaigns. There are many already in place, but you can pick your mission and start one of your own. One of the most popular ways to do this is through
crowdfunding
, which allows users to fundraise through their personal online networks. There are many reputable sites that can help you start a crowdfunding project — like
Razoo
, which specializes in fundraising for nonprofit causes.
5. Sponsor a needy family.
We know there are families out there who could use our help, and the holidays are a great time to provide it. The challenge lies in finding the families in need, as well as the most appropriate means of connecting with them. Thanks to organizations like
Family-to-Family

,
you can help ease hunger and poverty for families in your community — as well as participate in specific holiday-giving efforts.
You can make a big difference by giving back to your community this holiday season. Since the holidays are one of the most popular times of the year to volunteer, it's important to have patience and stay flexible throughout the process, and keep in mind that communities are in need all year round. Let your volunteer experiences during the holidays inspire you to stay involved in charity work throughout the year.
A lover of all things public relations and marketing,

Chasity Cooper

is currently a community relations coordinator for the UNC School of Government's

online public administration program

, MPA@UNC. With the hustle of a future CEO and heart of a philanthropist, she aspires to one day to work in corporate social responsibility for the NBA or NFL. Follow her on Twitter at

@chasityscooper

.