Gantt Center board member Natalie Frazier Allen with Jazzy luncheon guest Maria Stephens
Drawing inspiration from jazz classic Afro Blue, Jazzy draws over $135,000 for presentations of African American art, culture and history
Charlotte, NC — On December 6, a sold-out audience of 600 assembled at the Westin Hotel while Presenting Sponsor PNC Bank led support for the 33rd Annual Jazzy Holiday Luncheon, benefiting the
Harvey B. Gantt Center for African-American Arts+Culture
.
Shades of delight, cocoa hue
Rich as the night afro blue
Lyrics, melody, imagery and musicology of Afro Blue provided inspiration for Jazzy 2013. The evocative song is a jazz standard made famous by North Carolina native John Coltrane. With a wintry blue hue cast over the banquet hall, Gantt Center presenters invited guests to "imagine anew" when envisioning the institution's future. On the threshold of its 40th anniversary during 2014, the Center boasts Jazzy as its signature fundraiser and one of the longest running annual traditions in the Charlotte area.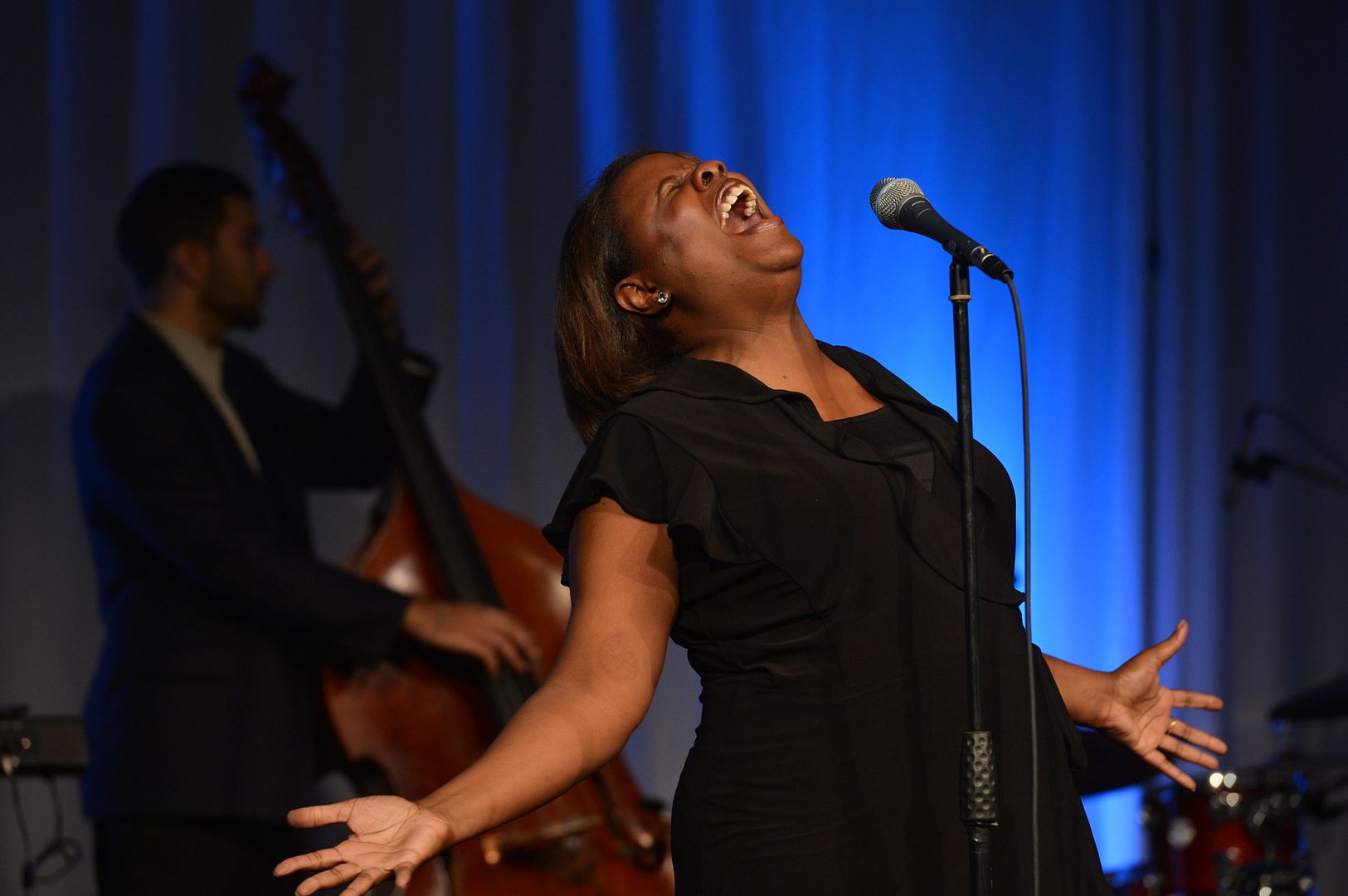 Vocalist with the Harvey Cummings Project belts out a jazz classic.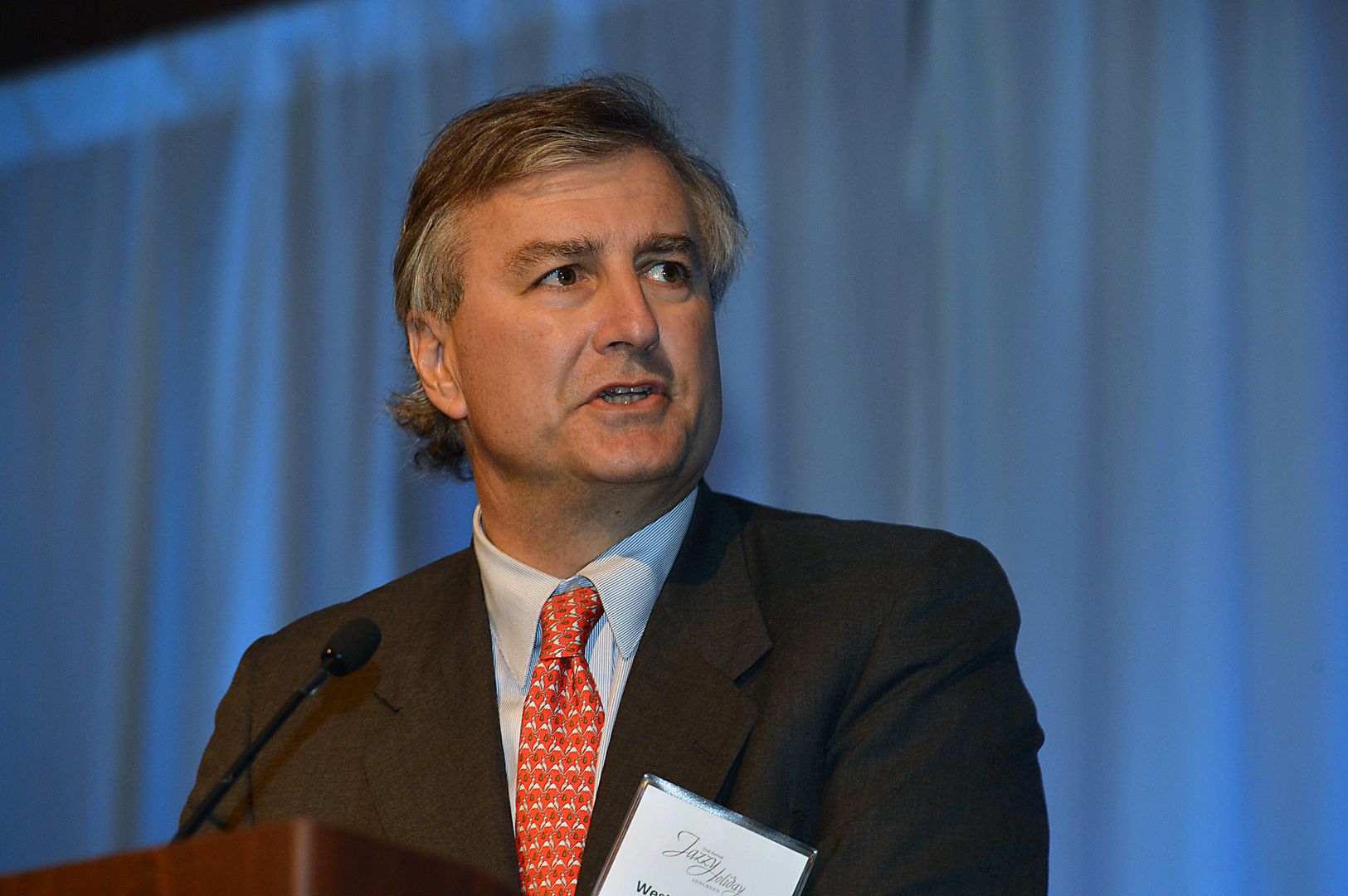 Andress Weston, Regional President for Western North Carolina, PNC Bank, presenting sponsor
of the 33rd Annual Jazzy Holiday Luncheon
During Jazzy, Gantt Center board members, staff and supporters recapped high points of the year's programming and exhibitions. Over 2013, the Center hosted America I Am, The Kinsey Collection and the art of David Driskell, Julie Moos, Jonathan Green and others. A lecture by Dr. Henry Louis Gates, Jr. launched the inaugural Gantt Symposium in June.
Question Bridge: Black Males
opened in October and will run through spring 2014. Classic black films, documentaries, educational programs, panel discussions and performances also take place regularly at the Center.
Award presentations took a turn for the poetic as Quentin Talley, last year's artist award recipient, introduced the
2013 Gantt Center Awards
. Talley delivered original spoken word pieces about the honorees—Sally and Russell Robinson, devoted community leaders, philanthropists and arts patrons; Tyrone Jefferson, award-winning musician, band leader and arts activist; and Compass Group, corporate citizen and community supporter.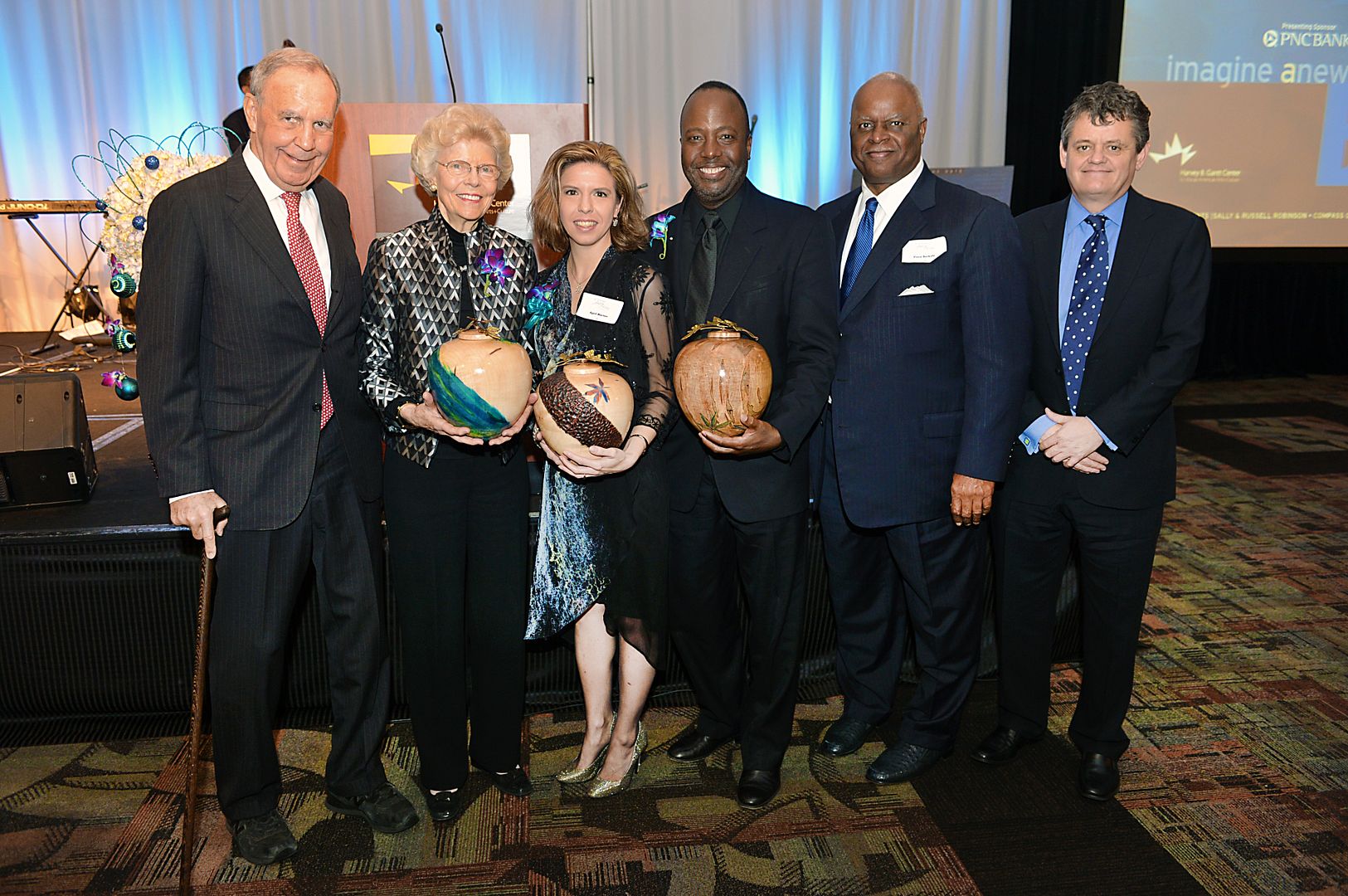 2013 Gantt Center award recipients Russell Robinson, philanthropist and founding partner of Robinson,
Bradshaw and Hinson; Sally Robinson, philanthropist and civic leader; April Morton, Community Relations Coordinator,
Compass Group; Tyrone Jefferson, musician; Vince Berkeley Jr., Chief Diversity Officer, Compass Group;
and Tony Shearer, Chairman, Foodbuy, LLC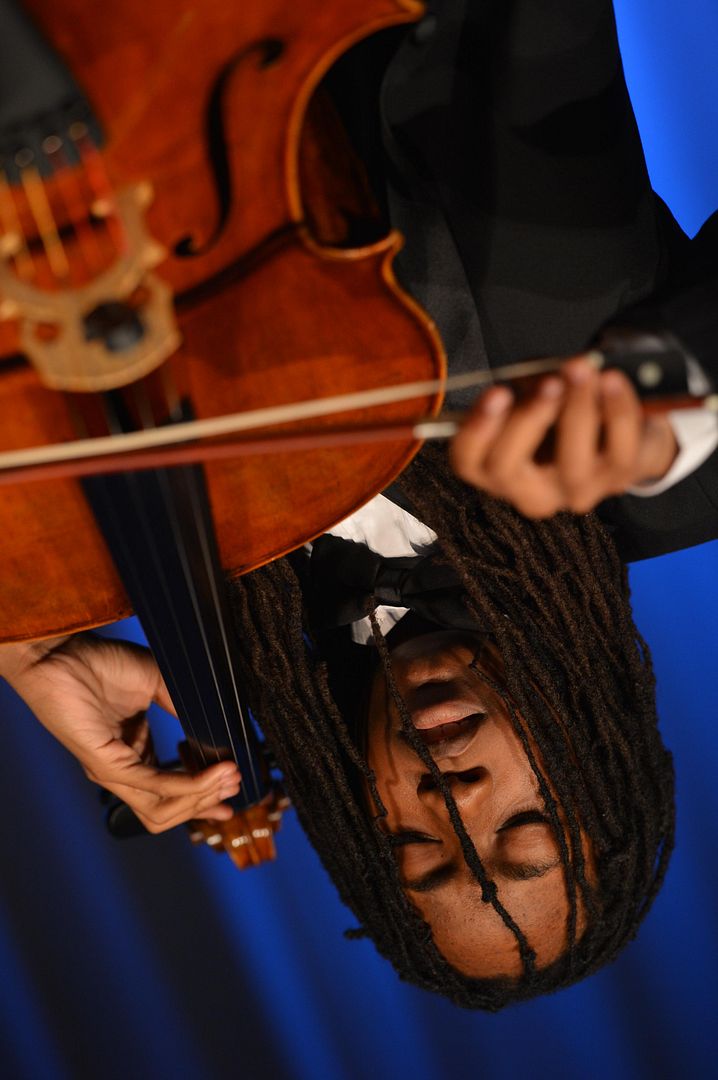 Classical cellist Malik Kofi performed a musical tribute.
As a tribute to award recipients, 12-year-old prodigy
Malik Kofi
performed a musical piece on the cello. The Harvey Cummings Project played jazz and holiday classics throughout the luncheon. Film vignettes created by smARTlab threaded the event, providing colorful insights on the Center's history, mission, artists, scholars, members and leaders. Members of the audience captured stirring moments via
social media

.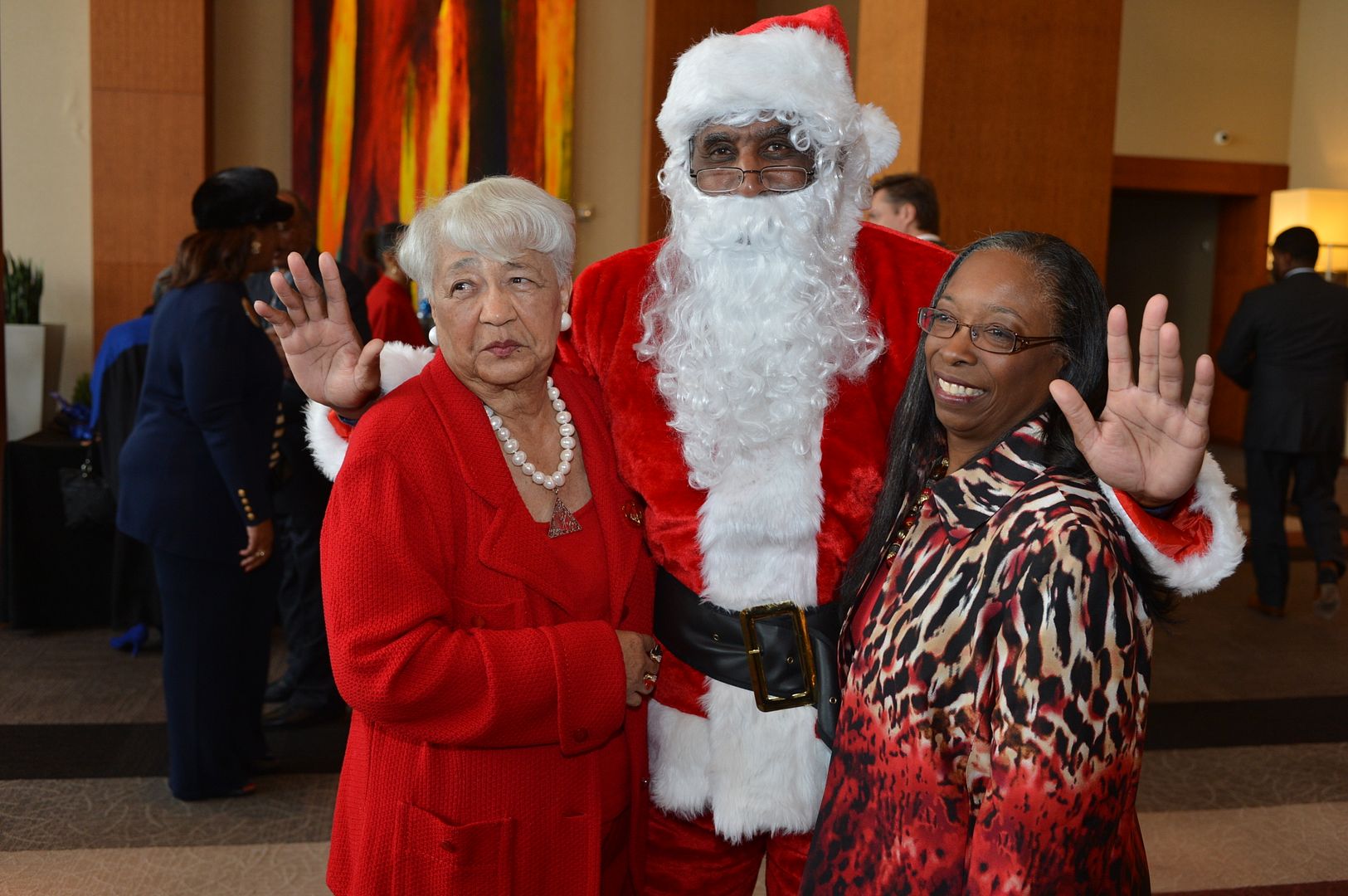 Santa Claus with Gantt Center co-founder Dr. Bertha Maxwell-Roddey and former board member
Michel Vaughan
David R. Taylor, Gantt Center President and CEO, ended the event on a high note by announcing a cross-cultural institutional trip to
Cuba
, December 19–23, 2014. The trip is part of the Center's 40th anniversary celebration and will coincide with the Havana International Jazz Festival. After exciting the audience about Afro-Cuban art, history and culture, Taylor encouraged everyone to sign up for the trip. And as is the tradition, Jazzy closed with staff, board members and public officials coming to the stage for a sing-along Christmas carol.
Watch this fun and fast-paced
short video
from Jazzy:
About the Gantt Center
Founded in 1974, Charlotte's Harvey B. Gantt Center for African American Arts+Culture exists to present, preserve and celebrate the art, history and culture of African Americans and people of African descent through dance, music, visual and literary arts, film, educational programs, theatre productions and community outreach. Named for Harvey B. Gantt, the prominent Charlotte architect and former Mayor of Charlotte, the Center is housed in a distinguished award-winning building and is home to the nationally celebrated John and Vivian Hewitt Collection of African-American Art. Learn more at
GanttCenter.org
.
Story submitted by Valaida Fullwood, event producer of 33rd Annual Jazzy Holiday Luncheon
Described an "idea whisperer,"
Valaida
brings unbridled imagination and a gift for harnessing wild ideas to her work as a writer and project strategist. She is a founding member of Charlotte's New Generation of African American Philanthropists and author of "Giving Back: A Tribute to Generations of African American Philanthropists." On Twitter, follow
@ValaidaF
and
@BlkGivesBackCLT
.
Photos courtesy of Harvey B. Gantt Center