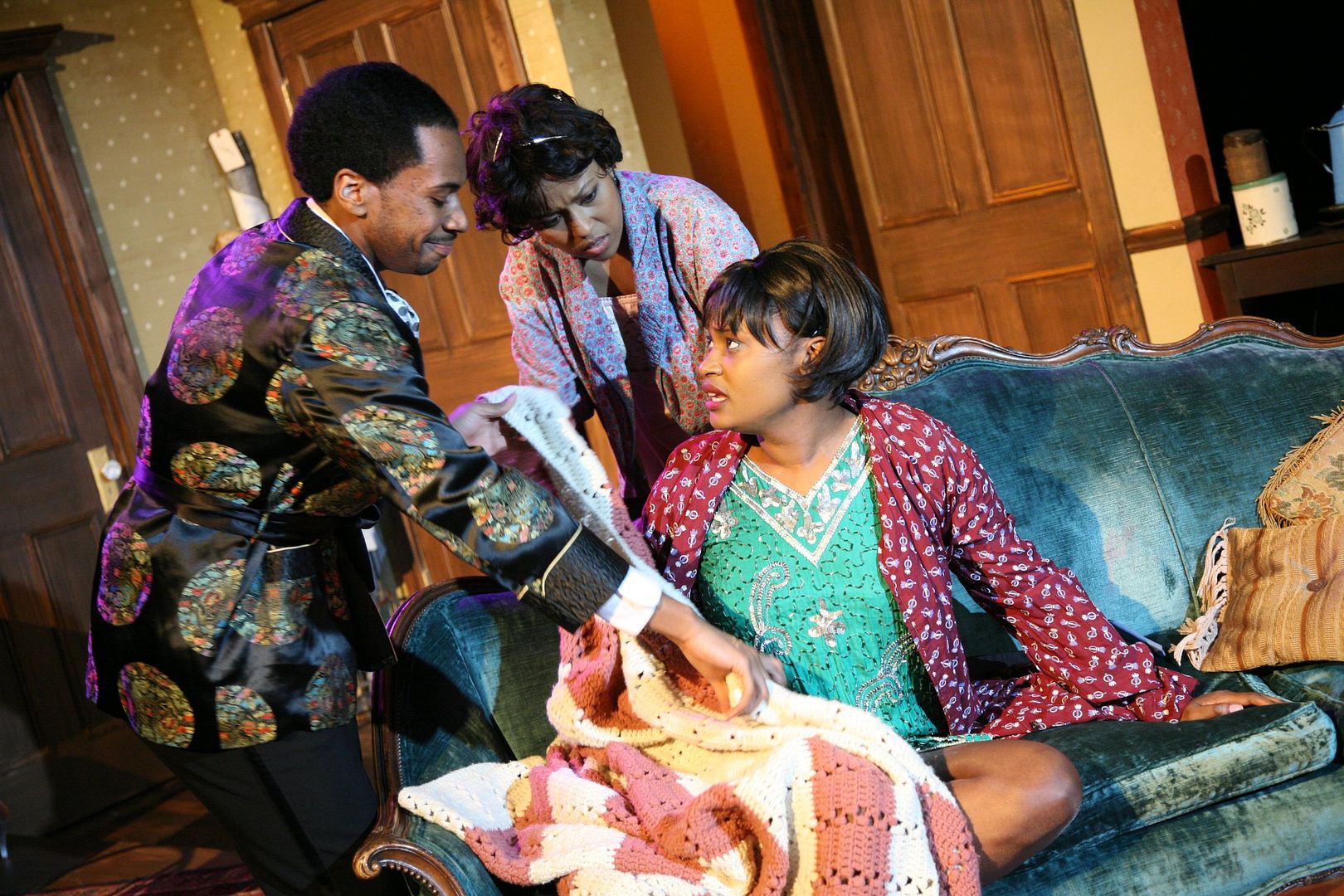 A scene from Blues for an Alabama Sky presented by African Continuum Theater Company
The African Continuum Theater Company (ACTCo) based in Washington, DC is the only full-time professional black theater company in the nation's capital. Founded in 1995, its primary mission is to produce professional, high-quality programming for the general public that preserves and highlights African-American history and culture. The company has presented over 35 fully-produced, main-stage plays, seven of which were world premieres, along with numerous public readings of new works by playwrights of color. Its award-winning production history includes
Blues for an Alabama Sky
by Pearl Cleage,
A Raisin in the Sun
by Lorraine Hansberry,
Mirandy and Brother Wind
based on the book by Patricia McKissack and
Two Trains Running
by August Wilson. Among the theater's accomplishments include 3 Helen Hayes Awards, a Washington Post Award for Distinguished Service to the Community, and selected as a featured nonprofit in the 2011-12
Catalogue for Philanthropy
, a publication that identifies the best small charities in the DC region. But we'd be remiss if we didn't mention the
challenges
facing ACTCo and black theater companies nationwide.
Stories on African-American arts and cultural institutions, specifically theater, have made the news not for their accomplishments in recent years but for what they're lacking – funding and organizational sustainability. These very challenges, highlighted in
The Root
and the
Washington Post
, led ACTCo to reduce its programming.
Today, the theater is rebuilding with a new producing artistic director, veteran actress and playwright Thembi Duncan, along with new members of the board. One of Duncan's priorities is incorporating education into its programming. She shared, "Having spent the past four years focused on arts integration, I plan to continue exploring the benefits of the arts as tools for learning." The company is currently engaged in long-term planning to stabilize finances and build the theater's organizational capacity.
Blues for an Alabama Sky cast with director Walter Dallas
Last month ACTCo was selected as a featured non-profit in the Giving Library, an online resource for philanthropists that connects them to non-profit organizations via video features. Viewers can learn more about the theater, its mission, future goals and more. Here's how you can support
African Continuum Theatre Company
without spending a dime – by viewing and sharing their video through the Giving Library's Share 2 Give campaign. For each video share, ACTCo will receive $5. Here's how it works:
View ACTCo's video

here

.
Click the "Share Now" button.
Create an account if you don't already have one.
Click "Share on Facebook" or "Share on Twitter."
Share either the default message or a message of your choice.
ACTCo will receive $5 per share.
Individuals may share up to five organizations per month.
Why is it important to support black theater? Duncan sums it up:
"It is essential that we support African-American theaters so that our theater practitioners will have an artistic home and a safe, open space -- a place where they can speak in the "first person" and feel heard and understood.

While it is wonderful that mainstream opportunities are growing for black actors, the rest of the working theater community remains overwhelmingly white. Artistic organizations helmed by people of color make a huge impact on the overall diversification of theater because Black theaters hire far more administrators, crew, directors, and designers of color. Black theaters have also traditionally been more likely to take chances on little-known Black playwrights, who many times have gone on to achieve great success in the theater mainstream."
To learn more about the African Continuum Theater Company and its 2013-14 season dubbed "The Year of the Phoenix," visit
african-continuum.org
, follow on
Facebook
and on Twitter at @AfriContinuum. For volunteer opportunities contact info@african-continuum.org.