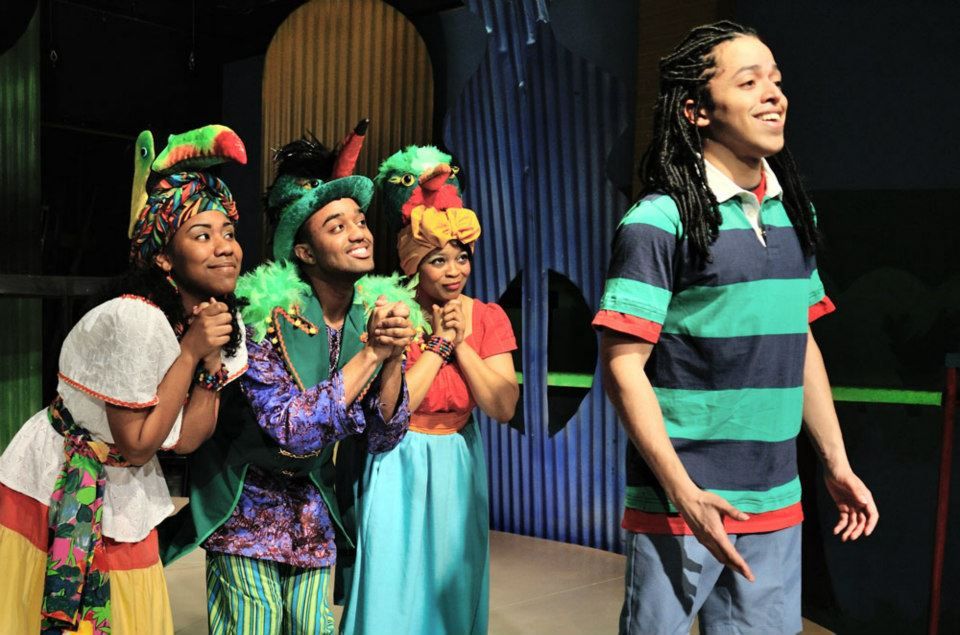 Musical production based on the story by Cedella Marley heads off Broadway to New York City
NEW YORK, NY – A jammin' new musical with live accompaniment featuring the timeless music and lyrics of Bob Marley,
BOB MARLEY'S THREE LITTLE BIRDS
shares the legendary reggae artist's message of peace and love with a new generation of songbirds. Opening the day after the singer and songwriter's 69th birthday, BOB MARLEY'S THREE LITTLE BIRDS performs during Black History Month at The New Victory Theater on 42nd Street in Times Square, New York from February 7 – 23, 2014.
Three little birds sing their sweet songs to Ziggy, a very shy child who prefers to see the world from the television in his room. But with the help of his feathered friends and his nagging neighbor Nansi, Ziggy is reminded in soothing six-part harmony that "every little thing gonna be all right." Inspired by a picture book written by Cedella Marley and Gerald Hausman about the Bob Marley song of the same name, BOB MARLEY'S THREE LITTLE BIRDS is a collaborative creation between the Marley family and Adventure Theatre MTC, who premiered the production as part of the theater's
African-American Adventure series
.
"I wanted to find a work that celebrates culture without making race a plot point and discovered 'Three Little Birds,'" says Adventure Theatre MTC producing artistic director Michael J. Bobbitt, who worked closely with Cedella to weave story, song and dance into a new musical for kids. "Even though Jamaica is not an American province, Bob Marley and reggae has influenced a lot of African American culture, and plus, kids love the music!"
In addition to the title song, BOB MARLEY'S THREE LITTLE BIRDS includes the hits "Jamming," "One Love," "Roots Rock Reggae," "I Shot the Sheriff," "Natural Mystic," "So Much Trouble in the World," "Lively Up Yourself," "Is This Love," "Please Don't Rock My Boat," "Riding High," "I Know," Running Away," "Duppy Conqueror" and the West Indies children's song "Brown Girl in the Ring."
"Dad had so many kid-friendly songs," agrees Cedella Marley, who began writing about ten years ago and has written three other books for children. A mother of three, Cedella hopes that her story can help kids look past whatever fears they may have; as her character Mother Cedella tells Ziggy, "There may be dangers outside, but you cannot be so scared you don't enjoy the world."
BOB MARLEY'S THREE LITTLE BIRDS has a running time of 55 minutes with no intermission, and is recommended for everyone ages five and older. Watch a trailer
here
and for general ticket information, visit the New Victory
website
.
Source: Press release