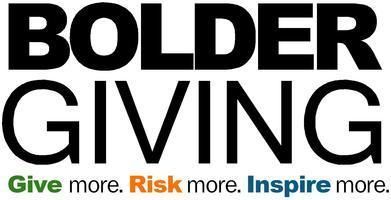 If you missed the webinar "
Black & Bold: Philanthropy in the African American Community
" hosted by
Bolder Giving
on February 20th, the discussion is now available
online
!
Featuring
Tracey Webb
, founder of BlackGivesBack.com and
The Black Benefactor

s
;
Christina Lewis Halpern
of the
Reginald F. Lewis Foundation
and founder of
All Star Code
; and
Cheryl Pemberton-Graves
, founder of
Five Pearls Foundation
; the sold-out event showed that this topic is indeed an important one.
Cheryl McCourtie, Director of Development at Bolder Giving who also served as the event's moderator
shared in a blog post
, "Each woman brought a special perspective to giving; each deeply rooted in family traditions of giving and concern for humankind. The overwhelming response to this webinar (we were completely subscribed with 100 attendees and a waiting list of more than 40), is clear evidence of a hunger for more conversations about African American giving. As a Black woman who works in the philanthropic sector and is a donor, I feel that our past philanthropic contributions need to be lifted up, and further, we need to, as our guests said today, be more strategic—and public—about the full range of our giving as a community."
Listen to the discussion
here
and learn more about the work of Bolder Giving at
www.boldergiving.org
.