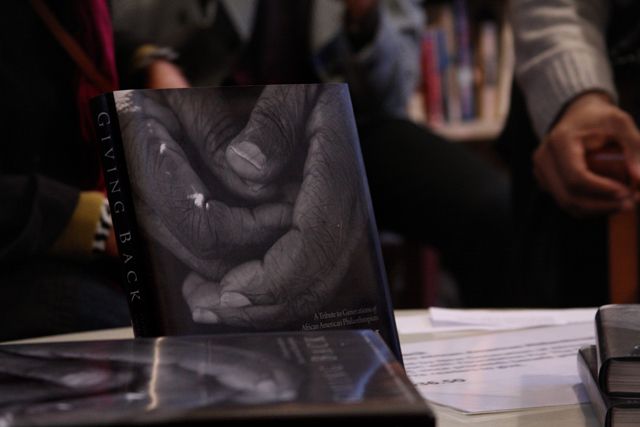 Book display at the "We're Bringing Giving Back" presentation in February 2013
In observance of Black History Month, Charlotte's New Generation of African American Philanthropists (NGAAP-Charlotte) is participating in two events aimed at deepening the public's knowledge of various facets of philanthropy.
What Will Be Your Legacy?
Saturday, February 22, 2:00-4:00 pm
Gantt Center, 551 South Tryon Street
Successful family legacies don't happen by accident. Families wanting to leave things of value for generations to come understand the need to develop a plan and take decisive action.
This interactive session will focus on financial values and goals, how we choose to give, and how we pass our legacies on to the next generations. It is the third panel discussion in the Black Philanthropy series, co-hosted by the
Harvey B. Gantt Center for African-American Arts+Culture
and
NGAAP-Charlotte
. Moderated by Tiffany Graham, the Gantt Center's Director of Advancement, the panel will include:
Sharon Carr Harrington, Assistant Vice President for Institutional Advancement, Johnson C. Smith University
Heather Carty Ward, Attorney, Carty Ward Law and a founding member of NGAAP-Charlotte
Rhondale Haywood, Vice President, PNC Wealth Management
David Julian, Vice President, Philanthropic Advancement, Foundation For The Carolinas
While the session is free to the public, advance registration is requested
here
.
We're Bringing Giving Back
Association of Fundraising Professionals (AFP)-Charlotte Chapter
Wednesday, February 26, 11:30 am-1:00 pm
Central Piedmont Community College-Harris Center
The monthly lunch meeting of Charlotte's
Association of Fundraising Professionals
will feature an ensemble presentation by NGAAP-Charlotte members. The multimedia presentation will weave personal narrative, photography and readings from the book
Giving Back
to provide insight on culture, heritage and the legacy of generosity among Americans of African descent.
Register to attend the luncheon
here
(under February 2014 monthly meeting).
About New Generation of African American Philanthropists
Founded in 2006, NGAAP-Charlotte envisions a healthy, safe and prosperous community for African American families to live, work and flourish. Its mission is "to promote philanthropy—the giving of time, talent and treasure—among African Americans in the Charlotte region, with the goal of enhancing the quality of life within our communities." As a collective giving group, NGAAP-Charlotte explores new as well as time-honored ways of giving and embraces a definition of philanthropy that encompasses gifts of not only money, but also time, talent, intellect and energy. For more information, visit
New-Philanthropists.org
and email efrankli@yahoo.com.