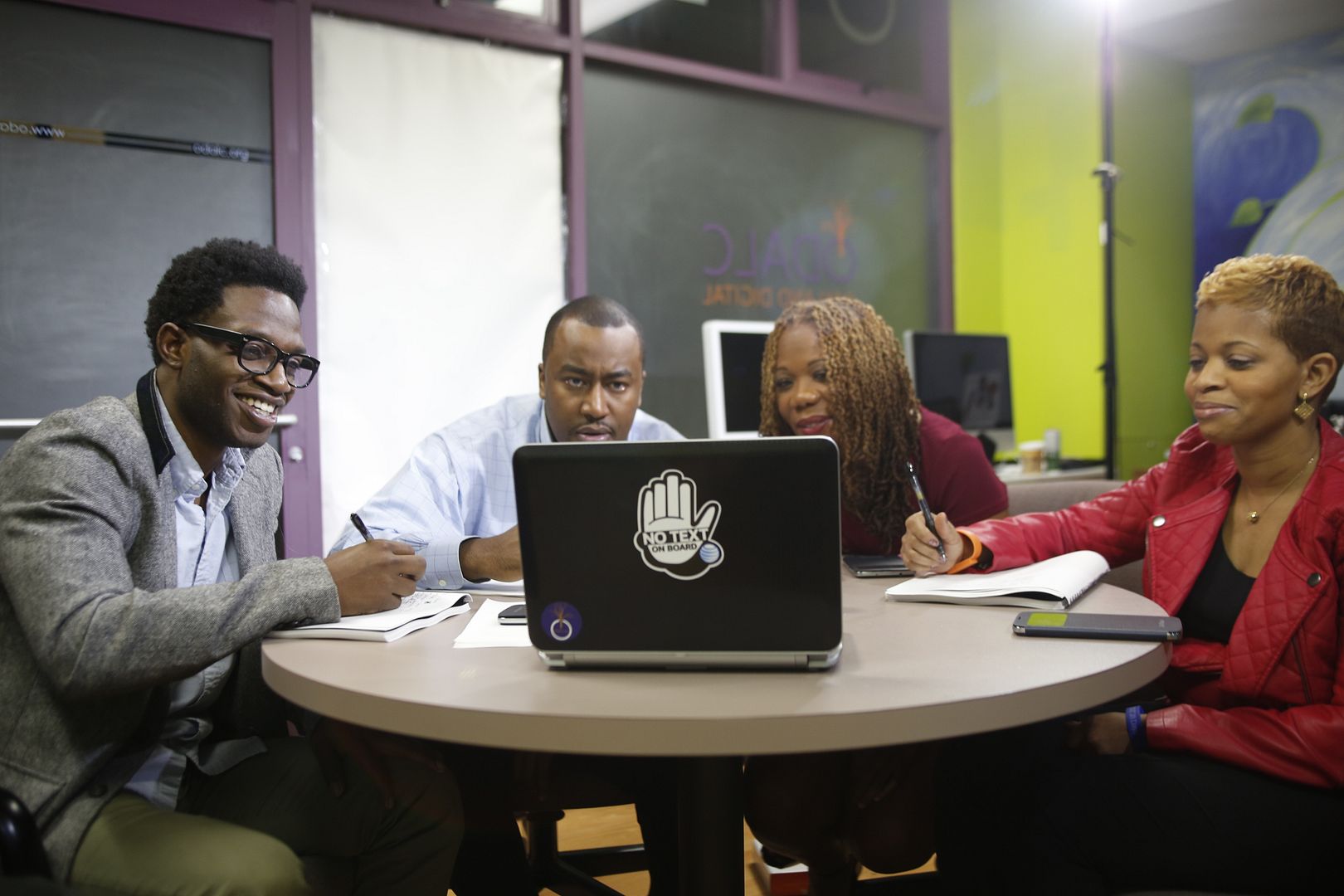 The AT&T 28 Days winning team, Team ODALC, meet for the first time at the Oakland Digital Arts and Literacy Center. L to R: Dan Miller, Omari Worthy, Tracy Gray, and Misty Standmire
What if you were given the opportunity to participate in a month-long community service challenge to benefit a non-profit organization – and a chance to win $5,000? Now in its sixth year, the AT&T 28 Days campaign invited the public to enter for a chance at this grand opportunity during Black History Month, embracing a new model of "making history happen."
Throughout February, twelve individuals selected for their creativity, experience, and leadership qualities, formed three teams to support the organizations WriteGirl, the Oakland Digital Arts & Literacy Center, and the Austin Area Urban League Young Professionals. Each team was paired with a coach – hip-hop icon MC Lyte, digital media leader Wayne Sutton, and Olympic Gold Medalist Sanya Richards-Ross – who served as celebrity mentors to help guide their 28 Days journey. Weekly team challenges were designed to help these organizations continue to make a difference in the community.
On February 1st, Dan Miller, Tracy Gray, Omari Worthy and Misty Standmire, joined together to help support the mission of Oakland Digital Arts & Literacy Center ("Team ODALC"). They worked diligently to develop a communications plan, conduct research, share insights, coordinate a special event and share it all with their social media networks in just 28 days.
Team ODALC
led by Wayne Sutton was awarded a grand prize of $20,000 ($5,000 per team member), for their innovative-thinking, commitment, and for building awareness for their cause on social media.
BlackGivesBack talked with
Misty Standmire
, one of the winning Team ODALC members to learn more about her experience and how she plans to continue to pay it forward in her community.
What interested you in applying for the AT&T 28 Days challenge?
I was preparing to do one of my blog talk radio shows and the advertisement kept popping up, so I clicked on the link and learned about it. Every year I volunteer to mentor and I thought it was a great opportunity so I went with it.
How were you notified you were selected?
On a Monday morning I submitted a 500 word essay and Tuesday morning I received an email that I needed to send a volunteer resume. On Thursday afternoon I was chosen and the following Monday I was flying to Oakland for our first video shoot. It happened very quickly.
What were your weekly team challenges during the 28 days?
Our first week's challenge was to create a communications plan for Oakland Digital Arts & Literacy Center, tailored to what they were struggling with - trying to get into the area high schools and keeping students engaged. The second week's challenge was to implement the communications plan. For the third week, we created a mobile app for the students to get them more engaged. The app had their Facebook and Twitter, and students could sign up for their programs . It was Oakland Digital at their fingertips. For our fourth challenge we had to rally volunteers and sponsors by hosting an event. It was amazing to see everything come together.
After participating in the challenge, how will you continue to give back in your community?
I believe I am a servant and everything I do, I do to serve God, his people and the community. I believe this opportunity was presented to me to be responsible as a leader. I feel that technology is struggling in the church and in our communities. I'd like to make sure that youth are being equipped for the workplace and prepared for the future with needed skills after graduation.
For more information on the AT&T 28 Days campaign and the three participating non-profit organizations, visit
att.com/28days
.