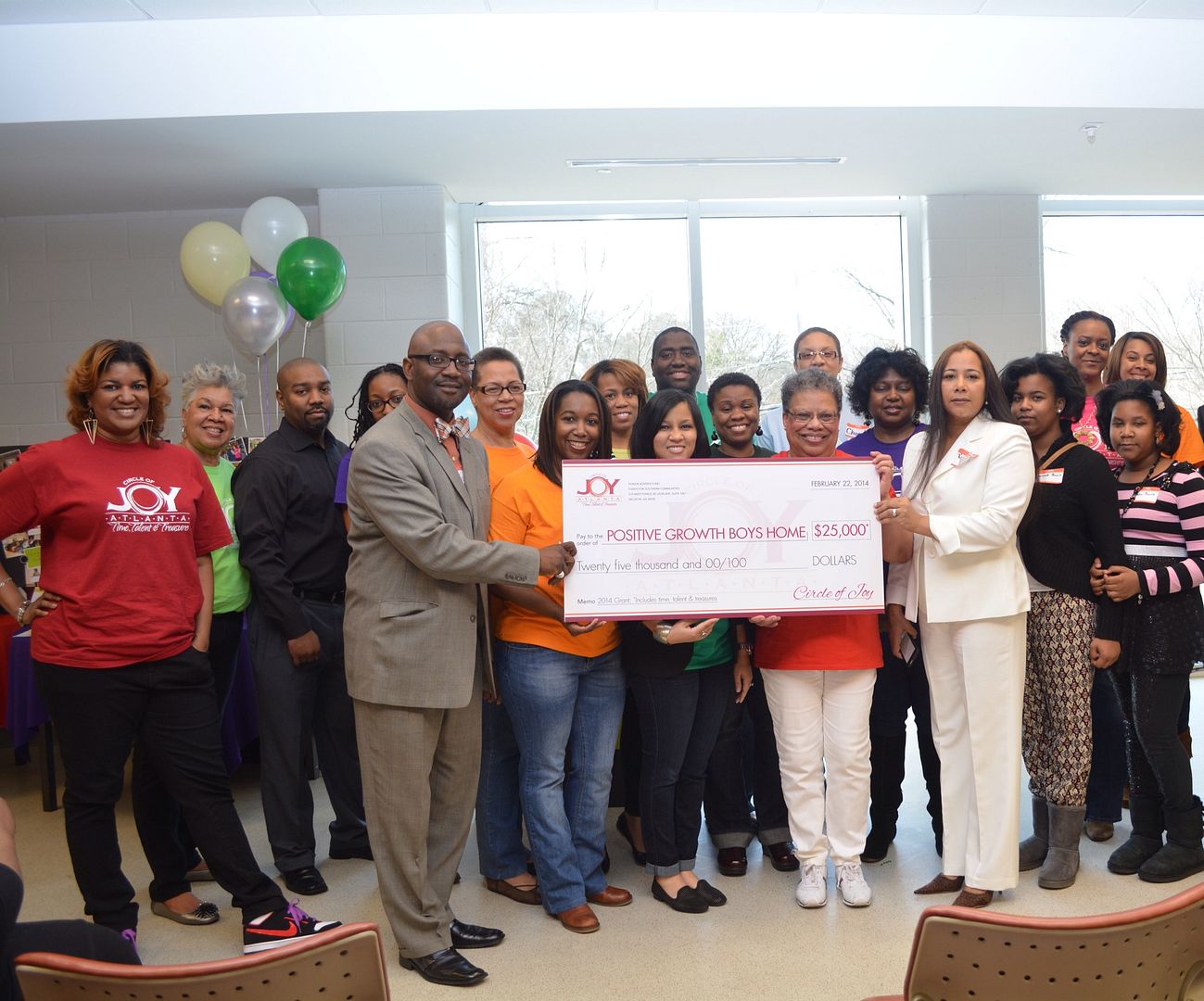 ATLANTA, GA – On February 22, 2014,
The Circle of Joy
giving circle celebrated its fifth year of philanthropy by awarding the
Positive Growth Boys Home
with $25,000, its largest grant to date. The grant includes $10,000 of in-kind services from Tech Uplift, who will provide technological support for the creation of a new computer lab and computer training for its residents to receive A+ and Network + certification; and 260 hours of volunteer service by the giving circle members over the next two years to help insure the growth and success of the organization.
Joseph Arnold, a former Atlanta school counselor, established the Positive Growth Boys Home twenty years ago with his own funds. The home provides young men experiencing life challenges between the ages of 12 and 18 with basic needs of shelter, food and clothing in a nurturing environment of love, security and acceptance. While creating a home for these young men, Mr. Arnold also provides them with opportunities to become active members of the community. One of their annual commitments is to Hosea Williams Feed the Hungry in which they volunteer several times during the year. A second home was later purchased that houses young men 18 to 22. The success rate of Positive Growth Boys Home has been astounding.
The grant award ceremony was attended by Mr. Arnold's wife and their children, as well as 50 community members and friends. Among the guests was Allyson Reaves, a
Community Investment Network
(CIN) board member whose attendance highlighted CIN's commitment to its member giving circles.
The Positive Growth Boys Home grant award fulfills the mission of The Circle of Joy – to pool time, talent and treasure for organizations that are positively impacting youth in the Atlanta metro area.
The Circle of Joy members are:
April Jones, Ava Johnson, Brandi Farmer, Chonda Turner-Carney, Dennisha Haynes, Gloria Webb, Janice Bright, Joni Tabb, Joy Webb, Kimberly Reed, Krystal Reeves-Webb, Lisa Haygood, Natasha Harrison, Travis Joshua
and
Vivian Epps
.